GARRETT G42-1200 COMPACT
Horsepower: 475 - 1200
Displacement: 2.0L - 7.0L
Important product information: Garrett Performance Kits are professional aftermarket products only designed for certain racing vehicles driven on particular racing tracks and shall only be used on racing vehicles that will never be driven on public roads or highways. Garrett Performance Kits are not legal for the use in vehicles on public roads or other roads to which public road law applies. Any vehicle modifications using Garrett Performance Kits are AT YOUR OWN RESPONSIBILITY and AT YOUR OWN RISK. Only use Garrett Performance Kits in compliance with all applicable laws, regulations, and ordinances (including but not limited to emission, noise, operating license, performance, safety, and type-approval aspects). A vehicle modification using Garrett Performance Kits may particularly affect or void a vehicle's warranty, operating license or type-approval. Moreover, only use Garrett Performance Kits in compliance with all applicable racing and racing track provisions. It is YOUR OWN RESPONSIBILITY AND RISK to ensure that your Garrett Performance Kit fits your vehicle and area of application. YOU MUST ENSURE LAWFUL AND SAFE OPERATIONS AT ANY TIME. You should particularly consult the owner's manual and service manual of your vehicle. You should also contact your vehicle's manufacturer to determine what effects modifications may have on important aspects such as safety, warranty, performance, etc. Only install and use Garrett Performance Kits if you have fully read and understood this important safety information and if you fully agree with the terms and conditions set forth therein.
Features
GARRETT G SERIES COMPRESSOR AERODYNAMICS FOR MAXIMUM HORSEPOWER
73mm TURBOCHARGER COMPRESSOR INDUCER
COMPACT COMPRESSOR HOUSING SAVES SPACE
FULLY MACHINED SPEED SENSOR AND PRESSURE PORTS
NEW TURBINE WHEEL AERO FOR INCREASED EFFICIENCY AND FLOW
STAINLESS STEEL TURBINE HOUSINGS IN V-BAND AND T4 CONNECTIONS
WATER FITTINGS INCLUDED
1200 HORSEPOWER CAPABLE
G42-1200 SUPERCORE PN: 860778-5002S
WARNING: Maximum allowable turbocharger speed is 118krpm. The use of this product above max turbocharger speed is at the owner's risk, and can result in damage and premature failure. To protect the turbocharger from overspeed when operating, a speed sensor can be installed into the compressor housing to monitor shaft speed. Sensors sold separately. (click here for details)
Performance results of this product are highly dependent upon your vehicle's modifications and tuning/calibration. The horsepower numbers represented above are calculated based strictly on choke flow of the compressor map (total turbo capability), which represents the potential flywheel horsepower.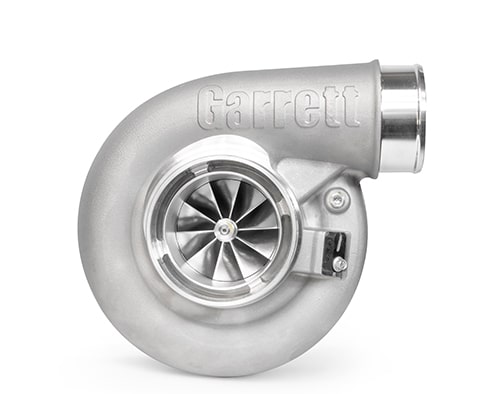 G-Series G42-1200 COMPACT 73mm
Reference Data
G42-1200 COMPACT
Compressor
Turbine
Inducer
Exducer
Trim
A/R
Inducer
Exducer
Trim

HP: 475-1200              Disp: 2.0L-7.0L

73mm
91mm
65
0.90
82mm
75mm
84
Supercore
PN
Compact Comp Housing
860778-5002S
Turbine Kits: G42
PN
A/R
Inlet
Outlet
Wastegate
Divided
Interchangeable with G42-1200 | 1200 | G42-1200 Compact
| G42-1450 Supercores
757707-0011
1.01
V-Band
V-Band
Free Float
N
757707-0012
1.15
V-Band
V-Band
Free Float
N
757707-0013
1.28
V-Band
V-Band
Free Float
N
757707-0014
1.01
T4
V-band
Free Float
Y
757707-0015
1.15
T4
V-band
Free Float
Y
757707-0016
1.28
T4
V-band
Free Float
Y



G-Series G42-1200 COMPACT 73mm
Compressor Map & Exhaust Flow Chart
Compressor Map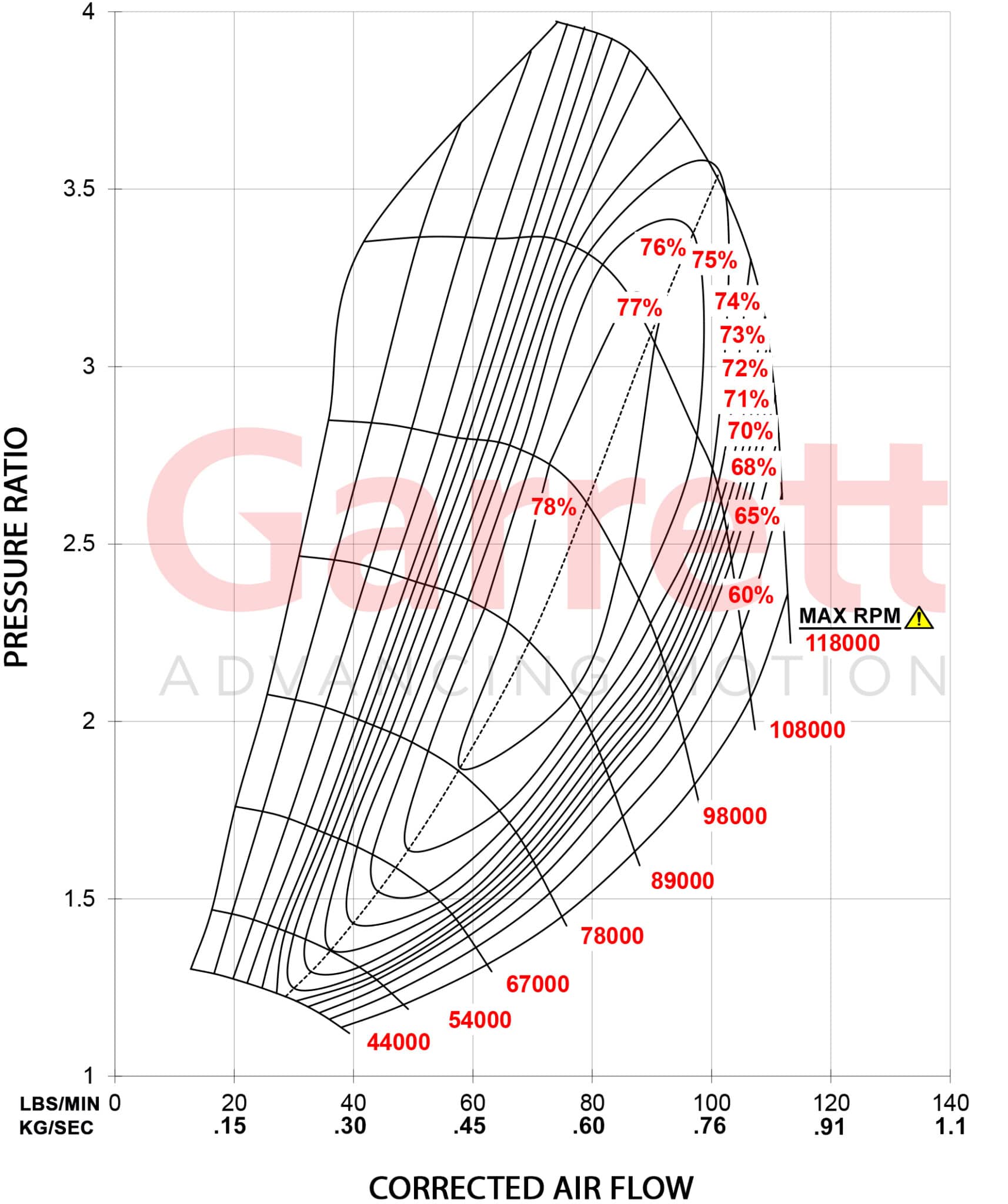 Exhaust Flow Chart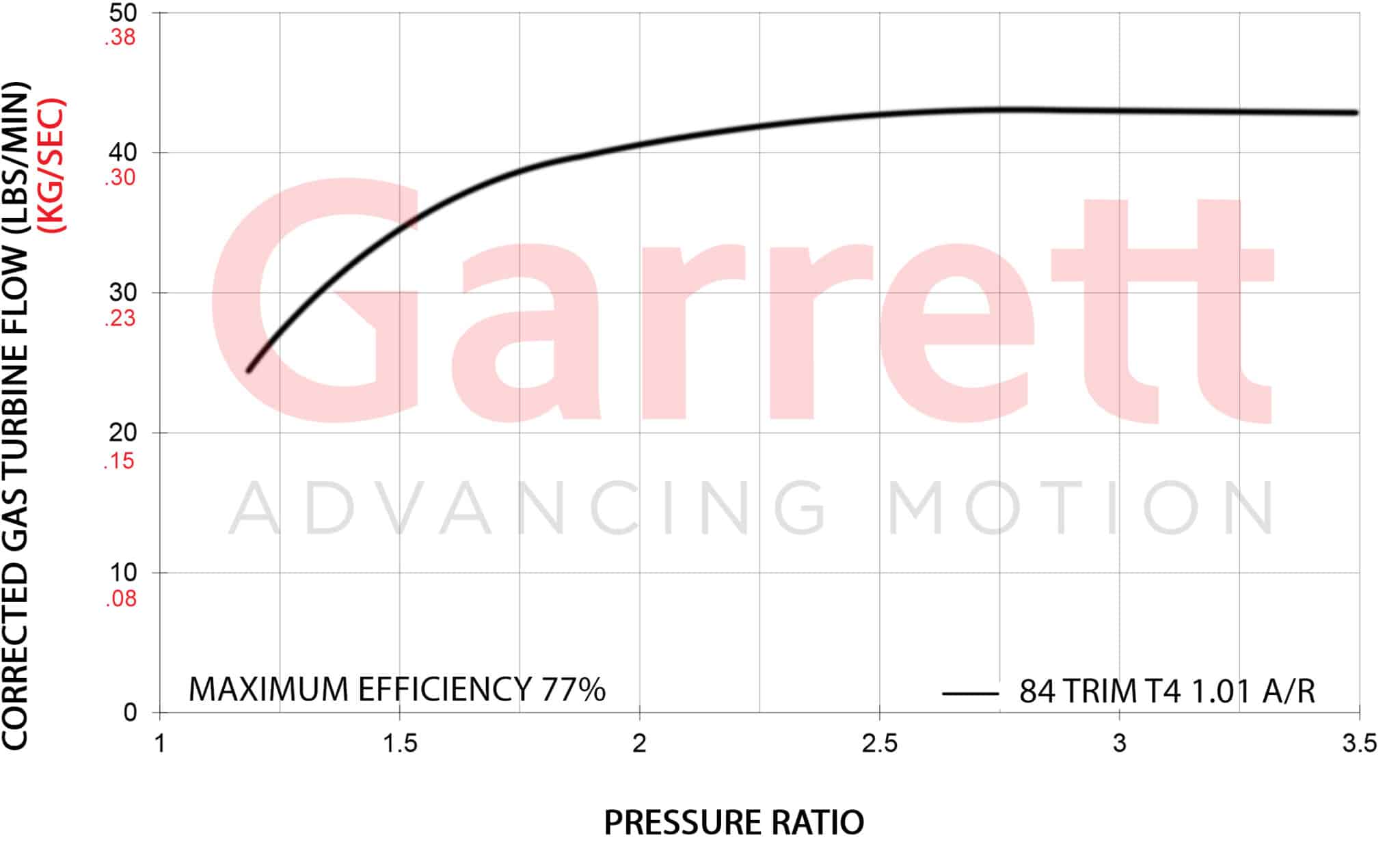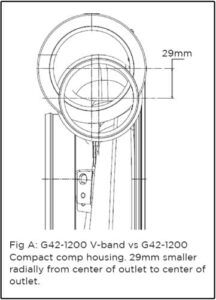 CFD (computational fluid dynamics) engineered compressor wheel
Optimized blade contour with 10 blade count
Forged and fully-machined compressor wheel
More power and faster boost response
Smaller wheel = lower inertia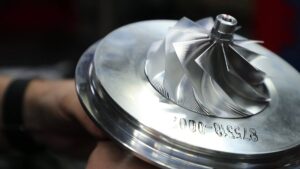 Garrett® G42-1200 available with compact housing and standard housing
Garrett® G42-1450 available only with standard housing
(A) Fully machined ported shroud to help reduce compressor surge.
(B) A fully machined speed sensor port provides racers the option to add a speed sensor. Comparing shaft speed and boost levels on a compressor map will help determine ideal operating conditions to ensure peak power over a wider operating range.
(C ) The fully machined pressure port.
Sold separately, the Garrett ® G Series speed sensor kits have new part numbers and are not compatible with GT/GTX kits. Easier to install and will not need to be adjusted for length like previous sensors. Simply remove bolt that secures the plug, insert the speed sensor and re-tighten the bolt.
Speed Sensor Kits
G Series Street Kit: 781328-0003 (includes speed sensor, wire harness, gauge)
G Series Pro Kit: 781328-0004 (includes speed sensor, wire harness)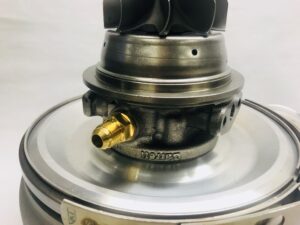 Aluminum backplate for reduced weight (GTX42 Steel)
Includes (2) -6AN water fittings
Center housing to turbine housing Vband connection makes installation easy for installers. (Same Vband as GTX42 / GTX45)
GTX and GT turbine housings are not interchangeable
Full 360 degree orientation of compressor housing and non wastegated turbine housings
An o-ring between the compressor housing and backplate reduces any boost pressure leakage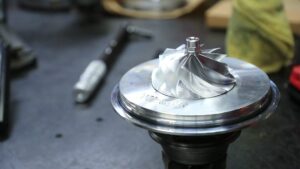 Twin piston rings on both sides of the shaft reduce the likeliness of oil leakage from the center housing to the compressor or turbine stage.
A new oil deflector redirects oil away from the compressor stage seals reducing possibility of oil leakage through the seals.
10mm ceramic dual ball bearing cartridge (Same as GTX42)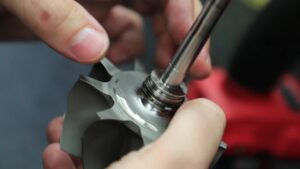 The turbine wheel features all new aerodynamics to improve flow and boost response.
Inconel super alloy construction for temperatures up to 950C
New turbine wheel flows 10% more and has peak efficiency of 77% (Compared to GTX42 at 74% with 1.01A/R)
82mm inducer / 75mm exducer 84 Trim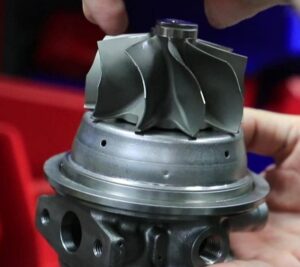 G42 turbine housings are made from stainless steel to provide ultimate durability and temperature capability up 950 deg C degrees | 1742 deg F
B&C qualified
GTX and GT housings not interchangeable.
Turbine housings are available in V-band, open, free float configurations for launch
V-band inlet is 3.6 inch / 92mm ( compared to GTX30/35 3 inch / 76mm
V-band outlet is 4.3 inch / 109mm