June 16, 2020
Ryan Tuerck's Toyota 86 Makes 1000WHP On G42-1200C Turbo
Ryan Tuerck is one of the most popular names in Formula Drift and has been a Garrett brand ambassador for many years. His 2019 Drift Car uses a 3.0L 2JZ engine boosted by a Garrett G42-1200C, a combination that made just over 1000 horsepower to the wheels. The C stands for compact. The G Series G42-1200 is offered with two compressor housing options, one with a compact design for smaller engine bays and the standard G42-1200 full frame compressor housing.
Ryan's Toyota 86 is a compact car with a small engine bay especially after his team crammed a 3.0L 2JZ engine into it. To reach his horsepower target of 1000 he opted to use the Garrett G Series G42-1200C to fit in the engine compartment and meet the needs of every racer which is response and top end power. The G42-1200C has a 73mm compressor wheel, and supports engine displacements from 2.0L – 7.0L making a 2JZ engine a great selection for this turbo.
The 3.0L 2JZ with VVTi is built with a Brian Crower crank, rods, and cams for the bottom end assembled by Accelerated Performance. Supertech Performance provided 9:1 comp pistons, springs, retainers, valves to round out a strong top end with OCD Works porting and assembling head. #RT411
Once Ryan hit the Dyno, the team at FSR Motorsports and John Reed Racing got the car dialed in and made over 1000 horsepower to the wheels with 30LBS of boost! Look at the graph below.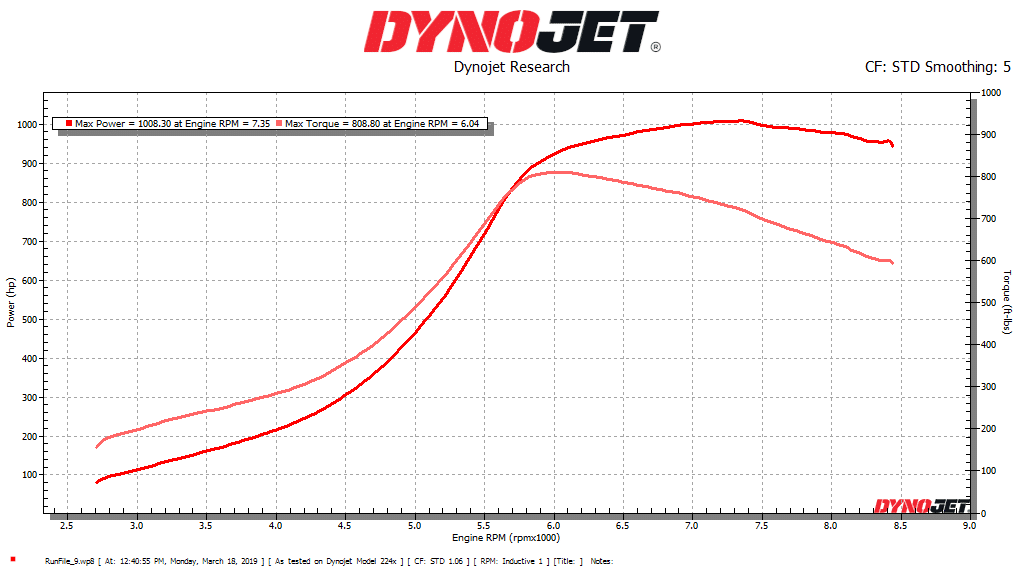 G42-1200 turbo at 30 PSI
Deatsch Werks
VP Racing Fuels
Motec M150