April 5, 2022
This Garrett Turbo 700-HP Show-Stopping Ford F-100 Was Built as a Sentimental Tribute Truck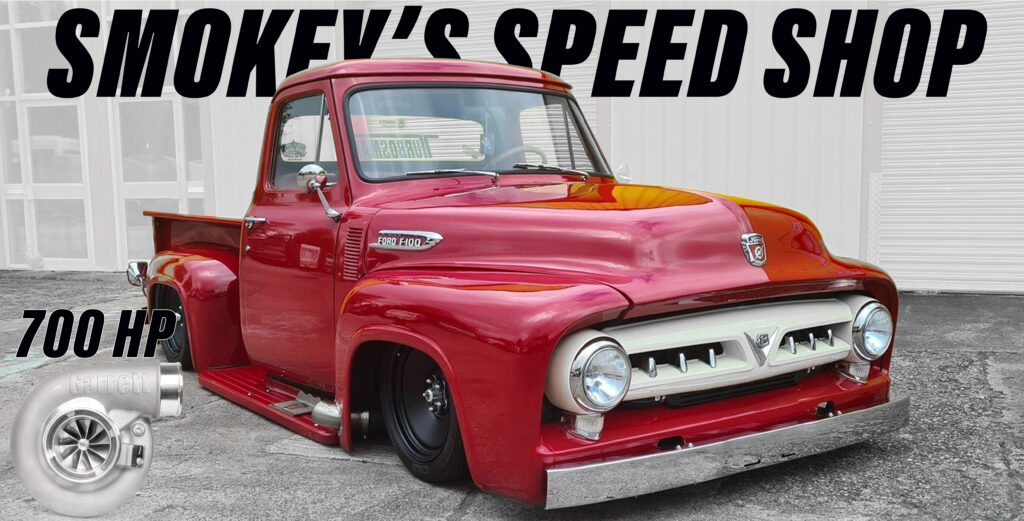 By Ainsley Jacobs
Jake Smith transformed his late uncle's 1953 Ford F-100 into the ultimate showstopper with 700-horsepower from a Garrett G42.
When Great Britain native Jake Smith's uncle David Price passed away from cancer in 2011 and left him his cars as well as his entire workshop and tools, Smith began building a beautiful vintage icon of American muscle in Price's memory. Among the many goodies, Price left his 15-year-old nephew an AC Shelby Cobra replica powered by a big block Chevy engine with an Aston Martin DB9 running gear. Smith sold the Cobra locally to fund his restoration of Price's other prized possession: a 1953 Ford F-100 pick-up truck.
Smith, now 26, began driving the truck on the street when he was 18. He realized that he enjoyed working on it more than looking at it, though, and started modifying it by lowering it and adding an air ride suspension system with big, whitewall tires. The original Ford flathead V8 engine was great initially, but Smith was soon craving more power. Owner of Smokeys Speed Shop in Stourbridge, England, the enterprising hot rodder has always believed that if someone else could do something, he could, too, and was fully confident jumping in to tackle all areas of his F-100 project from mechanical to upholstery.
While searching for a manual transmission conversion kit, Smith stumbled upon a Facebook ad for a Chevy LM7 5.3-liter V8 engine being sold by Stefan Rossi at ACE Racing Engines when he was still in the United Kingdom. Smith purchased the iron block Vortec 5300 along with plenty of other parts, however, when another friend sent him a link to a GT45 turbocharger for sale, his original plans intensified. After stuffing the gen 3 small block LM7 engine between the frame rails of the Ford F-100 pick-up, Smith added another iconic piece of tried-and-true American muscle to the equation – a GM 4L80E automatic transmission complete with TransGo shift kit and billet torque converter.
That GT45 turbocharger was exchanged in favor of a higher-flowing and significantly more powerful 73mm Garrett G42-1200 compact turbocharger good for up to 1,200-horsepower thanks to the advanced aerodynamics of both the compressor and turbine wheels. To control the boost, Smith then installed a pair of Turbosmart GenV PowerGate60 external wastegates and a matching Turbosmart GenV RacePort blow-off valve. With a Holley Dominator engine management system keeping the LS happy on its 99 RON UK pump gas, Smith estimates the combination puts down about 700-horsepower through its Ford 9" rear end. The classic F-100 was also updated with a custom wishbone setup and RideTech four-link suspension.
Staying true to his hot rod root, Smith waned the F-100 to be show-car quality and addressed its outward appearance. After perfecting the paint and adding a Mustang II front clip, he focused on getting the stance just right. To do so, Smith installed Air Lift airbags and AccuAir suspension management to settle the truck on its U.S. Wheel 17"x8" Rat Rod series wheels which he then wrapped in Nankang rubber. The result of Smith's hard work and attention to detail was a beautifully restored and LS-swapped 1953 Ford F-100 work of art that's right at home on the street or at car shows. With the Garrett-turbocharged horsepower to back up its stunning good looks, Smith honored his late uncle with the perfect tribute.
VEHICLE: 1953 Ford F-100
ENGINE: Chevy LM7 5.3-liter V8
TURBO: Garrett G42-1200 compact turbocharger
TRANSMISSION: GM 4L80E automatic
POWER: 700
USED FOR: street, show