June 12, 2020
Dylan Hughes Builds A 946 Horsepower E46 BMW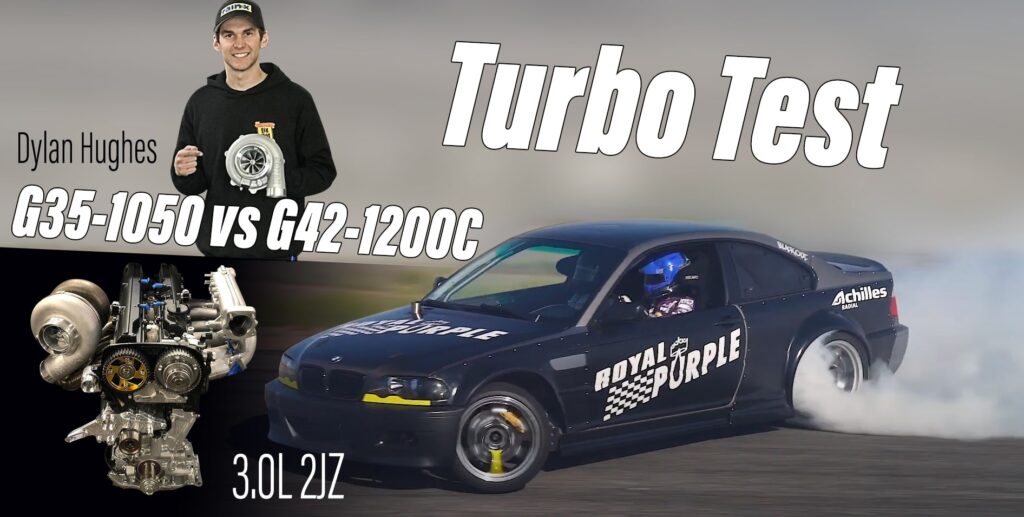 Simplicity is what Dylan Hugues envisioned when designing his 2020 Formula Drift Pro car and what he created is his best work of art to date. The 2005 E46 BMW was built from the ground up and features a fire breathing 3.0L 2JZ engine swap that puts 946 horsepower to the wheels! Hughes says, "When you are at the track, you don't have the luxury of a lift to get under the car to make changes and time is always short between rounds so I designed this car to make it easy to work on while laying on the ground without sacrificing performance and durability. We've been following his build and now that it's tested and running we compiled the details on how he's making power with the new G Series G35-1050 and G42-1200C turbos in this 2JZ turbo test.
Dylan tore the car down completely, had it sandblasted and painted so everything was clean from the start. He kept the stock frame rails but reinforced the fender mounts and shock towers. Lots of fabrication was needed to meet Formula Drift safety rules including a full roll cage with door bars, custom seat mounts, transmission tunnel, new front and rear fire walls, fuel system and the list goes on. In this video by Royal Purple, Dylan does a great breakdown on all his pre-season efforts to prep the car as well as tests it on the dyno.
G35-1050 And G42-1200 Dyno Data
Our favorite part of his car is the engine and turbo combinations. A stout 3.0L 2JZ motor that makes 860 horsepower to the wheels with a G35-1050 turbo for small tracks and 946 horsepower with a G42-1200 for the larger tracks that need a little more power. A comparison of the two turbochargers shows the G35-1050 reaches max torque about 500 RPM sooner than the G42, but the G42 because of its larger compressor wheel can make about 100 more horsepower.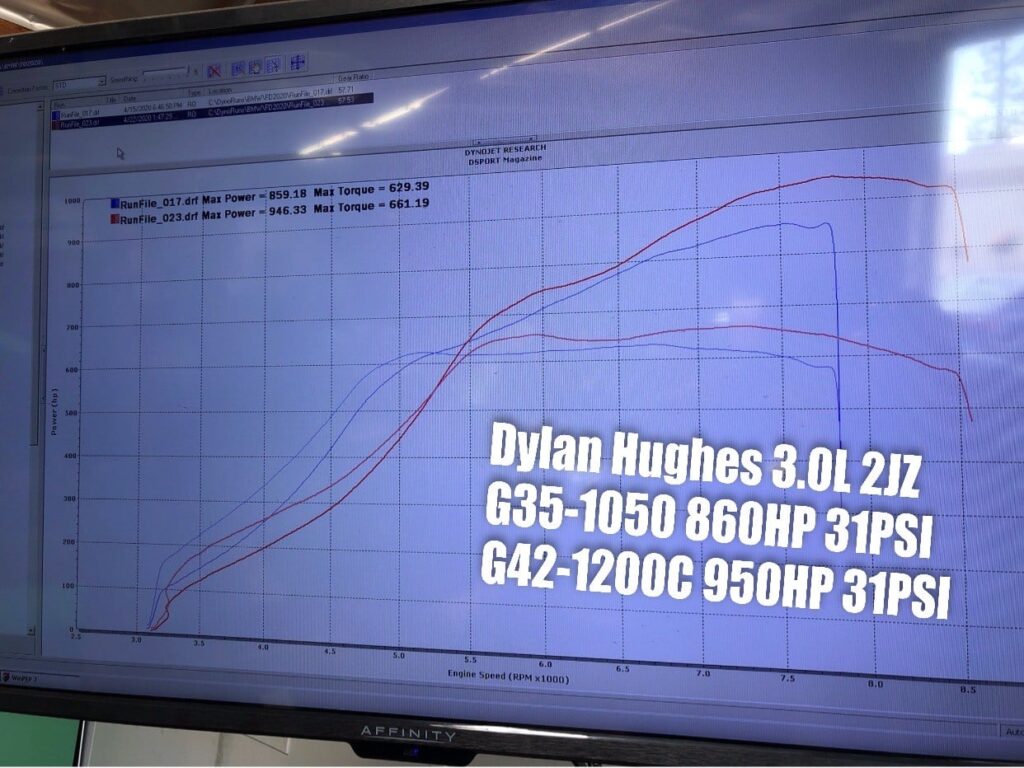 Dylan says, "turbo testing has been fun with this 2jz power plant. First, we tried the G35-1050 1.21 A/R exhaust housing and at 8000 RPM it made 860 wheel horsepower on 31 psi of boost with exhaust back pressure of 48 lbs. The second turbo we tested is the G42-1200 1.01 A/R exhaust housing and at 8600 RPM it made 946 wheel horsepower on 31 psi of boost with exhaust back pressure of 32 lbs"
"The G35-1050 made almost 200 ft-lb more torque at 4500 rpm, which is where we need it most. We will run the G35-1050 for most of the FD season because it makes good power with better spool. I can't wait to get out and race, Hughes says!
Parts and Associates
2005 E46 BMW
3.0L 2JZ
OCD ported head
Super tech valve train
Stock Crank
Hyper Tune intake manifold
Advan Racing Yoko 18" wheels 5×120 bolt pattern RGD2
Royal Purple Oils
Carbon Recaro seats
4 speed Andrews A431
Chris Forsberg steering wheel and hand brake
Motec PDM
Radium fuel cell
Twin walbro pumps
E85 fuel
Injector dynamics 1700cc injectors
VP fuel
Unicorn Garage harness
75mm Bosch throttle body
2900lb weight with a 295 wide tire
Part Shop Max sway bars, suspension, calipers
BC Racing coilovers
Driveshaft Shop carbon fiber driveshaft and CVs
RTS quick change rear differential.