January 24, 2022
Collete Davis' 620 Horsepower 3 Rotor FC RX7

A Drifting Journey Through a 3-Rotor Swapped Mazda FC RX7
In 2016, Collete Davis started her first drift project: an FC RX7. Now it's fitted with a Garrett G42-1200 turbocharged 20B 3-Rotor.
The premise seems simple: buy a cheap, rear wheel drive car, put a powerful engine in it, and go drifting. Even starting with a 1988 Mazda RX7 Turbo II seemed like a good beginning for Collete Davis. The chassis was only $2500 but it was also full of rust holes and rot that needed to be fixed. Not that you could tell now after five years of her wrenching and working on the FC3S chassis.
However, the star of this drift car is the legendary Mazda 20B-REW. This engine was only available in the 1990 to 1995 Eunos Cosmo, a Mazda JC platform luxury coupe. Each single rotor combustion chamber was 654cc (39.9 cubic inches) and that's what made its 2.0-liter (119.7 cubic inch) displacement. With its stock twin-turbo setup and stock side ports, it made 300 horsepower and 300 lb-ft of torque with just 0.7 bar (10 psi) of boost.
While decent for the time, Collete's RX7 needed more power from a single turbo setup. She selected the Garrett G42-1200 turbocharger for the 2.0L rotary engine. It has also been peripheral ported to add in top end power while a mild street porting on the side ports allows for better low-end. The exhaust ports have been massaged along with being sleeved larger for better exhaust flow. Rotary engines are known for oil-pumps going bad so Collete's 20B has been tapped for an external oil pump.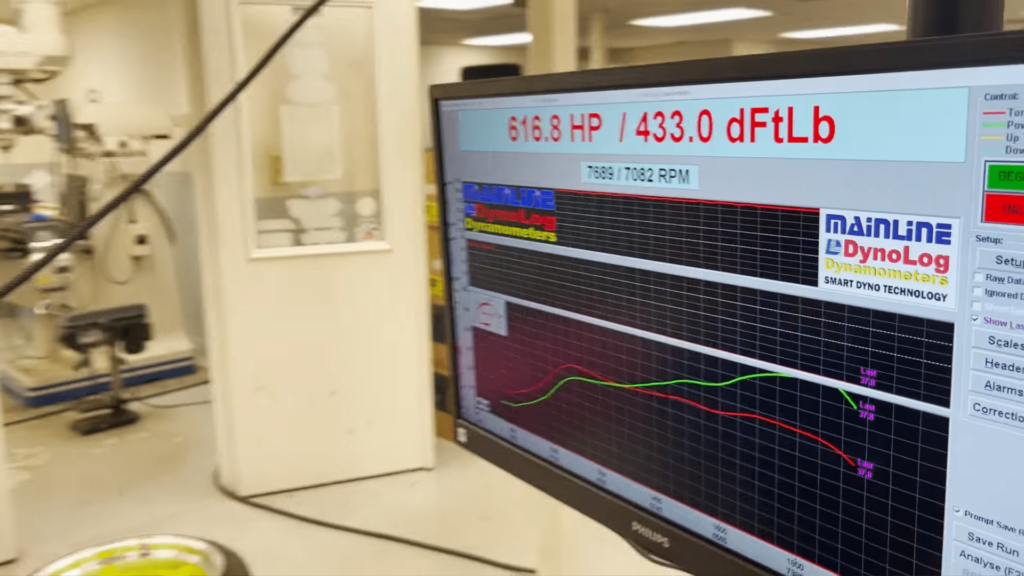 On the dyno, with E85 fuel, the engine made 616.8 horsepower at 7700 RPM and 433 lb-ft of torque at 14-psi of boost. The dyno tuning of the Adaptronic ECU was done by Angel Motorsports on a Mainline hub dyno at the Adam LZ Compound.
Dyno Pull Video:
The rest of the car is purely a drift build with a full, custom cage to keep her safe. The chassis is also fitted with an OMD Parts Billet CNC big angle kit and 326 Power Coilovers that control her 326 Power Yabaking Gangsta wheels wrapped in Kumho Ecsta tires. However, putting the power those rear tires is a G Force GSR that leads to a Ford 8.8-inch IRS differential swap with an OS Giken Super Lock LSD all attached to custom made Driveshaft Shop driveshaft and axles.
Soon, this FC will see drift courses on the East Coast as Collete continues her journey towards professional drifting and motorsports.
Here's the video series on this  awesome build:
Project Start:
Build Breakdown and History: