GARRETT G25-660 54mm Reverse Rotation
Horsepower: 350 - 660
Displacement: 1.4L - 3.0L
Features
G SERIES COMPRESSOR AERODYNAMICS FOR MAXIMUM HP
54mm TURBOCHARGER COMPRESSOR WHEEL
79% MAXIMUM COMPRESSOR EFFICIENCY
MAR-M ALLOY TURBINE WHEEL RATED UP TO 1050° C
NEW TURBINE AERO PROVIDES HIGHER FLOW AND EFFICIENCY
STAINLESS STEEL TURBINE HOUSINGS RATED UP TO 1050° C
OIL RESTRICTOR AND WATER FITTINGS INCLUDED
FULLY MACHINED SPEED SENSOR AND PRESSURE PORTS
TURBOCHARGER ASSEMBLIES ARE CALIBRATED WITH A 0.5 BAR ACTUATOR
WARNING: Maximum allowable turbocharger speed is 185krpm. The use of this product above max turbocharger speed is at the owner's risk, and can result in damage and premature failure. To protect the turbocharger from overspeed when operating, a speed sensor can be installed into the compressor housing to monitor shaft speed. Sensors sold separately. (click here for details)
Performance results of this product are highly dependent upon your vehicle's modifications and tuning/calibration. The horsepower numbers represented above are calculated based strictly on choke flow of the compressor map (total turbo capability), which represents the potential flywheel horsepower.
Buy now
IMPORTANT PRODUCT INFORMATION
"Garrett Performance Kits are professional aftermarket products only designed for certain racing vehicles driven on particular racing tracks and shall only be used on racing vehicles that will never be driven on public roads or highways. Garrett Performance Kits are not legal for the use in vehicles on public roads or other roads to which public road law applies. Any vehicle modifications using Garrett Performance Kits are AT YOUR OWN RESPONSIBILITY and AT YOUR OWN RISK. Only use Garrett Performance Kits in compliance with all applicable laws, regulations, and ordinances (including but not limited to emission, noise, operating license, performance, safety, and type-approval aspects). A vehicle modification using Garrett Performance Kits may particularly affect or void a vehicle's warranty, operating license or type-approval. Moreover, only use Garrett Performance Kits in compliance with all applicable racing and racing track provisions. It is YOUR OWN RESPONSIBILITY AND RISK to ensure that your Garrett Performance Kit fits your vehicle and area of application. YOU MUST ENSURE LAWFUL AND SAFE OPERATIONS AT ANY TIME. You should particularly consult the owner's manual and service manual of your vehicle. You should also contact your vehicle's manufacturer to determine what effects modifications may have on important aspects such as safety, warranty, performance, etc. Only install and use Garrett Performance Kits if you have fully read and understood this important safety information and if you fully agree with the terms and conditions set forth therein."
G-Series G25-660 54mm Reverse Rotation
Reference Data
G25-660
Compressor
Turbine
Inducer
Exducer
Trim
A/R
Inducer
Exducer
Trim
HP: 350-660Â Â Â Â Â Â Â Â Â Â Â Â Â Â Disp: 1.4L-3.0L
54mm
67mm
65
0.70
54mm
49mm
84
Turbo: Standard Rotation
PN
A/R
Inlet
Outlet
Wastegate
Divided
Assembled and calibrated with 0.5 bar actuator
877895-5002S
0.49
T25
V-band
Internal
N
877895-5005S
0.72
V-Band
V-band
Internal
N
877895-5006S
0.92
V-Band
V-band
Internal
N
Turbo: Reverse Rotation
PN
A/R
Inlet
Outlet
Wastegate
Divided
See note above
877895-5009S
0.72
V-Band
V-band
Internal
N
877895-5010S
0.92
V-Band
V-band
Internal
N
Supercore
PN
Standard Rotation
858161-5003S
Reverse Rotation
871388-5002S
Turbine Kits Standard Rotation
PN
A/R
Inlet
Outlet
Wastegate
Divided
Interchangeable with standard rotation G25-550
| G25-660
740902-0069
0.72
V-Band
V-Band
Free Float
N
740902-0068
0.92
V-Band
V-Band
Free Float
N
Turbine Kits Reverse Rotation
PN
A/R
Inlet
Outlet
Wastegate
Divided
Interchangeable with reverse rotation G25-550
| G25-660
740902-0073
0.72
V-Band
V-Band
Free Float
N
740902-0074
0.92
V-Band
V-Band
Free Float
N
G-Series G25-660 54mm Reverse Rotation
Download Section
G-Series G25-660 54mm Reverse Rotation
Compressor Map & Exhaust Flow Chart
Compressor Map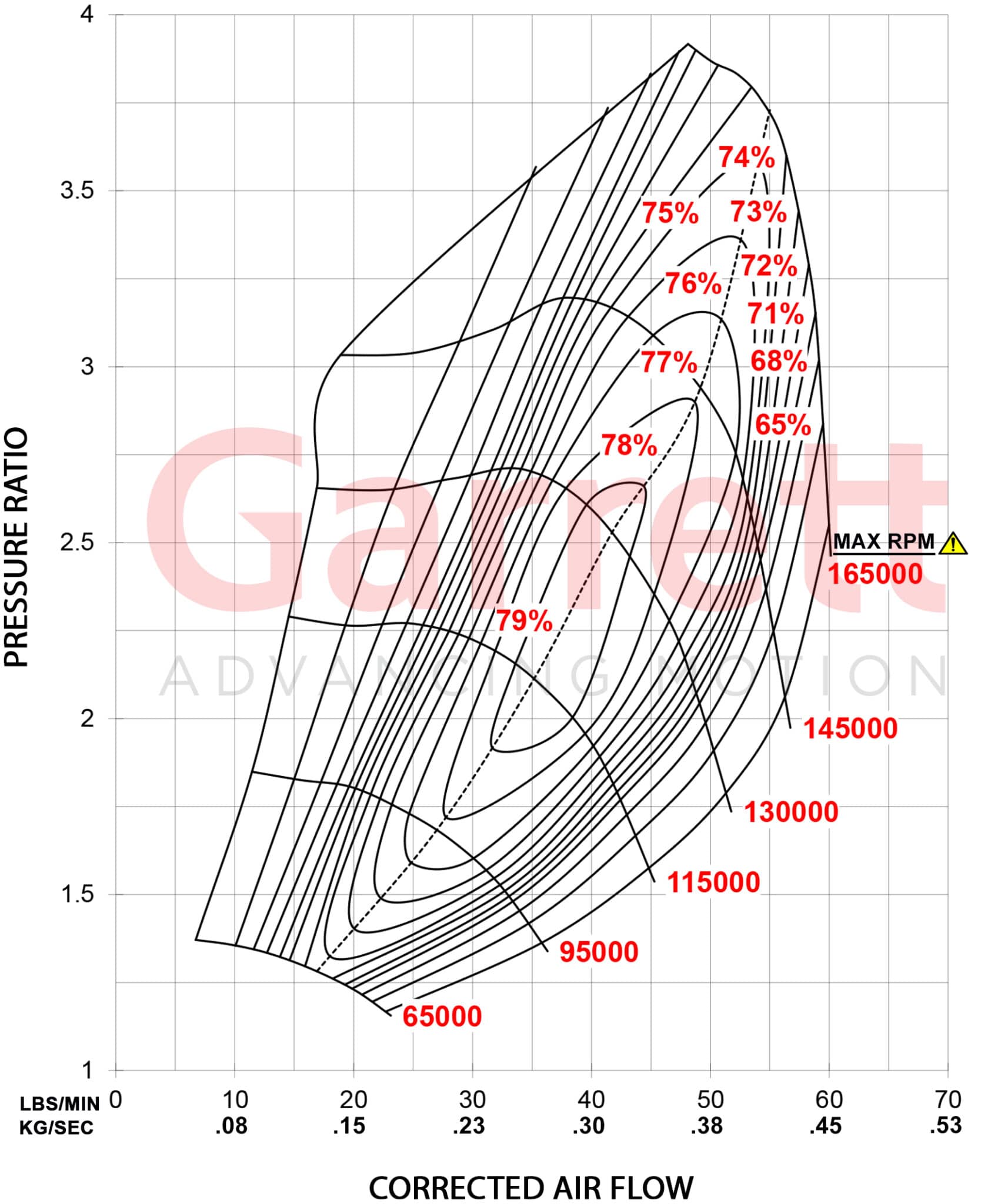 Exhaust Flow Chart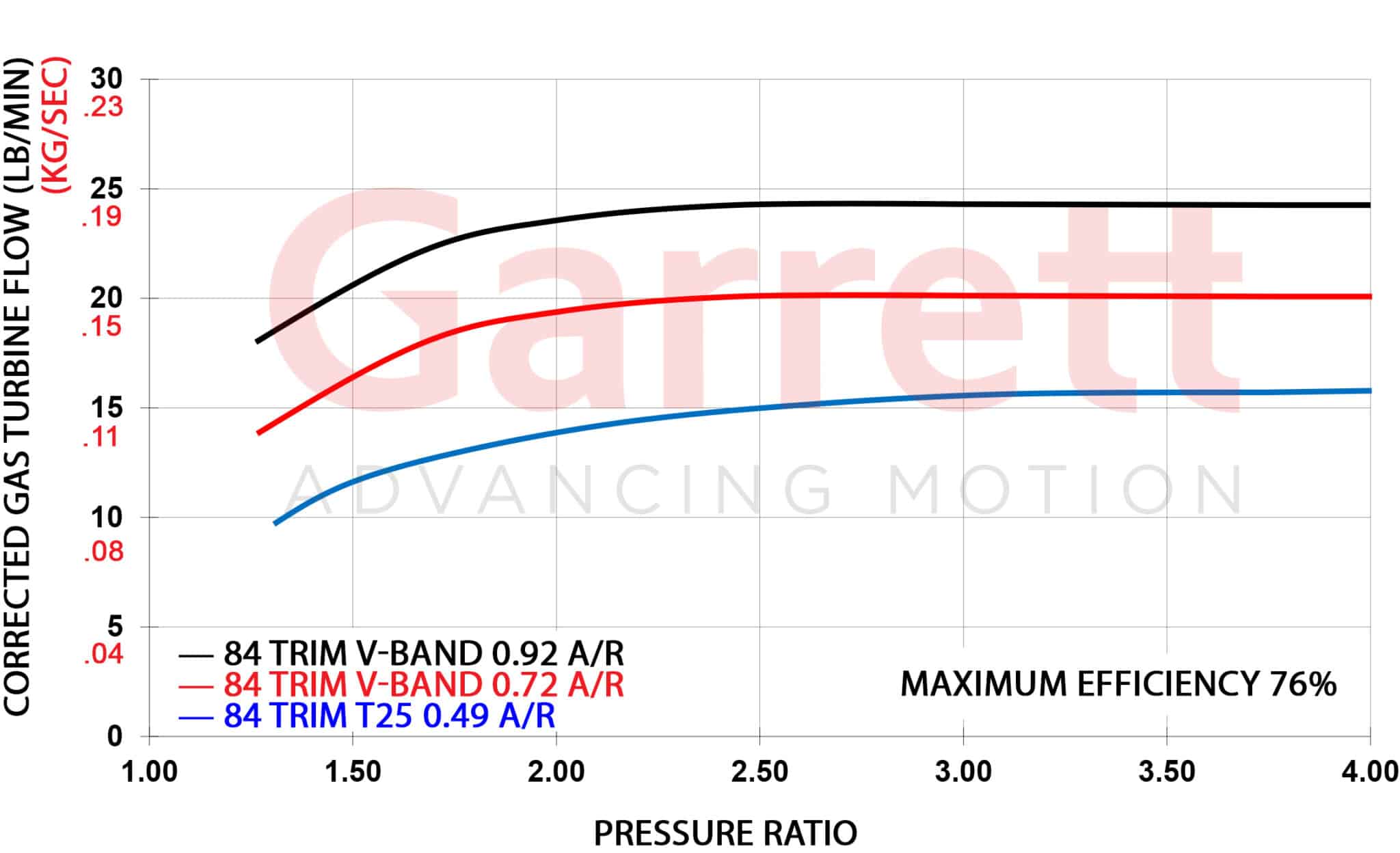 The most powerful

small frame turbocharger on the market

Introducing performance out of a package you never thought possible. This clean sheet product is tailored to meet the demands of hard core racing enthusiasts while providing industry leading power capability in a small package.

The G-Series G25-550 and the G25-660 turbochargers are compatible with 1.4L – 3.0L engine displacements and capable of producing up to 550 and 660 horsepower. G Series 25 turbochargers are smaller and outflow all comparable products on the market.

New compressor and turbine aero combined with high temperature resistant materials allowed engineers to push the limits of performance.

A new name designates a new generation of industry leading technology and innovation.

Understanding the Name:
G25-550 || G25-660

G designates 81 years of Garrett® heritage.

25 classifies the size of the frame. The remaining 3 digits identify the max horsepower rating of the turbocharger. (ie 550)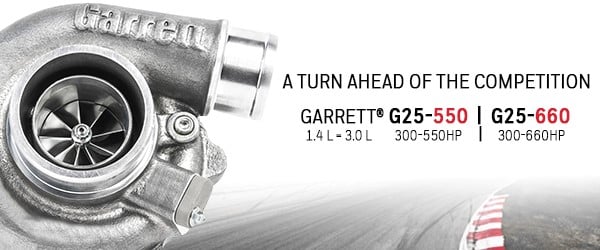 Compressor Aero
Forged fully-machined compressor wheel and new aerodynamics increase maximum horsepower output and boost response. The CFD (computational fluid dynamics) engineered compressor wheel increases air flow up to 15% for 60mm and 30% for 67mm with 79-80% efficiency. (Compared to GTX GenII)
Available in standard rotation and reverse rotation options for enthusiasts that want the perfect twin turbo installation or a single reverse rotation turbo for applications with installation restrictions.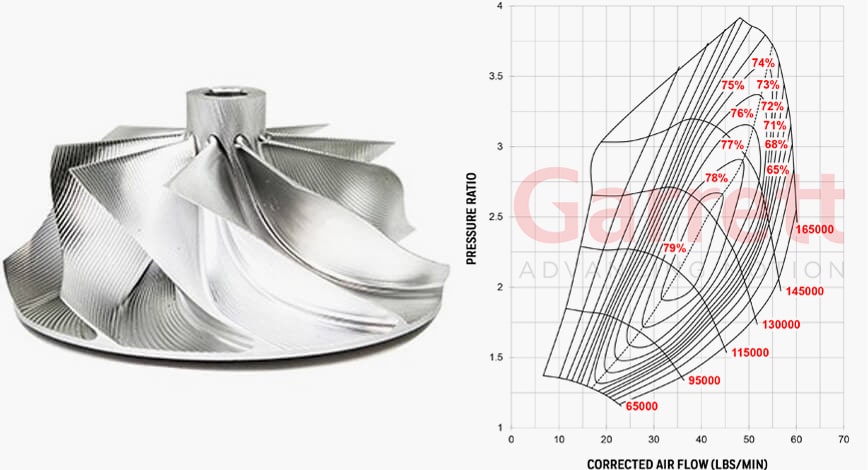 Speed Sensor
The compressor housing features a fully machined ported shroud to help reduce compressor surge. A fully machined speed sensor port provides enthusiasts the option to add the new G Series speed sensor to measure turbocharger shaft speed, a key factor in determining ideal operating conditions.
The new speed sensor is easy to install and does not need to be adjusted for length like previous sensors. Simply remove and plug, then insert the speed sensor and tighten the bolt. The new speed sensor is sold separately and is not compatible with GT and GTX sensors due to the new design and sizing.
The addition of an o-ring between the compressor housing and backplate reduces the possibility of boost pressure leakage.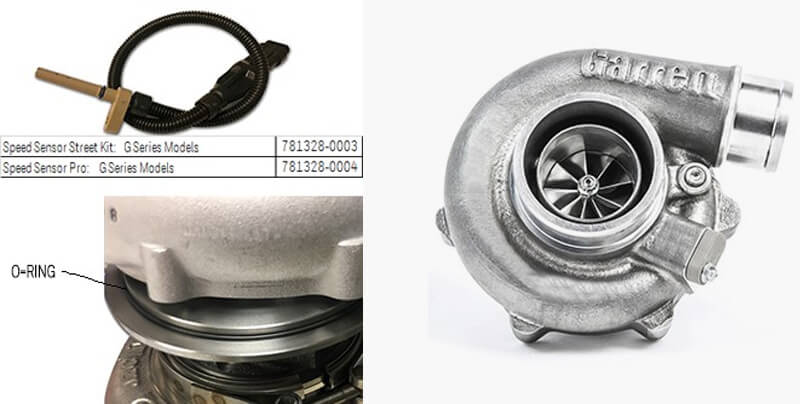 Center Housing
A new one-piece center housing and backplate increase durability and product safety by reducing the number of failure points associated with the turbocharger. The center housing to turbine housing v-band connection allows for 360 degree orientation when installing with Garrett® non-wastegated turbine housings.
Water Jackets
Four large water jacket ports increase cooling capacity and allow enthusiasts to customize water line routing to help improve the installation process. The turbocharger comes with two -6AN water fittings and two plugs.
*Recommended to install waterlines on opposite sides of the housing.
Oil Passage
A single stage oil passage directs pressurized oil to the new oil cavity ensuring proper bearing lubrication at both sides of the cartridge.
Each turbocharger includes (1) -4AN oil restrictor fitting with a 1mm orifice to provide the turbo with the recommended 40psi of oil pressure.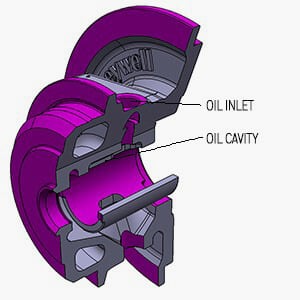 Rotating Group- twin piston rings
A shorter bearing cartridge allows us to incorporate twin piston rings on both sides of the shaft wheel assembly. This will reduce the likeliness of oil leakage at the seals from the center housing to the compressor and or turbine stage.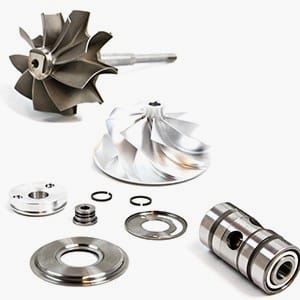 Turbine Wheel Aero
The turbine wheel features all new aerodynamics to improve flow and boost response. The new turbine wheel is made of Mar-M super alloy and is capable of handling exhaust gas temperatures up to 1050 degrees C.
The new turbine wheel flows 15-20% more than GTX and has peak efficiency of 74%.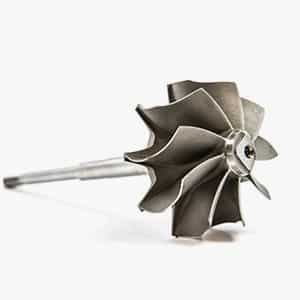 Turbine Housings
All G Series Turbine housings are made from stainless steel to provide ultimate durability and temperature resistance up 1050 degrees C.
Internally wastegated housings are compact, efficient, and designed with maximum bypass port size to reduce boost creep and provide better boost control.
Turbine housings are available in a variety of wastegated and non-wastegated, open volute, T25 and Vband configurations so be sure to order the correct part for your application.