April 12, 2022
The "Kendall Custom" 1967 Shelby Mustang is a 1,200+ HP Garrett Turbocharged Showstopping Stunner
By Ainsley Jacobs
Commissioned by Kendall Motor Oil to support a children's charity, this Garrett turbocharged '67 Shelby Mustang is a stunner.
Built to benefit the charity Curing Kids Cancer and commissioned by Kendall Motor Oil, this showstopping, Garrett twin turbocharged and 1,200+ horsepower 1967 Ford Mustang Shelby is a true work of art that also supports a great cause.
Nicknamed the "Kendall Custom," the Shelby Mustang high-end restomod/Pro Touring project blends both a classic and contemporary appearance with plenty of power and performance. Thompson Street Customs in Denver, Colorado, was responsible for the idea coming to fruition and shrouded the Roadster Shop fast track chassis with a Dynacorn 1967 Mustang body.
Thompson Street Customs was careful to retain the Mustang's original aggressive body lines but enhanced them further with subtle smoothing and modifications such as the flush-mounted door handles, chrome bumper deletes, hand-fabricated duck spoiler, billet taillight surrounds, and a special grill insert featuring the Kendall logo in the center. After the car's bare metal was painstakingly prepped to perfection, it was sprayed with a custom-blended PPG color made especially for Kendall Motor Oil.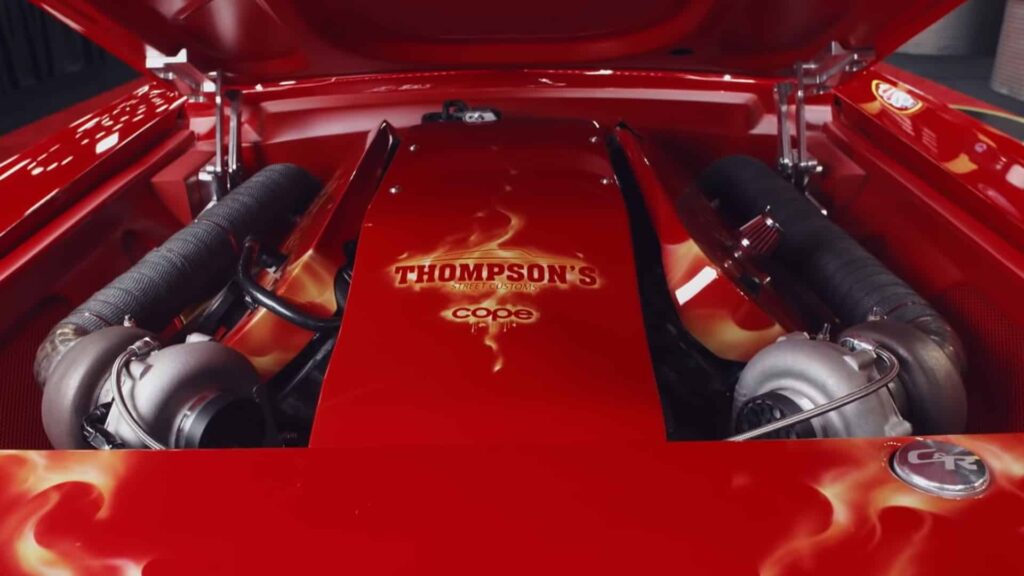 Three air intakes in the front hint at what's under the hood of the historic pony car: a modern, overhead cam, 5.0-liter Ford Coyote aluminum crate engine filled with Kendall GT-1 Max 5W-20 oil. From the factory, the 302ci modular V8 engine is rated to produce horsepower figures in the low-400s, but Thompson Street's team knew that was nowhere near enough for their creation.
Bumping up the output to 1,200+ horsepower are twin Garrett G25-660 turbochargers. With one turbo for each 4-cylinder bank, the symmetrical system perfectly flanks the Coyote engine with its mirrored twin turbo configuration while a custom-painted engine shroud and matching valve covers add a spectacular finishing touch.
Power is transferred to the one-off Raceline Monterey wheels, wrapped in low profile Toyo rubber, through a Ford 6R80 6-speed automatic transmission and Strange Engineering 9" rear end before the party is reined in by a set of Baer brakes.
Tons of other incredible touches and details are interspersed throughout the Mustang, including its interior which features beautiful leather and suede-upholstered seats with hand-sewn red stitching by Eddie's Rods and Customs. Digital gauges from Dakota are integrated with a custom Kenwood and JL Audio sound system, while Vintage Air supplied a kit to keep the occupants comfortable.
The incredible "Kendall Custom" and Garrett turbocharged 1,200+ horsepower 1967 Ford Mustang Shelby Pro Touring restomod was on display at Mecum Auctions throughout 2021 before being auctioned off at the 2022 Kissimmee Mecum Auction and proceeds of the sale donated to the Curing Kids Cancer charity.
VEHICLE: 1967 Ford Mustang
ENGINE: Ford 5.0-liter Coyote
TURBO: Garrett G25-660 twin turbochargers
TRANSMISSION: Ford 6R80 6-speed automatic
POWER: 1,200+
USED FOR: street