May 8, 2020
Zeroy: 837 Horsepower Twin Turbocharged 370Z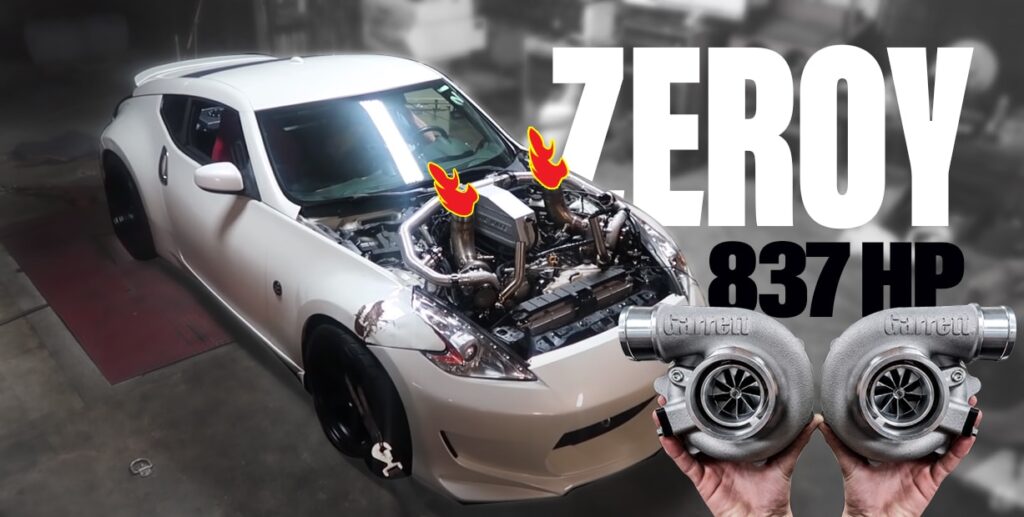 What do you get when you combine Adam LZ, with twin turbos, and a 370Z with a VQ engine? A flame shooting, tire burning, high flying monster called Zeroy. This Nissan 370 has a VQ 6 cylinder engine with twin Garrett G25-550 turbochargers mounted above the engine bay with a custom Doc Race water to air hi rise intercooler that dumps right into the engine. This unique combination nets a whopping 837 wheel horsepower (960 crank horsepower) and 643 ft-lbs of torque all on 20 PSI of boost pressure.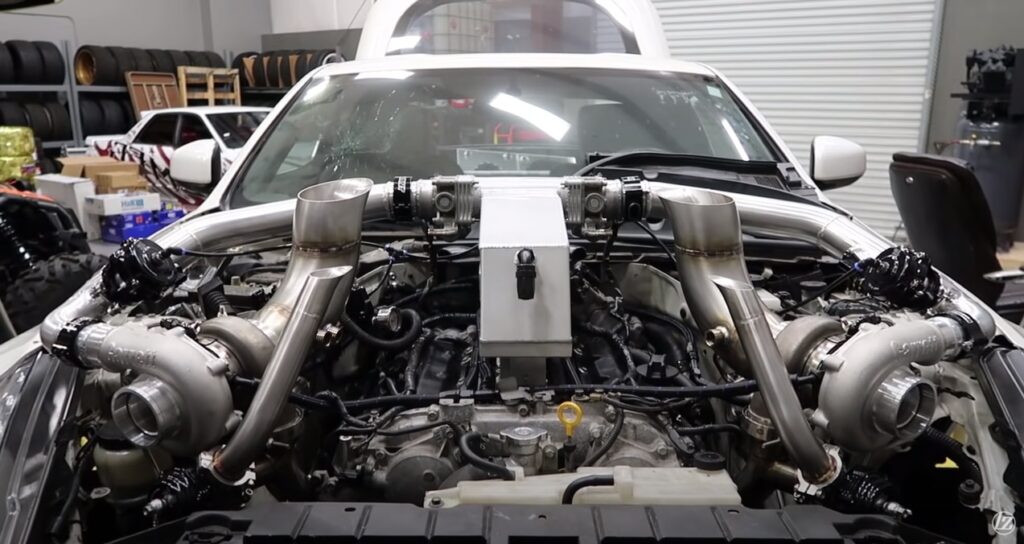 Adam bought the 370Z because he had intentions of fixing it and flipping it but plans quickly changed once he got a little inspiration from a friend named Cleetus Mcfarland. Cleetus has a C5 Corvette named Leroy with a twin turbocharged LS engine and a unique exo-cage.
Adam's 370Z "Zeroy" has had its fair share of bumps along its way to completion. A blown motor or two, broken differential, and a few other minor setbacks. But in between those setbacks there have been plenty of good moments like a healthy 837 horsepower on the dyno, a trip to the Freedom Factory with some air time entries into the oval, lots of coffee runs. You can check out the vehicle build by heading to Adam's YouTube channel or watching some of the videos below.
Zeroy Hits the Dyno
Armed with a 6 cylinder VQ engine and twin G25-550 turbochargers. Zeroy makes 873 horsepower and 643 ft-lbs of torque at 20 PSI of boost pressure.

Vehicle Specs:
Shine Auto front bumper, side skirts https://www.shineautoproject.com/portfolio/z34-370zspec-a-aero/
Garrett G25-550 twin turbos  https://www.garrettmotion.com/racing-and-performance/performance-catalog/turbo/g-series-g25-550/
Akebono brakes https://www.z1motorsports.com/z1-products/z1-motorsports/z1-akebono-sport-brake-upgrade-package-front-and-rear-p-4296.html?osCsid=7ntd9hi0mv9gafmj5dar9tc2t0
BC coilovers https://www.bcracing-na.com/product/ds-series-coilover-nissan-370z-2009-2016
Doc Race water to air intercooler with rear mounted ice box https://docrace.com/collections/n54
Bride Lowback seats https://bride-jp.com/en/seat/
Adam Visits The Freedom Factory with Cleetus McFarland
What does 800 horsepower feel like on the track?