May 8, 2020
Adam LZ: 480 horsepower Frappuccino Themed S13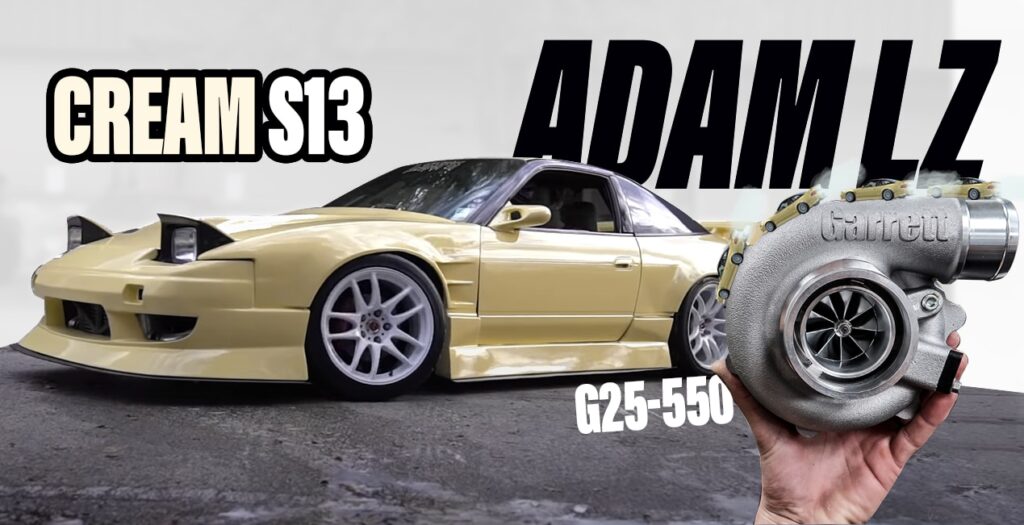 We all have our first car or know what our first car will be and all the things we want to do to it to fix it up. Usually along the way to those car goals you make some progress here and there or life happens and sell it only to have memories of the good times you had. Sometimes you end up wishing you never sold your first one and for those lucky enough to hold on, there's always just something that makes it more special than the rest. This 1990 Nissan 240SX SR powered hatchback is that car for Adam LZ.
The cream S13 is the original hero car for the popular Adam LZ YouTube channel and is the first car he learned to do donuts in, as well as other car modifications. Purchased to be a "beater" it was not something he built, but over the years he has modified and is now one of his prized possessions that he only takes to special tracks on special occasions. The paint resembles a frappuccino with its cream color on the outside and its chocolaty brown on the inside. Listen to Adam describe the car in a short clip.
Engine and Turbo Combination: SR20DET + Garrett G25-550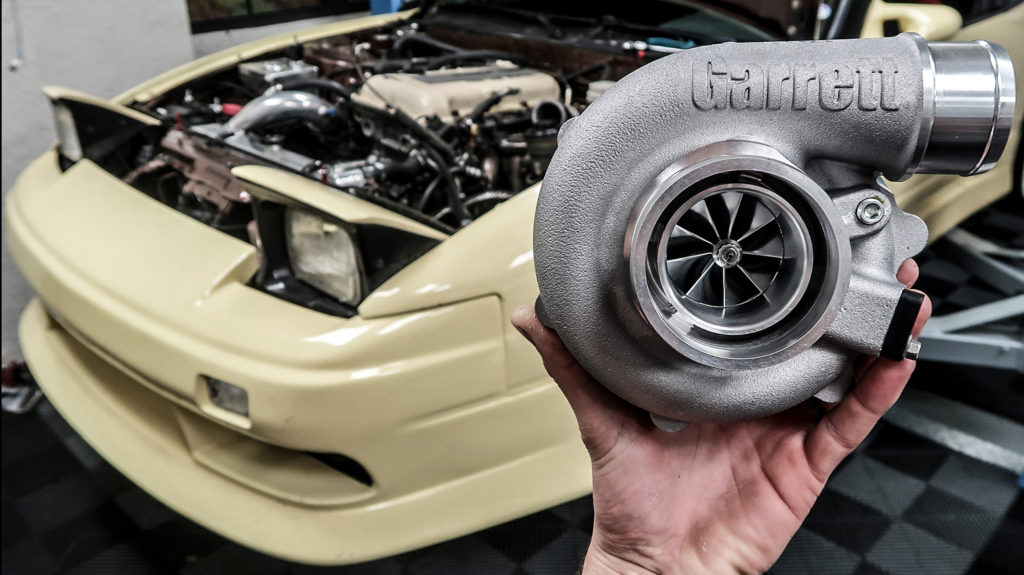 The Nissan SR20DET engine is a 2.0L 4 cylinder platform paired with a Garrett G25-550 turbocharger. The SR20DET was turbocharged from the factory and is easy to find parts for, while also being easy to work on. Being turbocharged from the factory makes the SR20DET engine easy to increase power by swapping the turbo thanks in part to so many kits out there for these cars it is one of the most popular engine platforms for drift and fun havers alike. The most recent iteration of Adam LZ's SR20 is now reinforced with forged internals allowing him and the car to really push the limits of the setup.
The G25-550 is a 1.4L – 3.0L turbo capable of supporting 300-550 crank horsepower. The 48mm compressor wheel combined with a 49mm turbine wheel provide amazing boost response to power capability. The G series turbochargers feature an 8mm dual ball bearing cartridge for reliability and support of the rotating group. V-band exhaust housings are offered in 0.72 and 0.92 A/R and Adam uses the 0.72 A/R. The result is a nice smooth torque curve with constant power in higher RPMs. 485 wheel horsepower and 449 ft-lbs of torque is a great number for a light-weight car like the S13.
Dyno Video:
Build Specs:
Work CR Ki wheels 17/18 staggered fitment
Brembo Brakes, dual caliper z32 rears
Buddy Club exhaust
Origin aero, http://www.origin-lab.com/main/
Alberto Big Boost Built cage
Ganador mirrors https://www.nengun.com/ganador/super-mirror
BN hood https://www.factionmotorsports.com/bn-sports-type-3-full-body-kit-for-kouki-97-98-s14/
ISR arms, subframe bushings, https://www.enjukuracing.com/products/isr-performance-pro-series-suspension-arm-package-nissan-240sx-89-94-s13.html
Serial 9 shifter https://www.serialnine.com/cd999-shifter
Garrett G25-550 https://www.garrettmotion.com/racing-and-performance/performance-catalog/turbo/g-series-g25-550/
Stock ECU- tuned by RSenthalpy
Ignite Red E90
Engine build video:
This is a great video on how to build the perfect SR engine. Everything from manifold, to turbo and upgrading all the internals.
Watch Young Adam Burn Some Rubber
This is great to see young Adam get nervous about some burnies in a parking lot.