09/15/2016
Honeywell at the 21st Supercharging Conference 2016
Turbo photo by Alain Ernoult
Interview
PETER DAVIES, Sr. Powertrain Director, Honeywell Transportation Systems, explains the positioning of the company as an innovative technology leader at the 21st Supercharging Conference taking place in Dresden between September 15-16, 2016.
What are the key differentiators that make Honeywell a leader across all platforms (gasoline, diesel or hybrid)?
The key differentiators are our leading engineering expertise and our ability to leverage Honeywell aerospace and automotive experience for the development of leading technologies across all platforms, such as the world premier Gasoline Variable Nozzle Turbine, called VNT. Gasoline VNT is an enabler for heavy milerization, and it offers diesel-like fuel economy with gasoline performance, and delivers up to 10% fuel efficiency improvement in Worldwide Light Vehicle Test Cycle.
For Diesel turbocharged applications, our portfolio is one of the broadest and includes leading innovations, such as our latest TwoStage VNT-VNT available for passenger vehicles diesel engines up to 300kW with optimized turbine and compressor aerodynamics for highest overall efficiency and ball bearing option for improved fuel economy.
And, we have the ability to bring mechanical boosting technology which has been pioneered at Honeywell – from our aerospace capabilities – to additionally electric products that help support hybridization and many software solutions, not only for powertrain but across the vehicle.
How well is Honeywell positioned in the Electric Boosting environment?
As the provider of best-in-class turbo machinery, Honeywell responds to the increasing demand with a broad offering of electric boosting solutions for all major car makers, such as electric compressors, electrically assisted turbochargers and other electric waste-heat recovery devices. With our air-system optimization experience and vehicle electric network expertise, including model-based controls, we are in a unique position to support customers in integrating electric and conventional turbomachinery into the vehicle air management system. We created a network of global engineering experts and that leverages more than 100 years of Honeywell expertise in Aerospace and Turbo Technologies in Automotive and in Motorsports by constituting a benchmark of efficiency in electric turbo-machinery.
What is Honeywell presenting and displaying this year at the Dresden Supercharging Conference?
This year Honeywell focuses its Dresden paper on a collaboration project with MAN. The two companies will share the technical details and innovations used to reach best in class fuel economy values in the Euro VI On-Highway environment.
Meanwhile at its booth Honeywell will showcase its VNT for ECO Gasoline engines whose debut was announced earlier this year at the Vienna Motor Symposium.
Learn the latest Honeywell trends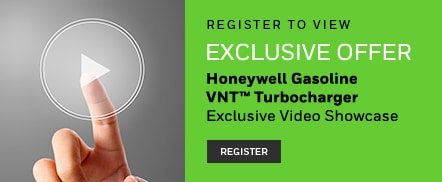 Need more information?
Don't hesitate to contact us!