unplanned fleet downtime costs thousands of dollars per vehicle per day
Garrett Early Warning System (EWS) uses the data from your vehicle combined with Garrett's advanced analytics capabilities to assess your vehicle health and predict when your vehicle will fail.
EWS can analyse all your vehicles systems and subsystems including key systems frequently causing vehicle downtime and cost escalation including:
Early detection of Fuel, Exhaust & Aftertreatment or EGR system issues
Early detection of airpath issues.
Early detection of Battery, Alternator or Relay degradation
Brake pad replacement warnings with estimated remaining days and running distance (km)
Whilst running EWS on test fleets EWS signaled undetected issues up to 90 days before failure and up to 21 days before the vehicle emitted a diagnostic trouble code.
DETECTION
EWS analyses data from the vehicle telematics and identifies a problem in the vehicle behavior in near real-time. An anomaly can be detected due to a change in the behavior of a mechanical part or a change in fluids such as in pure fuel.
DIAGNOSIS
EWS pinpoints the issue location, notifies the fleet manager and stores the data history for easy visualization in the garage. Real time fault diagnostics reduces the need to replicate the fault increasing first time fix and reducing time off the road.
PROGNOSIS
Driver and vehicle behavior is analyzed using Physics based models (PBM), Artificial Intelligence (AI) and Machine Learning enabling fault prediction from 2 up to 90 days before a critical fault. Reduce unplanned downtime through scheduled maintenance.
SERVICE MANAGEMENT
EWS compiles a full fault and DTC history including the ability to produce reports of vehicle behavior at the time of the fault. Instantly compare pre and post-fix data. EWS also provides follow-up on the repair and produces the evidence in case of a wrong or failed repair.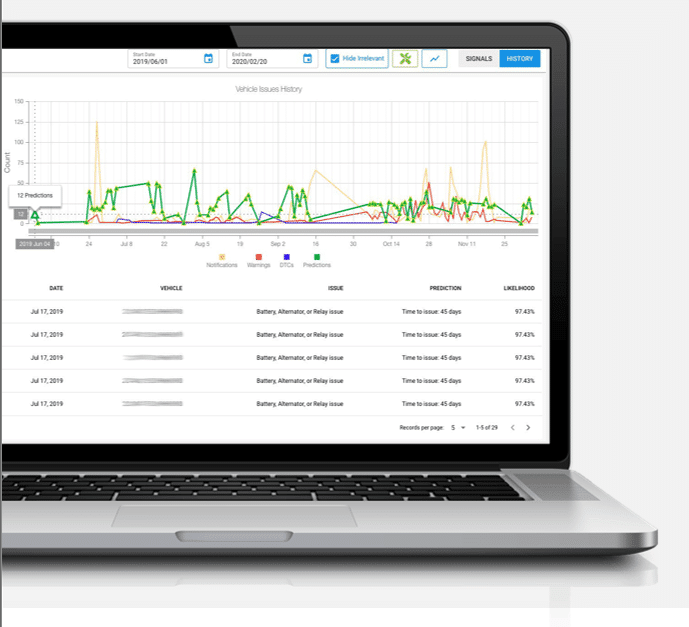 | Online Live reporting | Platform features | Decision Enablement | Repair & Maintenance Efficiency |
| --- | --- | --- | --- |
| Vehicles are monitored in the live environment, EWS will run ongoing diagnostics flagging issues as they arise. | Easy registration of new fleet vehicles on the EWS platform. | Improved maintenance and repair scheduling to ensure to reduce downtime. | EWS service report enables a garage report with overview of vehicle behavior and analytics at time of issue. |
| Flagged issues will be accompanied by a failure prediction up to 90 days. | Visibility of all fleet vehicles registered with a detailed view of systems tracked per vehicle. | Reduced risk of sending vehicles on the road with a risk of breakdown. | Diagnostic assistance helping guide the mechanic to the relevant systems and subsystems where issues has been identified. |
| The EWS platform will signal and decode DTCs (Diagnostic Trouble Codes). | History tracking of each vehicle including past issue and fix visibility (as of the date the vehicle was registered on the EWS platform). | Vehicle purchasing decision support, knowing which vehicles behaved best for your needs. | Service follow-up analysis showing live data from the vehicle to review if issue is resolved. |
| Issues signaled on the EWS platform will provide fix recommendations. | In depth data analytics capability including user customizable data views. | Post-maintenance assessment to ensure vehicles are leaving the shop floor fixed. | |
| | Easy filtering of vehicles by issue types and severity. | Overall fleet analytics to review fleet performance (issues, maintenance, fluids). | |
Are you a
Telematic Service Provider – TSP?
Join our growing list of partners adding Garrett EWS to their fleet management offering.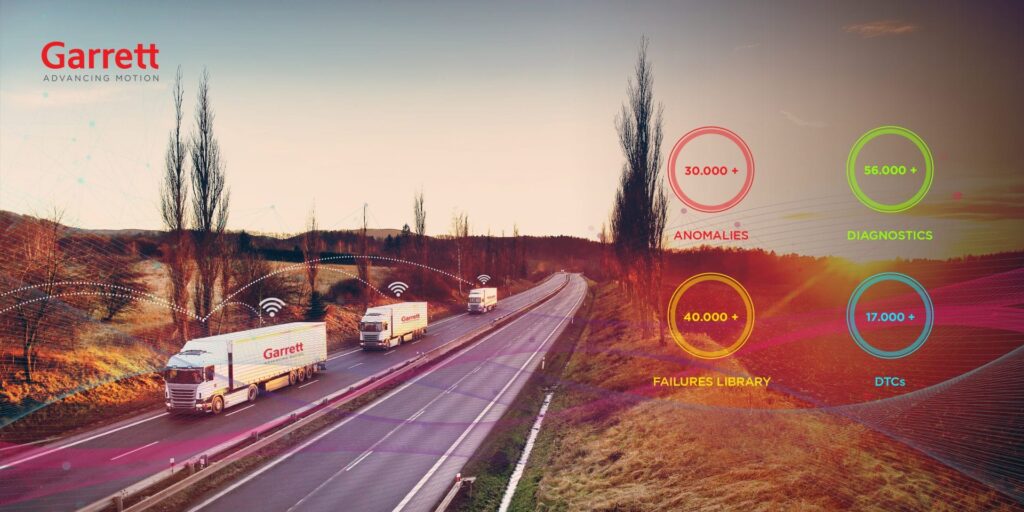 Request to
become a partner
Do you
represent a Fleet
or want to become
Telematic Service Provider – TSP?


Click here and fill in the form
, afterwards a Garrett representative will be in touch with you shortly to discuss EWS in more depth and answer all of your questions.
Early Warning System
Frequently Asked Questions
Q: If I buy the EWS Solution from Garrett, will I also need hardware?
Q: Who is the ideal user for EWS, the Garage or fleet manager?
Q: Does Garrett build the hardware dongles?
Q: Will my Choice of hardware impact the quality of the EWS solution?
Q: Will the EWS system allow for remote changes?
A:
This depends on the telematics capability – if they allow to write we can overwrite to change anomalies on the EWS Platform
Q: Is EWS Compatible with all vehicles?
A:
Yes. EWS can connect to OBD2 as well as singles from trucks and trailer units (J1708 & J 1939)
Q: How does Garrett Manage personal data?
A:
Personal data is only used to give the fleet manager visibility on their fleet and is not shared. When the service ends or upon request all personal vehicle data will be erased. Garrett gathers anonymous data from the vehicle to enable predicative modeling. This data is not personalize and can not lead to the identification of a specific vehicle or individual.
Q: How is EWS different to DTC (Diagnostic Trouble Code) decoding?
A:
DTCs arise when the vehicle ECU has identified an error. DTC decoding will notify the user of an impending error. Through EWS the fleet manager will be notified of potential risks before the DTC is being detected, enabling for more time to schedule the vehicle for maintenance at the most optimal time.