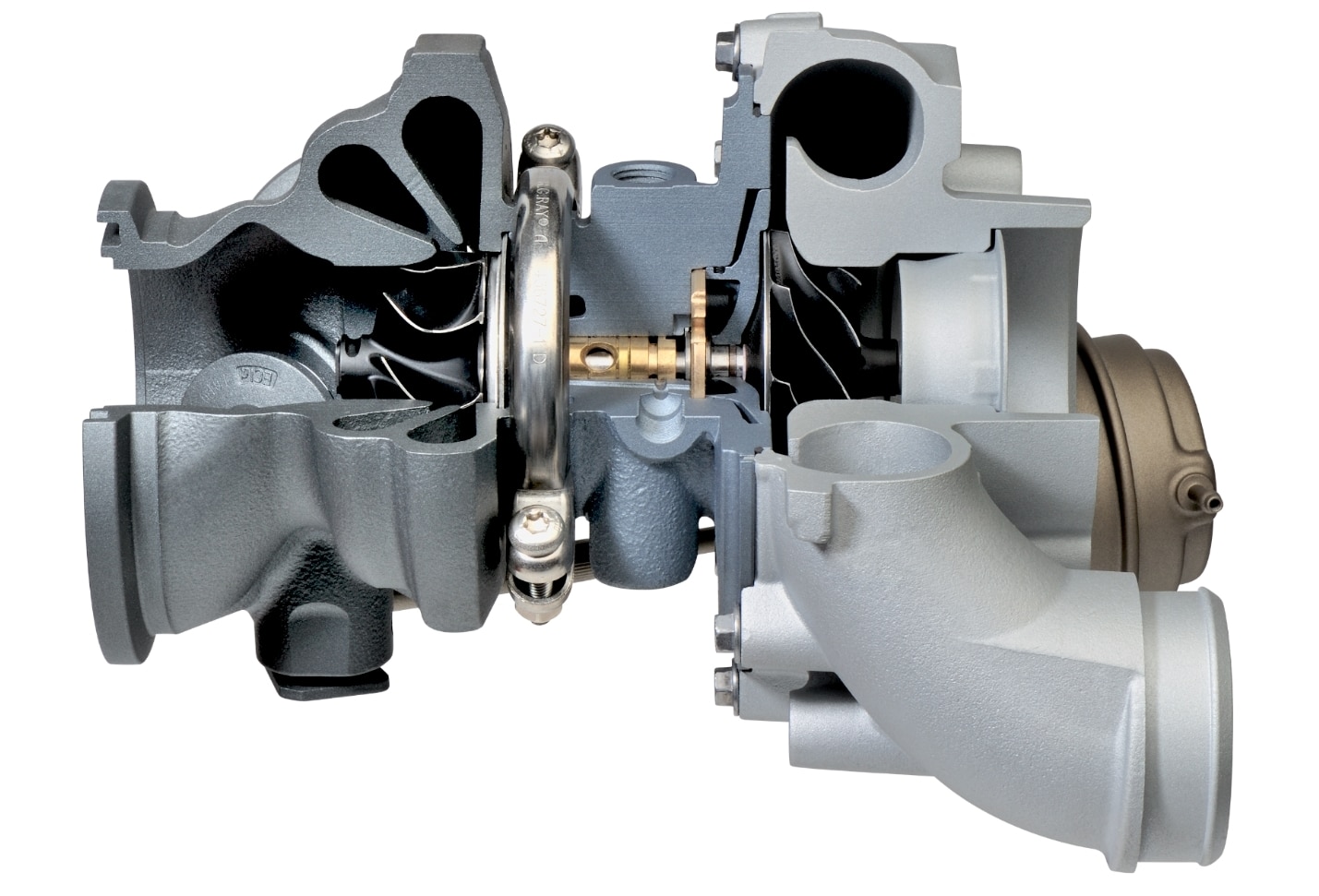 Although wastegate turbos are simple in their design and architecture, they are still being widely used today on a variety of engine platforms globally for their proven reliability and cost advantage. Compact fixed-geometry turbochargers will continue to play an important role as their designs continue to evolve to help achieve advances in performance, fuel efficiency and emissions control.
Engine Range
Garrett small wastegate turbos are applicable for engines ranging from 0.8L to 3L, corresponding to power ratings ranging from 30kW to 120kW.
Key Features
In a wastegate turbo, engine boost levels are controlled through the coordination of actuator and bypass valves. At low engine speeds, the bypass valve stays shut to ensure maximum flow of exhaust gas to the turbine and a fast turbo response at start-up. At higher engine speeds, the actuator opens the bypass valve to limit the amount of the exhaust gas entering the turbine, thereby controlling the boosted air supply for the engine.
To help automakers meet stringent emissions standards, Garrett offers a range of small wastegate turbos that are designed to help lower CO2 output while maintaining the engine's performance edge. Garrett wastegate turbos benefit from improved aerodynamic design with a special focus on achieving better low-end efficiency, and the latest Z-Ultra bearing offers further differentiation in terms of improved low-end torque and transient response. In addition, enhanced oil sealing and blow-by levels through optimizing the seal and piston ring design further contribute to lower emissions and help reduce the oil consumption. The next generation turbos are also designed to meet the requirements of further engine downsizing in line with the global trend.
Key Benefits
Wastegate turbos are ideally suited for engines that favor cost and fuel efficiency over performance. It offers a cost-effective way of taking advantage of turbocharging, especially for entry-level engines and for emerging regions. Garrett wastegate turbos, through improved aerodynamic design, deliver better turbo efficiency and helping deliver lower emissions and better driveability. Their compact design and lower weight translate into better cost, more packaging flexibility without compromising on performance.
Evolution and Future Trends
Wastegate technology for diesel applications first went mainstream in 1978 when Garrett TA03 was the first mass production turbo for diesel engines in Europe. Two years later, the Peugeot 604 set the scene for the rapid penetration of turbo diesel technology as the vehicle gained in popularity. For many people the 604 became the first experience of just how responsive a "modern" turbo diesel could be.
In recent years, Garrett diesel wastegate turbos have been continuously upgraded to meet the demands of the new era when lower emissions and better fuel efficiency are the norm. In 2010, Garrett launched its smallest-ever wastegate turbo for the world's first 2-cylinder turbocharged diesel engine in India. Compared to a non-turbo equivalent, the Garrett boosted 2-cylinder diesel engine offers a remarkable 25 percent improvement in power along with significant fuel efficiency gains and lower emissions.