Zoom on turbo technology | BOOSTING THE FUTURE
How a Turbo Works
Turbos are fundamental to addressing the auto industry's most pressing challenges. They dramatically improve combustion process efficiency, enhance vehicle performance and help reduce emissions. No wonder more than 140 million Garrett turbos currently boost cars and trucks around the world.
Turbos utilise exhaust gases to power a turbine wheel, which is connected via a shaft to a compressor wheel. As the two wheels turn, large amounts of ambient air are sucked in and compressed. This air is passed through a charge-air cooler to further increase its density before it enters the engine. Turbocharged engines generate more power than naturally-aspirated engines of the same size. And the combustion process becomes more efficient. Furthermore, this helps reduce emissions and enhance the driving experience.
3rd Generation VNT™ Turbo
In a Garrett variable geometry VNT turbo, a row of moveable vanes positioned around the inlet of the turbine wheel can be adjusted instantaneously to vary the exhaust gas flow through the turbine wheel. This makes it possible to regulate the flow of gas so that a VNT turbo will act like a small turbo at low speeds – supplying more engine boost – while automatically providing larger turbo performance at higher speeds. The ability to vary the mass flow through the VNT enables car manufacturers to optimize fuel efficiency, emissions and driveability.
Garrett's turbo portfolio covers the widest engine range in the automotive industry. From micro turbos for small cars to large turbos for off-highway equipment, Garrett's line-up offers the world's auto manufacturers boosting solutions for gasoline, diesel, CNG, hybrid powertrains and hydrogen fuel cells.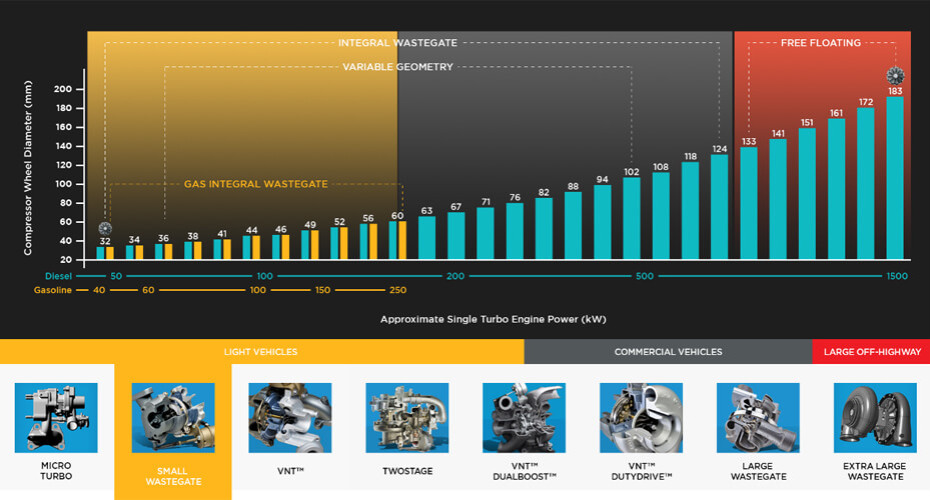 TURBO INSIGHTS
Knowledge Booster
Browse our turbo resources to boost your knowledge base.