Meet #GenerationGarrett
Jaroslav Pekař
Senior Research & Development Manager, Garrett Connected Vehicle
Jaroslav Pekař is a true innovator. Since 2007, he has been working on the edge – the edge between theory and real-life next generation automotive applications.
Challenging? Every day. Rewarding? From the first innovation seed to the final project application blossom.
For him, Garrett means  thrilling innovations, an open work environment and a start-up like culture,  where the agility and flexibility meet the heritage of an iconic automotive brand with a history of more than 65 years. Discover the #GenerationGarrett stories.
Authoring more than 50 technical papers and contributing to more than 10 Garrett patents, Jaroslav Pekař is much more than a passionate scientist and a resourceful engineer, he is a mentor for the young generation of Garrett engineers.
With more than 15 years of experience in advanced controls and a strong education background in control engineering, Jaroslav's work has been connected to the Garrett brand for the last 13 years. His career story represents a blend of love for technology, passion, and hard work.
Growing with the business
"My education background is in control engineering and I'm specialized in advanced controls. During my studies I was cooperating closely with one professor, really a mentor to me, and I realized that his work is great and that I love technology. I started with a part-time job in advanced controls during my Ph.D. and then, in 2005, just after I've had completed my studies, I became a full-time control engineer for industrial energy applications.
My journey in automotive started two years later. In 2007, I was invited to join a new company initiative, as leadership decided to explore the connection between advanced controls and transportation systems and to analyze the opportunity of applying the existing advanced controls know-how to the automotive industry. This project started with a 'task force' of five people, including myself, and grew to be Garrett's Connected Vehicle organization.  So currently, I'm the longest tenured employee in Garrett's software Connected Vehicle (CoV) team. I grew with the business."
What keeps the passion alive
"First, I love innovation and I see in automotive many opportunities to innovate. With electrification and connectivity shaping mobility, the industry is evolving so fast, that I'm getting new technical challenges to overcome every day. Furthermore, at Garrett I'm working in a very dynamic, flexible and open start-up like environment, where I can apply theoretical knowledge in the real environment. This connection between theory and real-life application is quite rare in our field.
To conclude, there isn't any routine in what we do. This is driving me.
Second, I was given the opportunity to lead an amazing team, and the chance to share my knowledge and to mentor young people that love technology and want to drive progress.
Third, I can contribute to define the direction of the business and I feel that I can really make my mark."
We work on the edge between theory and real-life applications and this is something quite unique about our team.
The projects: connecting theory with real-life applications
"We have three types of projects. The first type is related to the pre-development of new technologies – these are the technologies that haven't matured yet and aren't prepared for immediate application.
Then we have the development projects – where we confirm that the pre-development technologies are likely to be adopted by the industry. In this phase, things are becoming exciting. The team in CoV is quite educated, around 50%-60% of our engineers have a Ph.D., so we share a strong theoretical education background. With these projects we can take the theory and apply it to real-life problems, to real engines, to real vehicles, in the real environment. In the academy you end up with equations, and you see that everything works on paper. But when you will take it into the real environment you may realize nothing works, so you need to put time and effort in making it functional. We, as a team, have this know-how of transforming the theory into actual real environment applications. We work on the edge between theory and real-life applications and this is something quite unique about our team.
We work in a start-up like atmosphere: everything is very dynamic, with a lot of challenges, as well as plenty of opportunities.
The third type is the series production phase. Here, we need to take what we developed, to mature it and to bring it to production quality. We need to make sure that our software meets all the requirements, and all quality and legal standards. Overall it is very rewarding, and therefore our team is attracting the top talents who want to bridge theoretical knowledge with real-life applications."
An open work culture, where you can make your mark
"In Connected Vehicle, the Garrett's software organization in which I work, there is a start-up like atmosphere: everything is very dynamic, with a lot of challenges, as well as plenty of opportunities.  Moreover, the work culture is very democratic: there is open communication from leadership to individual working teams. We have freedom and trust as a team. This trust provides us the opportunity to really contribute to shaping the business and make our mark. We are defining technology roadmaps, identifying the right opportunities with the customers. Everybody can contribute. We work as one team."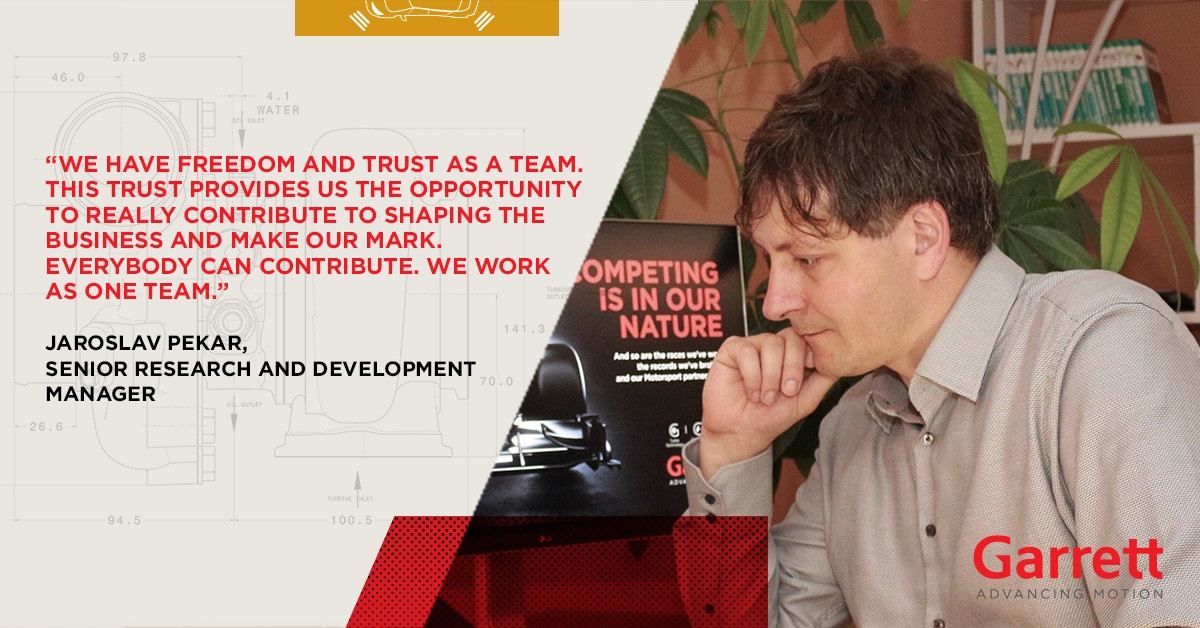 Mentoring: Focus on the technology. Career growth will follow.
"My advice to young professionals is to focus on the technology. Career growth will follow soon enough. From my experience, in this field you need to be extremely focused and to pay attention to every single detail. We need to be very precise. If there is an anomaly, it is impossible to ignore it because it will reflect in the overall performance of the application, so attention to detail is crucial."
Visit Garrett's Careers page to learn more about our work culture and to discover our career opportunities.
Garrett Connected Vehicle
Garrett's Connected Vehicle software portfolio helps OEMs safeguard vehicle integrity at all times by detecting, reporting and preventing anomalies that might occur. We deliver Automotive Cybersecurity, OEM Diagnostic and Prognostic, and Fleet Early Warning System to our OEM customers and fleet operators, to unlock the full potential of automotive connectivity.