March 21, 2020
Q&A with Garrett-Sponsored Pro Racer & TV Host Collete Davis
At Garrett Motion, we're always driving forward to challenge the status quo, from championing new technologies and pushing boundaries, to empowering customers and overcoming obstacles. Throughout February and March, we will be highlighting some interesting people and personalities in and around Garrett's Performance team about their unique stories and how they are challenging the status quo.
This week we feature Garrett sponsored professional racecar driver Collete Davis, who also works as a stunt driver, entrepreneur and national TV host featured on TLC, the TODAY Show, Fox News and more.
How did you get started in racing? What inspired you?
I got started in a very non-traditional way. I'm a first-generation racer in my family, which is unique to find in this sport. Growing up I was always very curious and competitive, it all started when I started taking lawn mower engines apart and figuring out how to rebuild them, then that turned into working on cars. When I was 15 years old, I found go-kart racing and it satisfied my curiosity and competitiveness in a way that other sports couldn't. Doing my first season of go-kart racing with my Dad by my side is what motivated and inspired me.
What has been the biggest highlight of your career?
Being the first woman to ever lead laps and do well in a global rallycross series was huge for me. Proving myself against some of the best drivers in the world like Ken Block, Scott Speed, Tanner Foust and more was really motivating and I'm proud that after all these years I'm starting to lay the foundation for my own team. I've also gotten other opportunities because of racing that I'm extremely proud of. For example, I was offered to host my own TV show on TLC in 2017 called "Girl Starters", which is a competition TV show for young female entrepreneurs.
Tell us about what it was like hosting a TV show. What were the challenges? What did you learn during this time?
In 2017 I moved to New York to host the show. It was one of the most rewarding and amazing experiences of my life. From an entertainment perspective, I had never done anything like that. But I showed up on set day one and just had to figure it out.
Having to learn in real-time in an environment that demanded perfection was tough, especially as every minute of time in production costs a lot of money. However, this pressure wasn't unfamiliar; in racing I encounter high pressure, money sensitive situations all the time, and I believe this helped me get through it.
My ability to push through fear and just go for it has come up many times in my life as a race car driver and entrepreneur. It doesn't happen very often, but when I feel those butterflies in the pit of my stomach, I know I'm doing something right.
Toward the end of two months of filming every day, I felt like I had an MBA in TV and entertainment, and my nervousness in the beginning turned into confidence and excitement. I was so stoked to get in front of the camera that I was even working on the scripts with producers and contributing to editing changes here and there.
Tell us about your career journey. What obstacles have you overcome to get to where you are now?
By being the first person in my family to ever do something like this, I had to start from ground zero. Racing is a very expensive sport, so very early on I realized that I had to be entrepreneurial in the way I went about it. For me, that meant walking miles across racetracks to network with people and meet different teams. But I've always had a positive outlook and believed in myself before anyone else did. By the end of my first year racing go-karts, I learned that I needed to get out there and do fundraising, work with different partners and market myself. Before I ever was a professional race car driver, I walked into meetings saying that I was one. And I believed it. That's how I got to where I am today.
Who do you look up to in the sport and why?
My idols are different because I didn't grow up watching racing. I idolize and love what Ken Block did as a driver by building his own brand and how successful he was as both a driver and an entrepreneur. With my background in racing, I look up to those who've had to do the same thing.
On the entrepreneurial side, one of my biggest influences is investor and owner of the Dallas Mavericks NBA team, Mark Cubin. I remember emailing him when I was 16 years old and he responded! He said that he doesn't care about passions or dreams, he cares about hard work and what you're going to accomplish. I've lived by those words ever since.
Why does racing excite you?
Racing is an excellent example of human and machine coming together and pushing the limits.  A lot of people don't realize how physically and mentally demanding it is to drive a race car, but it's the thrill around the sport and being able to push myself that I love.
What advice do you have for the future generation of female racers?
My best advice is to believe in yourself first. You must believe in yourself first and foremost before you can ever expect that from other people. It's cheesy, but, believing in yourself, working hard and never giving up are the keys to success.
I've had a ton of lows, but I've also had a ton of highs because I didn't let those lows make me stop working toward my dream.
How do you see diversity changing or evolving in the racing space?
I think diversity will come over time. Not a lot of young girls see other women in fields that are mostly male dominated, so as time goes on and there's more light shed on women in racing, women in engineering and women in NASA, then we start a chain reaction of younger girls growing up believing that there's not anything that they can't do.
What is the most valuable lesson that racing has taught you?
The most valuable lesson I have learned is that believing in yourself is the best thing you can ever do. I had so many people tell me I was never going to be able to race because I didn't have money or because I'm a girl, and I proved them all wrong.
Racing has forced me to believe in myself more than I ever thought I would have to, much less be able to. That is the only way I was able to push through the noise of people telling me I couldn't do it.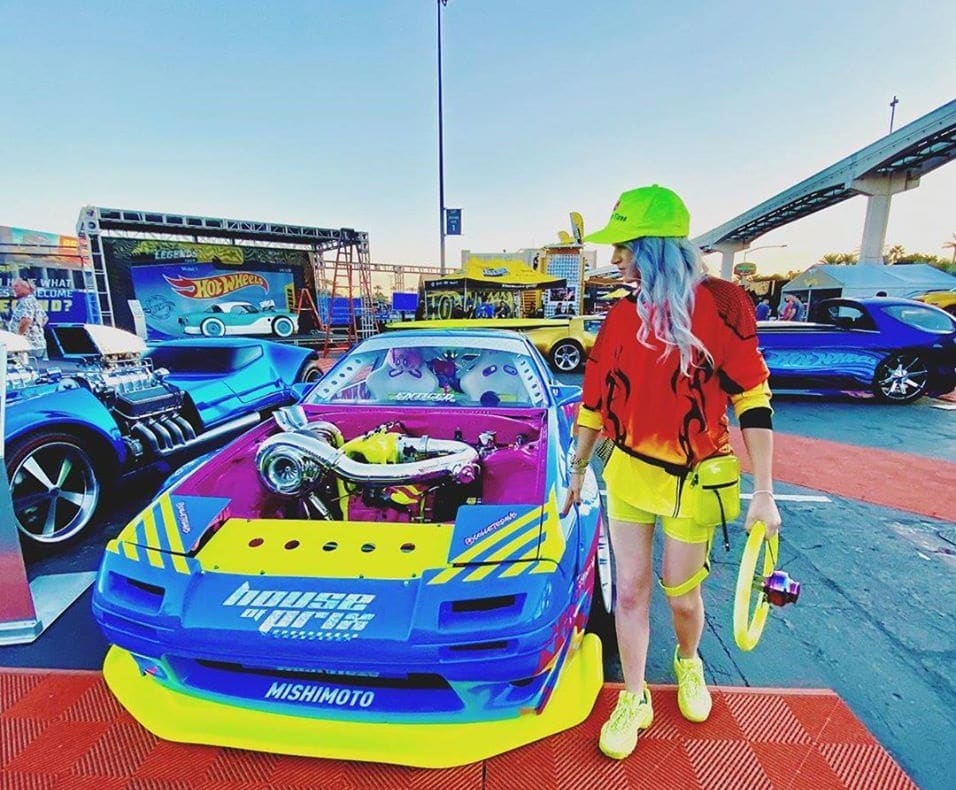 For additional information about Collete, her racing schedule and more, click here to visit her website.