February 25, 2020
Racecar Driver Kelly Bettes Talks Life, Top Fuel Racing, & More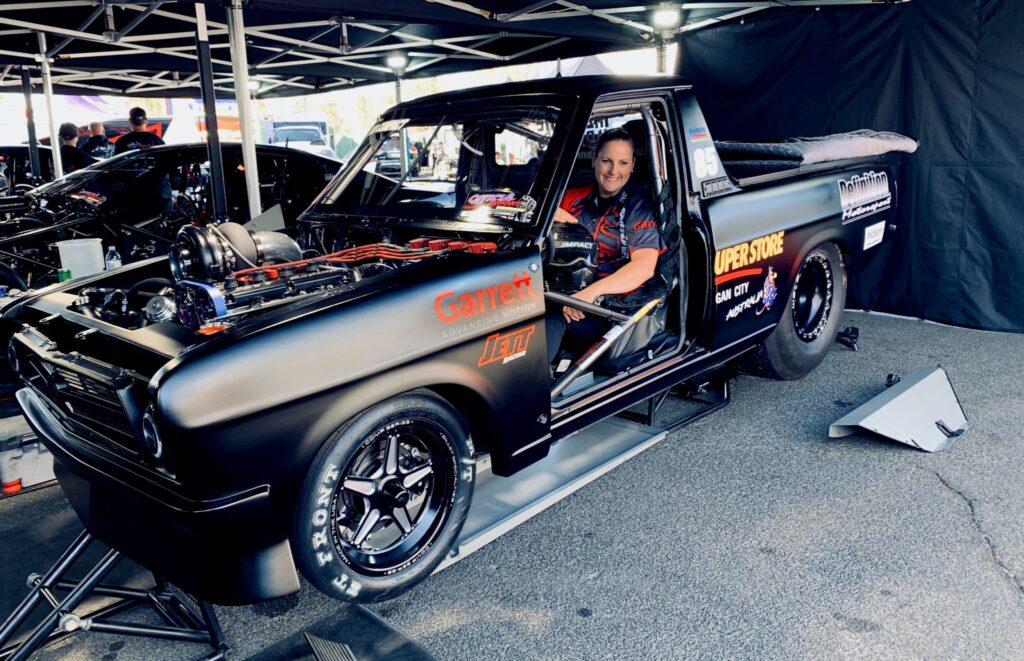 At Garrett Motion, we're always driving forward to challenge the status quo, from championing new technologies and pushing boundaries, to empowering customers and overcoming obstacles. Throughout February and March, we will be highlighting some interesting people and personalities in and around Garrett's Performance team about their unique stories and how they are challenging the status quo.
Recently, we featured an interview with Sally McNulty. This week we're highlighting a Q&A with Australia's Kelly Bettes, a Garrett-sponsored professional racecar driver, as she describes her journey in the racing industry.
Tell us about your career journey. How did you get started in racing?
My dad was involved in racing since before I was born, so naturally since I can remember I was a part of the racing scene. Growing up, I was always at the track and for me it was a natural progression getting into racing. When I was 22, I managed to get myself a modified dragster and started racing in that. I had great success with that car and even won a championship. But when I was on the road to racking up another championship, I unfortunately had an accident that totaled my car. Later in the year, I was able to sell some of its parts which lead to being able to purchase another modified dragster – I still have that car today and I race it on and off.
A couple of years later, I had the opportunity to drive the Jett Racing black Datsun pickup truck. Seven years later, I'm still racing it and we have had some great success. We even raced it in the U.S. in 2018! My experiences in these cars lead me to a very unexpected opportunity to pilot a Top Fuel car for the Lamattina Top Fuel Racing (LTFR) team in 2017. I went on to drive that car for two years, winning one championship and coming 2nd in the following year. I've had some great experiences and opportunities along way, including driving the Jett Racing Pro Mod Mustang for an event last year – it was such an impressive car to steer and I wouldn't hesitate to jump back into it.
How would you say that technology and engineering has improved the performance ability of the cars that you've driven?
As time goes on technology improves. Years ago, we didn't have the engine management systems or computer systems that we do today. In terms of improved performance, these systems have given drivers and tuners the ability to control the cars more, resulting in faster speeds. Technology and engineering innovation are what allows us to be able to perform the way that we do today.
What advice would you give the future generation of female racers?
It is getting better these days, but some females don't think that they are capable of racing, but there is absolutely no reason why any female can't drive any car. We have females in every category now and I don't think females should feel scared of the sport. If you love being in a car and you love going fast, then come give it a go and get in a car!
How do you see diversity changing or evolving in the racing space?
Naturally, over time diversity in the sport has gotten better because there are more females involved in racing now than there used to be. Years ago, it wasn't even accepted that a female would be in a racecar. Now, it is not a strange thing by any means to see a female in a racecar. Generally, females have become more and more accepted in many industries that were previously male dominated. In racing, females have proved that they can drive just as good as males. For example, the fastest person in the drag racing world right now is a female!
What is it about racing that excites you and makes you want to keep going?
What excites me most is the feeling of achievement that you get with racing. Not only is it my personal achievement, but it is the feeling of achievement that you get with a team around what you all achieved together. Obviously, the adrenaline from the speed that you get during a run is something that everyone feels but I think that the competition and feeling of winning is what excites me most.
What's the scariest moment you've had in racing?
I wouldn't put it down to the accidents because they are just a part of life when you are involved in racing. I would say that the scariest moment thus far has been when I did my first full pass in a top fuel car. It was pretty daunting as we had limited testing time in the lead up to an event the team had committed to running. I had completed a couple of half-track passes, but we were running out of time and couldn't waste runs going to 1,000 feet. I went from going half-track to two full ¼ mile runs. At the time, in Australia, we were still racing quarter mile. Now, all top fuel is racing to 1,000 feet. Holding that car flat and doing 326 miles-per-hour was the most thrilling and terrifying experience of my life!
What do you like to do when you are not racing?
I work full-time managing the Jamboree Drag Racing event. I am also a graphic designer so that keeps me busy after hours. Going to the beach and hanging out with my dogs are my favorite relaxing things to do; Nugget is a Jack Russell and pug mix and Squishy is a mix of a few different breeds. We found them on the side of the road, and we took them in as rescue pups. Racing takes up lot of my time, so when I do have spare time, I try to spend it with my friends and family.
What's the biggest lesson that you've learned from racing?
I think the biggest lesson I have learned is being able to perform well under pressure. When you've got the added pressure on you and you have to prove yourself, you learn a lot about yourself and your capabilities. Being able to put all the nerves aside and perform when you are behind the wheel is so important in this industry. When driving for a professional team, you have to let the little things go and not have them effect your performance on the track. Keeping focus no matter what might happen in the lead up to a race is paramount!
What has been the biggest highlight of your career thus far?
There are several big moments in my career that stand out to me, but when I won my first modified championship in 2010 comes to mind first. At that time, I was the most successful sportsman racer in the country, and I also won a trophy called the John Storm memorial Trophy, so that was a big achievement for me in that year. Winning that championship was something to really be proud of and it helped me move forward in my racing career. After that, I moved forward to driving with the Jett Racing team, which led to racing cars I never thought I would. Plus, racing in New Zealand and the U.S. were huge career highlights for me.
Another big win was getting to drive in a top fuel car and then also win a top fuel championship in my rookie year! This created memories that I'll never forget and experiences like no other.
It's hard to put it down to just one thing when so many major things mean so much to me.
Who do you admire in motorsports and why?
I look up to a few women in motorsports because I admire the way that they carry themselves. With social media being a huge part of life now, I have respect for those who keep it respectful on social media and those who hold themselves well at the racetrack. Erica Enders can perform under huge amounts of pressure and has come from the bottom and raw talent and hard work got her to where she is. She has earned so much respect from me.
I would have to say that Shawn Langdon and Antron Brown are next on the list. Shawn still takes his super comp car out and races at big dollar bracket races. Those who don't lose sight of where they came from and still enjoy the small things have my respect.