January 26, 2022
Chris Forsberg's Twin Turbo Nissan Altimaniac Drift Machine

This GT-R Powered Nissan Altima Drift Machine Can Make 1300WHP with Garrett Turbos!
By Ainsley Jacobs
Drift superstar Chris Forsberg's insane GTR-powered RWD Nissan Altima makes 1300WHP horsepower with its twin Garrett turbos.
Tire slaying superstar Chris Forsberg and his cohorts at Nissan and Valvoline have put together what is one of the most jaw-dropping drift cars ever built: a full tube chassis, 1300WHP, rear wheel drive 2021 Nissan Altima powered by a GT-R engine and boosted by twin Garrett G30-770 G-Series turbochargers.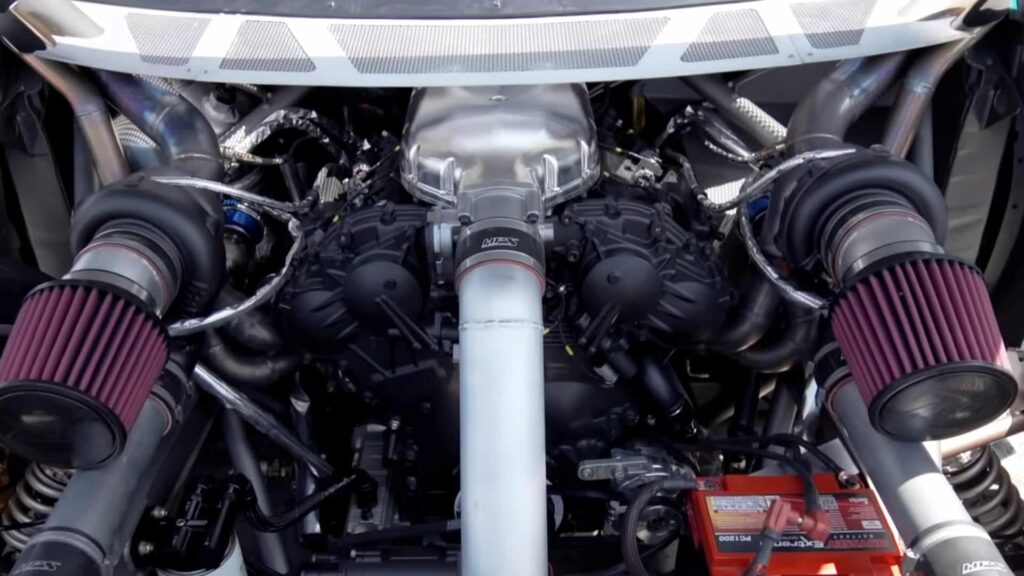 Known as the "Altimaniac," the insane sedan was built primarily for the purpose of having fun with friends – yes, the four-door car's interior was even fitted with four individual Recaro carbon seats and classic JDM Takata harnesses – truly making it party central on wheels.
The world's first CAD-designed and tube chassis drift car, Forsberg's Altima began its life on a computer. Specifically set up to push the frame and suspension points up as high as possible, the Tekk Consulting chassis also was modified to place the Nissan GT-R engine down and back behind the front axle for optimum driftability.
Also wanting to claim the title of the world's most powerful drift car, the VQ38DETT engine was built by the drag racing geniuses at T1 Race Development where it was bored out to a 4.1-liter displacement and fitted with a billet bottom end. A Radium fuel cell and rear-mounted radiator were also added in keeping with true racecar style.
The custom turbo manifolds perfectly placed the original twin Garrett G-Series G30-770 turbochargers for optimum under-hood viewing pleasure, and will be upgraded in the future to twin G-Series G35-1050 turbos so the engine can make more than 2,000+ horsepower. The G-Series turbos offer quick spool for great throttle response and unbeatable durability, both of which are essential for any drift car that is regularly bouncing off of its rev limiter.
Although the Altima came from the factory as a front wheel drive platform, that didn't stop Forsberg – instead, the team converted it to rear wheel drive and installed a killer sequentially-shifted Race Tech Services 6XD dogbox transmission.
A trick suspension setup with double A-arms up front offers compact placement within the confines of the wheel wells with tons of adjustability. BC Racing supplied the race-spec coilover dampers that provide the perfect amount of stiffness to help Forsberg put on impressive performances.
Out back, a Winters Performance Products rear end helps transfer power out through the custom aftermarket billet hubs so that the custom Rotiform WGR-M wheels can enable the decimation of the massive 295 GT Radial Champiro 2SX RS tires.
Not wanting to produce another VIP Style ride, the Altimaniac's Valvoline-centric throwback livery was done up as a nod to the iconic DTM German Touring Car era with an intimidating widebody kit and a super low stance. For the finishing touch, a chassis-mount swank neck wing was installed.
The amount of engineering and top-quality fabrication that went into making the Altimaniac drift car a reality is mind-blowing. From the chassis design to the turbo selection, suspension setup, and more, no expense was spared in creating the ultimate slideways sedan.
Check Out The Video From Hoonigan
VEHICLE: 2021 Nissan Altima
ENGINE: Nissan VR38DETT 4.1L
TURBO: Garrett G-Series G30-770 (5855 turbo compressor to turbine wheel specs)
TRANSMISSION: Race Tech Services 6XD sequential transmission
POWER: 2,000+
USED FOR: drift