Increased power & efficiency in a quiet, compact design
Our efficient, powerful and lightweight compressor fuses leading-edge aerospace and automotive technologies to boost next-generation fuel cells and promoting the adoption of zero-emission vehicles.
Our
Two-Stage Electric Compressor

for Fuel Cell Electric Vehicles

Garrett's Two-Stage compressor enables automakers to optimize electric powertrain potential by boosting hydrogen fuel cell stacks to higher pressures and flows within a downsized package that fits inside regular vehicles.

Advanced bearing and electrical system designs increase performance, reduce size, weight, and noise, and help make the vision of zero-emissions vehicles a reality.
Hydrogen Fuel Cell Vehicles to Accelerate Electrification in the Global Auto Industry
The auto industry is investing in a new powertrain revolution using electrification. Although sometimes positioned as competing technologies, an evolving narrative we support recognizes that neither BEVs nor FCEVs by themselves can provide for all zero-emissions transportation needs during the next several decades.
Coupled with more efficient internal combustion engines and hybrid powertrains, the leap to an electrified automotive future will likely see both BEVs and FCEVs in different uses and duty cycles across passenger and commercial vehicle segments.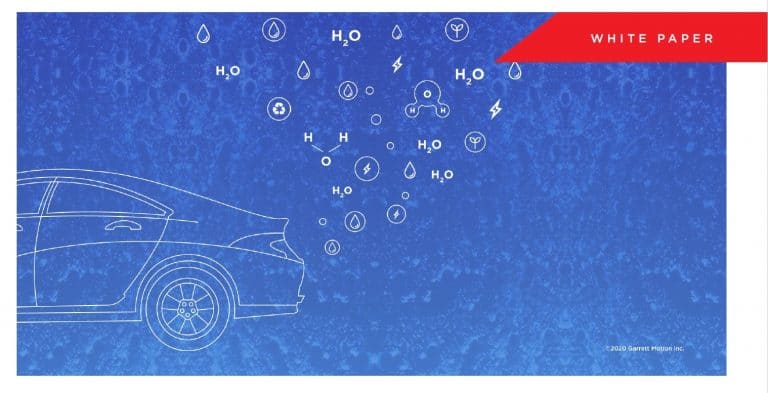 Two Stage Electric Compressor for Fuel Cell Electric Vehicles
Key Features
Garrett's design innovations have helped reduce the size of hydrogen fuel cell stacks by 40 percent over predecessor systems, simultaneously generating significant gains in constant power ratings.
Our Two-Stage compressor can operate up to 20kW continuously and supply air at over 4 bar, helping to increase in stack power density.
Proprietary airfoil bearings result in a dramatic reduction in compressor noise, and run without oil, eliminating the risk of fuel cell stack contamination.
Two-Stage Electric Compressor for Fuel Cell Electric
Vehicles and Connected Vehicle Solutions
Garrett's future-focus extends beyond turbo and compressor innovations into solutions ready to address the challenges of a connected future.
Our engineers are collaborating with automakers across cybersecurity and integrated vehicle health management landscapes, driving the development of end-to-end platforms central to a connected, shared, autonomous, and secure future.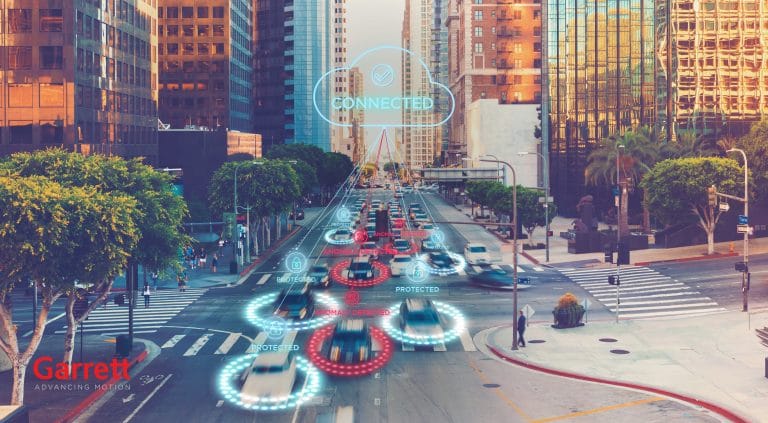 A key challenge going forward will be making the fuel cell systems smaller and more efficient so that the powertrain can be installed in conventional vehicles that offer the same interior space as today's vehicles. That's one of the achievements of the current-generation Honda Clarity Fuel Cell. The fuel cell stack is 30 percent smaller than the one in the previous generation, enabling Honda to increase the Clarity's interior room.
The current model seats five, compared with the previous Clarity, which had room for four. That helps make it a benchmark for fuel cell vehicles in the years ahead. The compact, lightweight compressor supplies the air, which passes through at high pressure — more than 58 pounds per square inch. Higher pressure, combined with Honda's more efficient fuel cell stacks, produces enough electric power to equal the performance of a V-6-powered sedan.