Maximize performance & increase turbo life
Garrett's Two-Stage serial turbo for diesel multiplies the benefits of turbocharging, improves transient performance, optimizes fuel efficiency and more.
Two-Stage Serial Turbochargers for Diesel Engines

Key Features
Using our Two-Stage serial turbo for diesel applications, compressors operate at peak efficiency by dividing their workload between two turbos:
Fresh air is drawn into the first-stage compressor
The pressure is increased by 2 to 2.5 times
This pressurized air is sent to the second-stage compressor
The pressure is increased another 2 to 2.5 times
Lower pressure ratios at each stage result in slower rotating speeds. This improves the reliability of bearing systems, compressor wheels, and turbine wheels. In addition, Two-Stage serial turbos for diesel regulate gas flow between the turbos using bypass valves. These valves change modes according to speed, optimizing gas transfer between the small high-pressure turbo and the large low-pressure turbo:
Below 1500 rpm: Both compressor and bypass valves remain closed, increasing boost pressure and torque.
From 1500 rpm to 2800 rpm: Bypass valves begin to open to channel exhaust gas between turbos.
Beyond 2800 rpm: Both compressor and bypass valves remain fully open, regulating gas flow only to the larger turbo.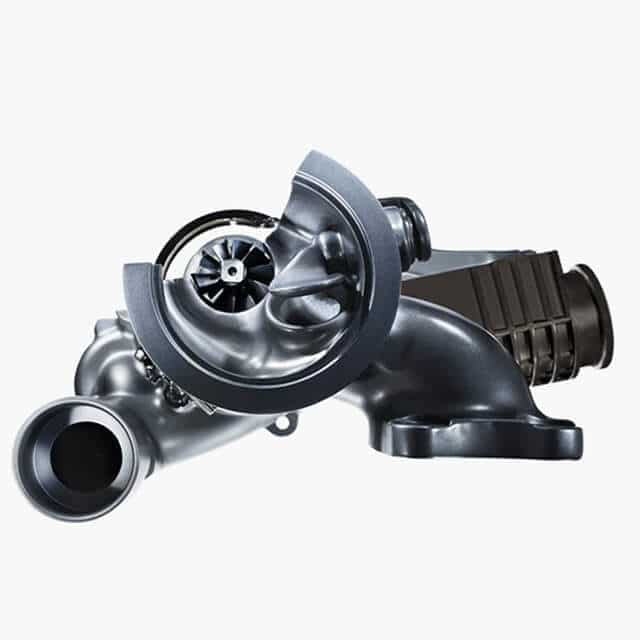 Engine
Range
Garrett's Two-Stage serial turbo for diesel compounds the benefits of turbocharging by using two turbos in a series arrangement. This helps improve transient performance, offers better low-speed torque and optimizes fuel efficiency in passenger and commercial vehicle applications. Auto manufacturers can use this technology to either downsize engines or increase performance. Our Two-Stage serial turbo for diesel can be used with a variety of engine sizes, from small single-liter vehicles to massive 64L mining equipment. However, they are most commonly used in engines ranging in size from 1.6L to 3L.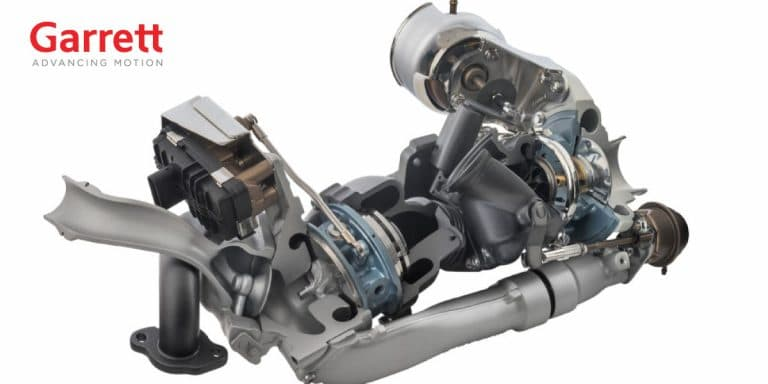 Ultra-Efficient Clean Diesel Platforms Can Benefit Greatly from Garrett's Downsized, High-Temperature VNT Boosting Technology
Garrett's sixth generation variable geometry turbo architecture (VNT) is helping auto manufacturers harness the performance potential of higher temperature diesel powertrains.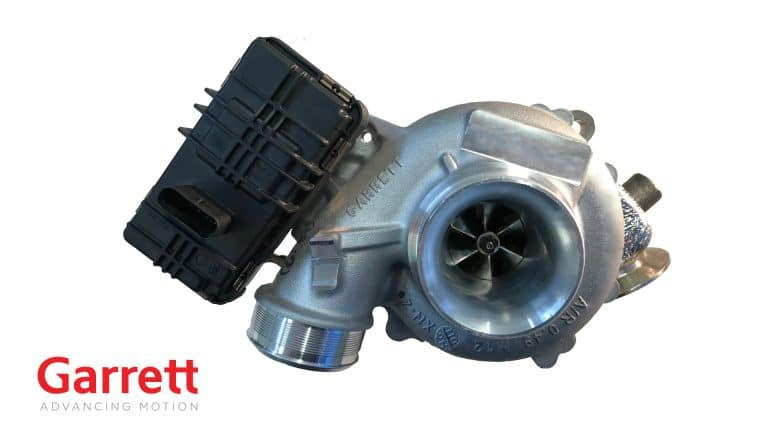 Two-Stage Serial Turbo System for Diesel and
Connected Vehicle Solutions
Our Two-Stage serial turbos for diesel give automakers more options to improve their engines. Garrett also offers a holistic range of solutions through our connected vehicle and advanced electric boosting products. These include onboard-to-offboard cybersecurity protection, OEM Diagnostic Prognostic Solutions, and intelligent powertrain controls.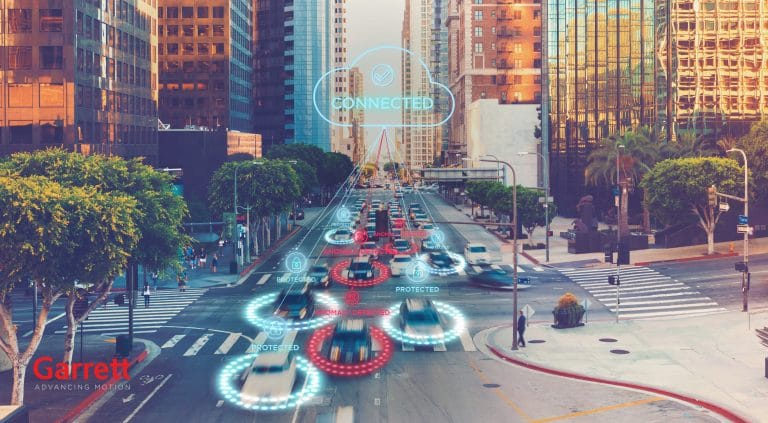 Garrett Motion Showcased the Electric Turbocharger for the First Time at IAA 2019
The growing trends toward hybridization open up possibilities to transfer electric boosting technology from racetrack to road. Garrett is pioneering E-Turbo technology to deliver superior performance, fuel economy and emissions, by integrating state-of-the-art, ultra-high-speed electric motors and power electronics into its turbocharger product families.
Electrified Turbos (E-Turbos) show exciting potential and equal applicability in both light & commercial vehicles, in all fuels such as gasoline, diesel and natural gas (CNG).