INCREASED POWER & EFFICIENCY
Electric Turbo Innovation
Garrett's Electrified Turbos (E-Turbos) show exciting potential and equal applicability in both light & commercial vehicles, in all fuels such as gasoline, diesel and natural gas (CNG).
Garrett Motion Wins 2021 Automotive News PACE Award for Industry-First Electric Turbo
Garrett's state-of-the-art E-Turbo has been recognized as a superior innovation with an Automotive News PACE (Premier Automotive Suppliers' Contribution to Excellence) Award, a first for electric turbochargers. World-class Garrett engineers successfully overcame the many challenges in thermal management, energy recovery, compact packaging and high-volume and low-cost design to develop the E-Turbo, wowing the PACE judge panel to earn the award in September 2021.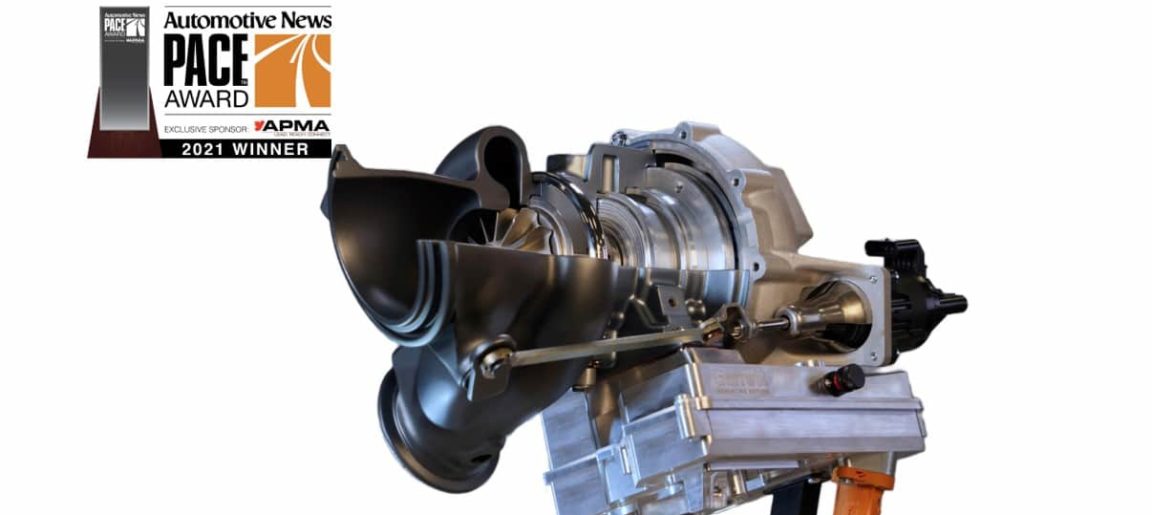 Light Vehicle Gasoline
E-Turbo | A Key Technology for EU7
Garrett has created multiple E-Turbo demonstration vehicles that are successful representations of how an electrified boosting solution can increase engine power and torque while allowing the engine to operate at Lambda 1, providing energy recuperation to the vehicle's electrical system.
Electrifying a turbocharger removes the constraint of needing a small turbine with excellent efficiency to drive the compressor at low flow rates. Instead, it allows us to right-size the turbine for Lambda 1 rated power.
Lambda 1 (or stoichiometric air/fuel ratio) is a key part of future Legislation.
If you are interested to learn more about Garrett electric boosting technology, download the E-Turbo whitepaper.
Strong industry macros indicate that all forms of
hybridization set to grow fast (MHEV, HEV, PHEV)
The technologies will be used to meet regional, national, and local fuel economy and air quality targets
e.g. Europe
CO2 -15% by 2025, -37,5% by 2030 (vs 2020)
RDE – City, Extra Urban & Highway
City Access – Tolls & Parking Charges
Gasoline – Particulates & Lambda 1
Diesel – NOx & NH3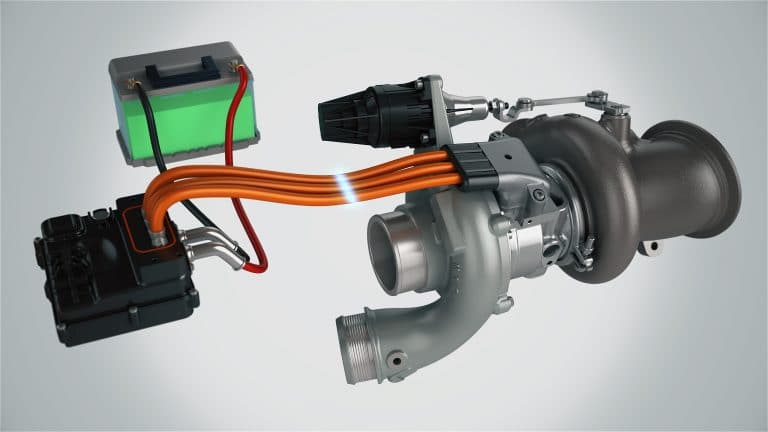 Powertrains must be hybridized to meet the
fuel economy and emission targets of EU7
E-Turbo provides an integrated, compact and balanced solution that delivers the additional functionality of Energy Recuperation (Efficient energy Management / Positive effect on state of charge SOC). Any penalty in inertia can, therefore, be more than compensated for by an electric motor and the addition of a wide-range Compressor to improve low-end response and extend high-end performance simultaneously.
If you are interested to learn more about Garrett electric boosting technology, download the E-Turbo whitepaper.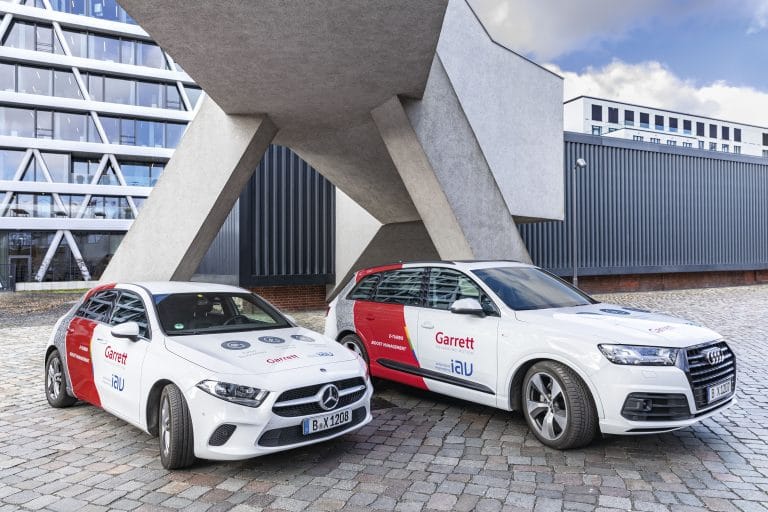 Performance and CO2 potential at EU7 Boundary Conditions
Key Features
EU7 Mainstream Concept
Lambda 1

Full Map @ 980°C

Engine Parameters (Power)

16% Power

Engine Parameters (Torque)

10,5% Torque

Transient

4x Torque Gradient at 1500 rpm

Torque Consistency

across Speed Range

Energy Management

> 60% Kinetic energy recovery in a Tip Out (Current, Potential >100%)

RECUPERATION POTENTIAL

(under investigation)

CO2 POTENTIAL

(under investigation)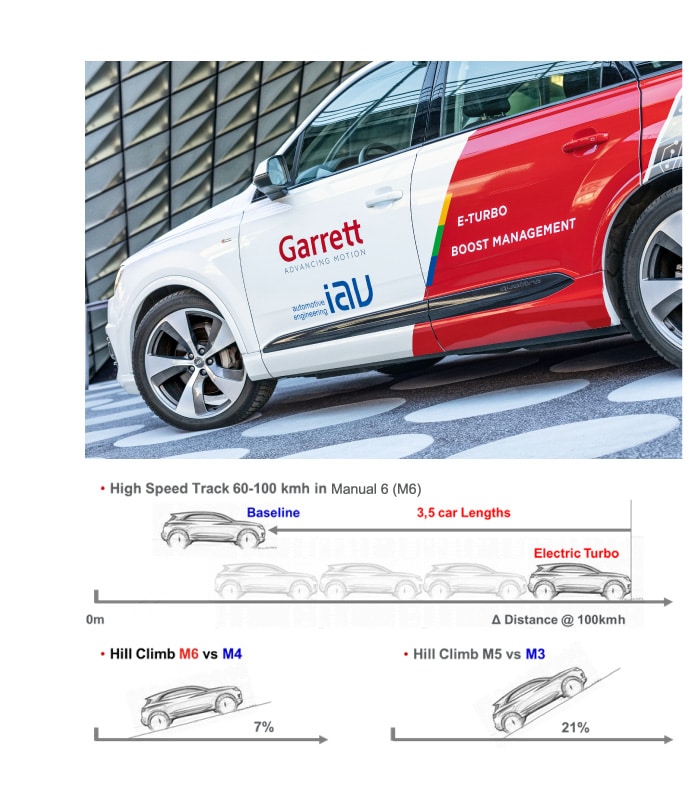 Ready Today to Meet & Exceed the Industry's Electric Boosting Needs
Garrett's award-winning E-Turbo is ready today to meet and exceed the industry's electrification boosting needs. The result of unparalleled engineering expertise and advanced electric capabilities, Garrett's E-Turbo was developed entirely in-house, from concept to reality.
HAVE A QUESTION?
Connect with Us
* These fields are required.