PN: 881649-6001
2011 - 2021 Ford Ranger PX1 PX2 PX3 | Everest and 2011-2020 Mazda BT50 3.2L | 2.2L | 2.0L
All aluminum, TIG welded construction increases strength and durability for on road and off road applications.
Description
The Garrett direct fit 2011 – 2021 Ford Ranger PX1 PX2 PX3 | Everest and 2011-2020 Mazda BT50 3.2L | 2.2L | 2.0L  performance charge air cooler boasts a 218% larger core that helps reduce intake manifold temperatures by an average of 32 °C based on test data. Optimized end tanks improve air flow through the core.
Garrett direct fit performance intercoolers are engineered for enthusiasts that want increased vehicle performance while maintaining OEM fitment. Advanced CFD combined with bar and plate core technology results in lower intake temperatures that increase heat saturation point.
This direct fit performance intercooler installs in 2.0 hours and reuses the stock bolts, hoses, and clamps.
*2.0L requires hose replacement. Contact your local performance distributor.
Part Number: 881649-6001
Features
Supports up to 499 kW
218% larger core than stock
Installs in stock location
Cast aluminum end tanks
Advanced offset fin design
Bar-and-plate construction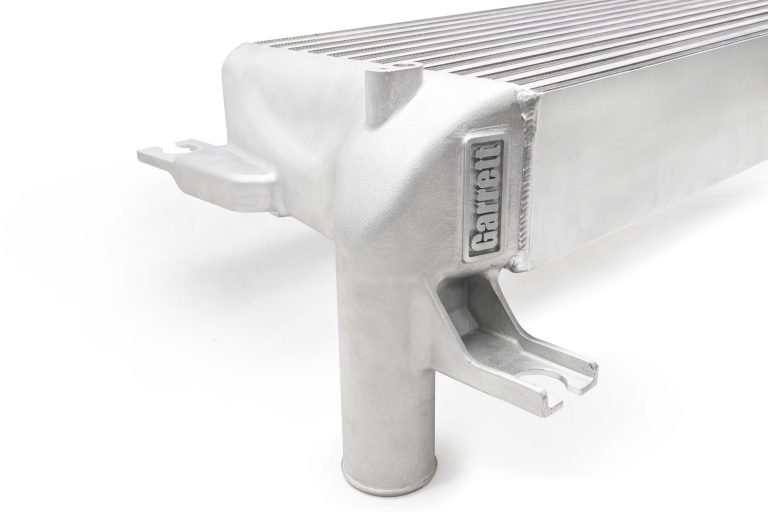 Installation
Direct fitment with no modifications required
~2.0 hours installation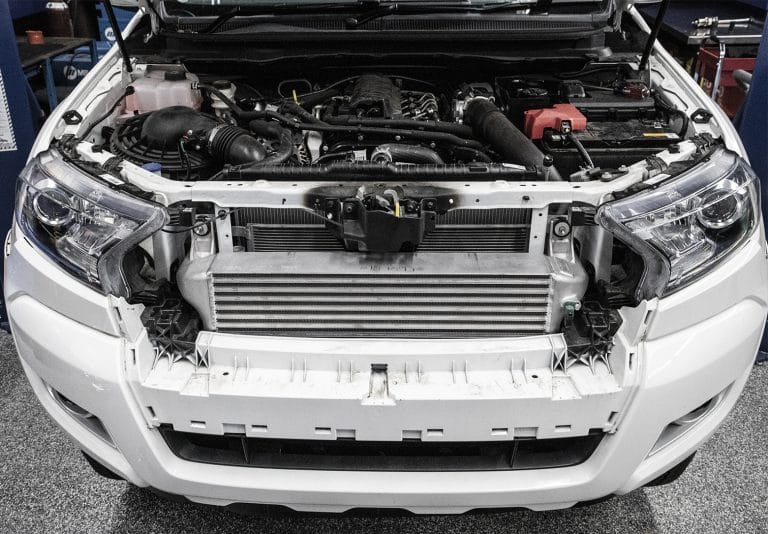 Performance: Thermal Efficiency Testing
Vehicle dyno test data comparing OE to Garrett. Multiple back to back dyno pulls measure inlet and outlet temps to gauge intercooler effectiveness and heat saturation point. The outlet temps with the Garrett intercooler are ~30 deg C lower than the OEM intercooler.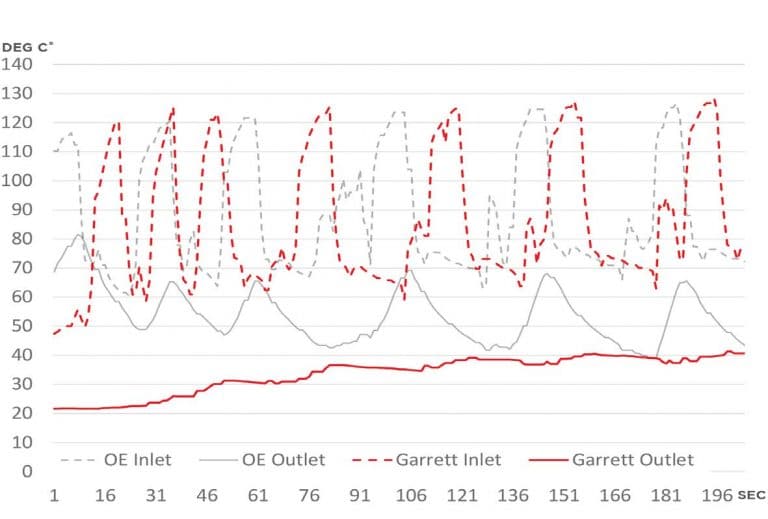 Performance: Dyno Testing
Upgrading to a more effective intercooler will increase horsepower by improving intake air density and reducing thermal stress on the engine through cooler intake air temperatures. Cooler temperatures results in a decrease in combustion temperature, moving the engine further from the edge of detonation under boost. As a result, water and oil temps can drop and that pressure drop across the core reduces the strain on the turbo's compressor while reaching target boost pressure.
This means the turbine does not need to recover as much power from the exhaust stream to power the compressor. Less power recovery needed reduces back pressure resulting in less propensity for detonation, less heat retained in the engine as well as better volumetric efficiency. With cooler intake air temperatures and less back pressure, the engine's tolerance for detonation increases.  This new higher tolerance utilize tuning to increase boost pressure, ignition timing, and perhaps a leaner air-fuel ratio to produce even more power. For a simple bolt-on upgrade, a performance intercooler has a cascade effect for making more power and efficiency while reducing stress on the engine; something we can all appreciate.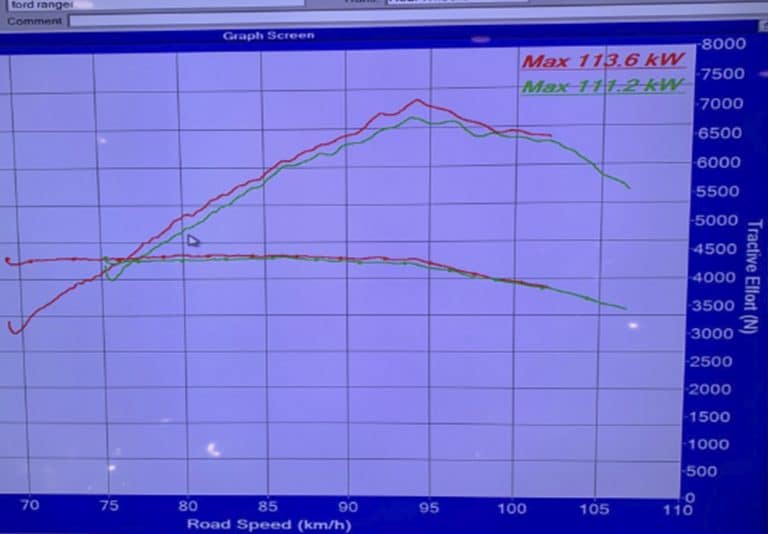 Intercooler specification
Part Number
881649-6001
Vehicle
Make
Ford | Mazda
Model
Ranger PX1 PX2 PX3 / Everest / BT50
Year
Ford: 2011-2021     Mazda: 2011-2020
Engine
Type
3.2L | 2.2L | 2.0L
Fuel
Diesel
Weight
12.56 kg
Size Specs
680mm x 101mm x 260mm