September 14, 2020
Single OR Twin Turbo LS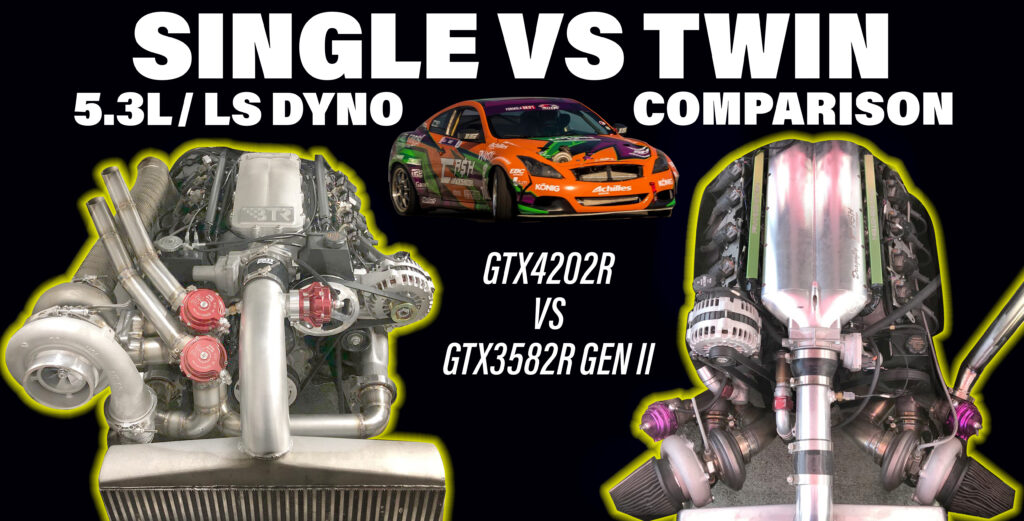 Is a single turbo setup or a twin turbo setup better for an LS engine? There are a lot of theories about what turbo setup is best for an LS based engine platform, and with so many styles of driving and racing it would be impossible to compile a complete guide with data that could argue pros and cons for all the options and all the different horsepower ranges. Instead, what you will find in this write up is a dyno graph comparison between a single Garrett GTX4202R turbo and twin GTX3582R Gen II turbos on the same 5.3L LS engine with an 800 horsepower tune. Both of the turbocharger setups are capable of making more power, and they both have, but for an accurate comparison we are looking at the "race tune" used by for Formula Drift Pro 2 racer, Jonathan Hurst.
About The Car
Infiniti G37 with a Mike Lough Racing Engines built 5.3L engine. Stock LS6 243 heads upgraded with BTR Racing dual valve springs and Compstar pushrods. Wiseco pistons, a BTR Racing Stage 3 turbo cam, and a K1 crank beef up the engine assembly. The BTR Racing Equalizer intake manifold outfitted with a stock LS2 DBW throttle body supply ample air to the engine. LSX innovations accessory drive brackets with F body spacing provide the clearance needed for the turbo kit to fit in the engine compartment. 3 Walbro 485 pumps (1 lift, 2 feed) and Fuel Injector Clinic FIC1650cc injectors supply the engine with Ignite E90 fuel. Twin 38mm wastegates are used to regulate turbo speed and a Haltech Elite 2500 ECU controls all engine calibration parameters.
The only two differences to take into consideration are the intake manifold, and the turbo system. Of course when you go from single to twin turbo you will need an entirely different exhaust manifold so this is to be expected. The dyno for both setups was performed at Dynosty in Louisville, KY.
The single turbo setup has a GTX4202R turbocharger with a 76mm compressor and 82mm turbine wheel and a 1.01 divided T4 turbine housing.
The twin turbo configuration has two GTX3582R Gen II turbo chargers with 66mm compressor and 68mm turbine wheels and 1.01 V-band turbine housings. The GTX3582R turbochargers are are available in standard and reverse rotation options for perfect mirrored symmetry as seen in the images of Jonathan's engine compartment.
The Results
Looking at the dyno graph below you can see the comparison between the two setups. Both reached or close to the horsepower target of 800 however the larger GTX4202R made it 300 RPM sooner. Looking at the torque numbers you can see the larger turbo made 78 FT-LB more peak torque and made it 600 RPM earlier. The other interesting thing to point out when looking at the torque numbers is how the torque curves compare throughout the entire dyno pull. Starting at 3500 RPM the single turbo (light blue) makes roughly 50 LB-FT of torque more, once it gets to 4000 RPM it's close to 100 LB-FT more and at 4500 RPM the single turbo setup is making about 150 LB-FT of torque more than the twin setup. This is great for a motorsport like drifting where you need response as fast as possible and your car is equipped with race tires.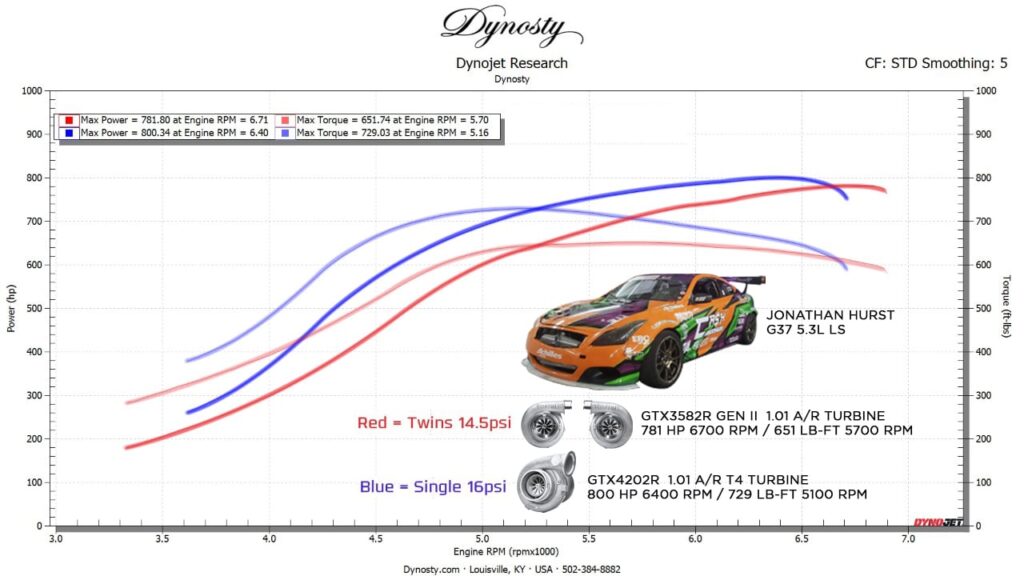 In the video above Jonathan's 37 made just over 900 wheel horsepower with the GTX4202R turbocharger. This setup may not be the best for some other forms of motorsports. We are not here to advocate for single turbo over twin turbo because power deliver is only relatable to your individual setup. You can have all the torques in the world but if you can't keep your tires from breaking loose what good does it all do? It's important to work with you tuner and identify all the parameters of your build, set realistic goals, and source quality products that will keep your vehicle safe and reliable.
We hope you have enjoyed this write up and if you want to read more about other LS topics and builds click the link below for our other stories.