April 22, 2020
Best Of Both Worlds: Turbo LS Swapped S550 Mustang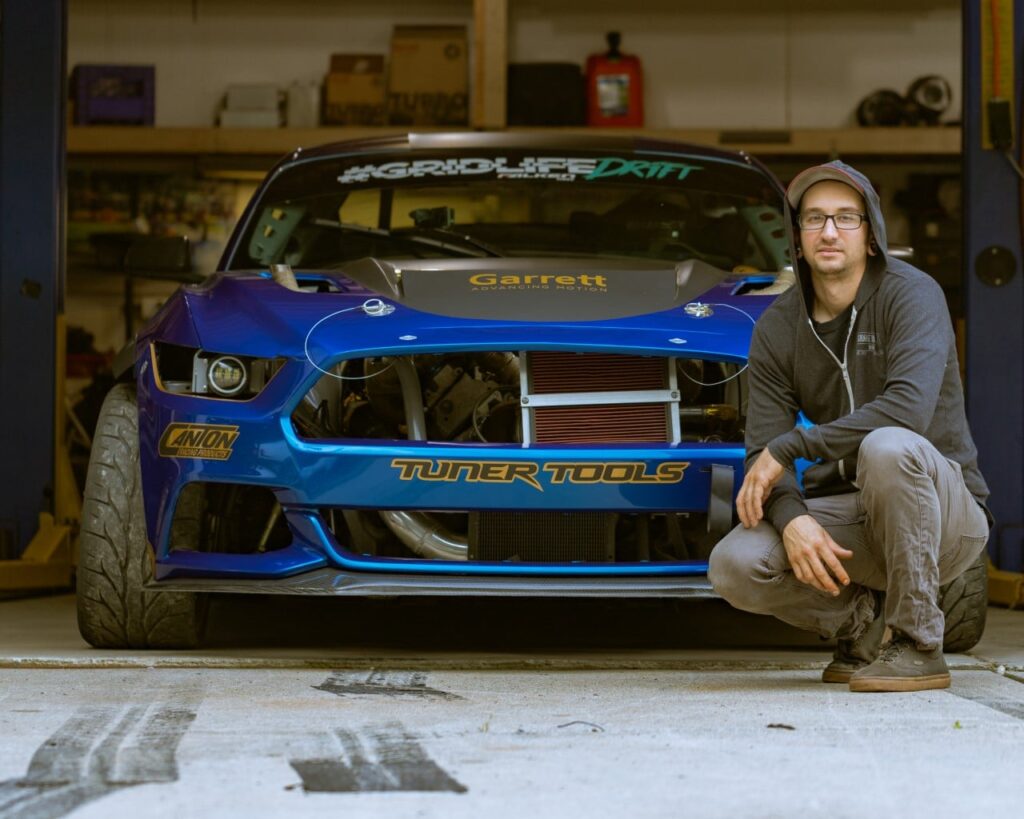 Like it, or love it? Is this the baddest V8 turbocharged drift Mustang built to date? We think so. The 2015 S550 Ford Mustang body style utilizes a turbocharged 5.7L Chevy LM7 engine that makes 976 horsepower on 14 PSI of boost. This car has been fully built from the ground up by Shane Whalley, a fabricator and professional drifter based out of Detroit, Michigan. It's called the LS550 and Shane started building this car in 2017 as a the replacement for his Pontiac GTO drift machine. Shane's YouTube channel has many videos on the build of the car, as well as LS turbo tech tips and comparisons for fabricators and enthusiasts alike.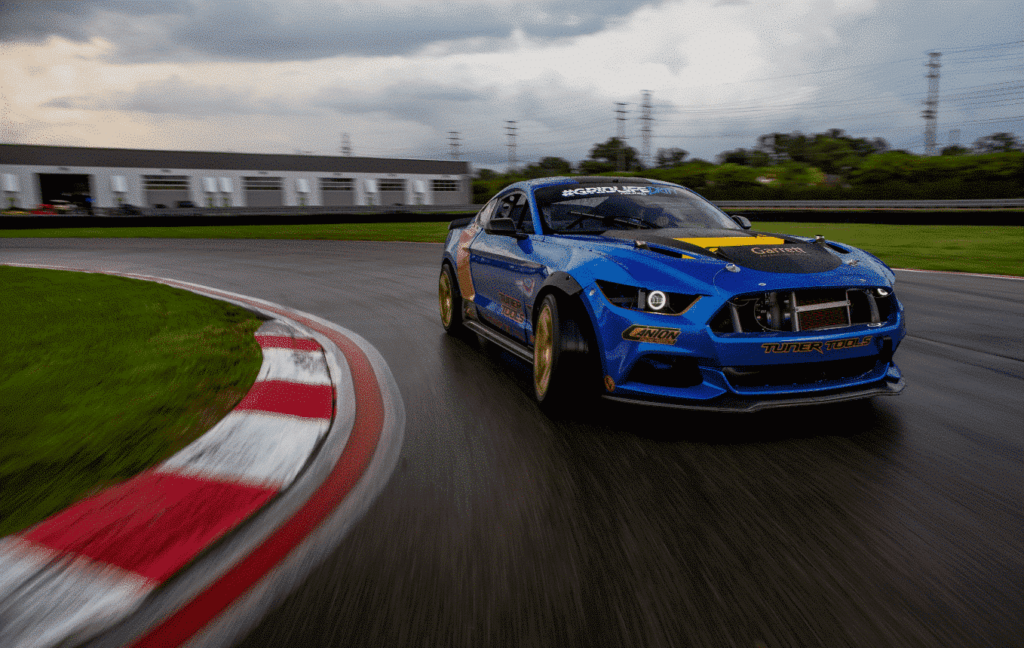 As an experienced fabricator, 90% of the parts on this car were all designed, and custom fabricated in Shane's garage. That's everything from the suspension components and angle kit, safety cage, cooling system, turbo manifold, piping and more. The only real bolt-on parts for a s550 mustang are the Fortune Auto front coilovers. If you take a look through his YouTube videos you will see every detail of the build explained.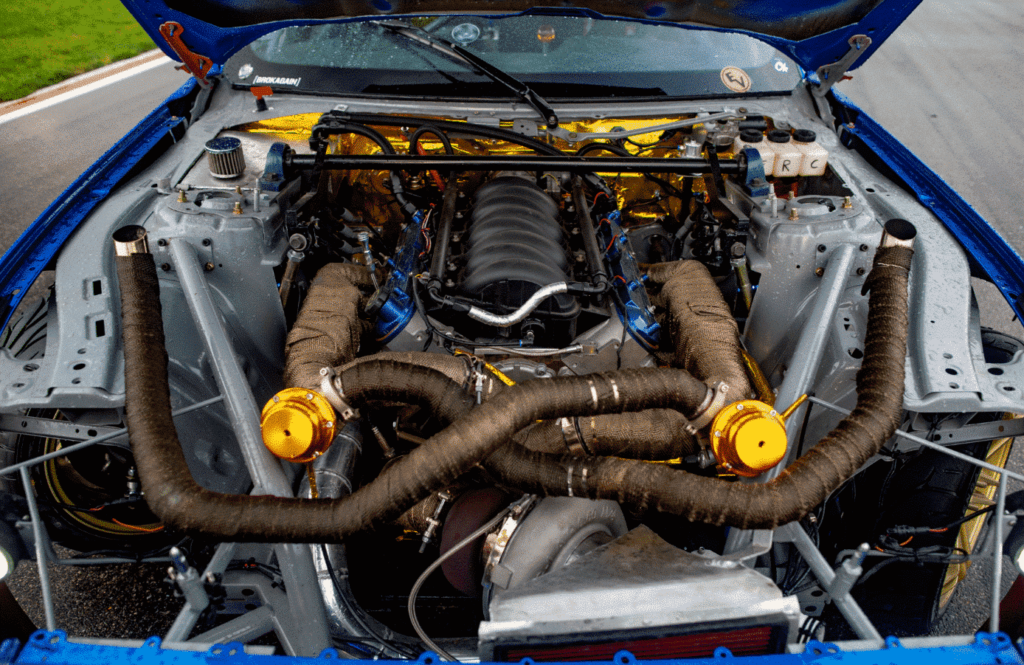 Being a turbo engine guru, Shane has always been a huge turbo fan since he first got into cars. "From the way the power comes on, to the sound they make, a huge benefit to a turbo is the ease of adding power. No need to change out nitrous jets, swap pulleys, or ever worry about throwing a belt off. The power is always there, and can be turned up with the turn of a knob, or click of a button," says Whalley. For this build he chose a single Garrett GTX4508R because it supports up to 8.0L engines and can make up to 1250 horsepower. By using the Garrett Boost Adviser matching program you can see why the GTX4508R is a good match for a 1000 horsepower 5.7L engine by looking at the two redlines on the compressor map. The line on the right represents max power and it falls in the most efficient part of the compressor map producing cooler air than other parts of the map helping to increase the volumetric efficiency of the engine.

Turbocharging An LS Engine
Shane says, "Choosing the right turbo for drifting is very important. You want to go with a turbo that will have fast spool, and not get choked out on the top end. Since drift cars live at high rpm having a good solid turbo that you know will last goes a really long way. Using Garrett's Boost Advisor can help you get a good idea of where you need to be when picking the turbo for your build." Below are 5 tips from Shane for anyone considering boosting an LS engine.
LS550 Hits The Dyno
Shane is the fabricator at Vector Motorsports in Michigan and is also a place where they perform dyno tuning. In the video below you can watch as Brian from Tuner Tools gets the S550 Mustang tuned with the new Haltech Elite 2500 ECU. In the end the car ran out of fuel pump but logged a healthy 976 horsepower on 14 PSI of boost with the GTX4508R turbo.
VEHICLE INFORMATION-
Year / Make / Model: 2015 Ford Mustang
Chassis Code: S550
Competition Class: Drifting
ENGINE INFORMATION-
Engine Code: LM7 5.3L
Bore & Stroke (mm) / Displacement (cc): 3.905" Bore, 3.622" Stroke
Peak HP / TQ: 976hp 928tq Engine HP
Boost Pressure (@ RPM): 14psi @3800 rpm.
Dyno Type: Mustang Vector Motorsports
Block Modifications:
Pistons / Compression Ratio: Diamond Pistons 10.5:1 compression
Connecting Rods / Crank: K1 Rods, LS3 crankshaft
Cylinder Head Modifications: Ported, dual coil valve springs
Intake Manifold / Throttle Body: LS2 intake
Exhaust Manifold: Custom – Shane Vector Morotsports
Exhaust System / Downpipe: Custom
Wastegate: dual Tial 44mm wastegates
Blow-Off Valve: Tial 50mm bov
Intercooler: Air to Water
Fuel Injectors: AUS 1000cc
Fuel Pump(s): AEM 400LPH
Additional Fuel Delivery:
Engine Management System: Haltech Elite 2500
Engine Management Tuner: Brian Barnhill; Tuner Tools