June 11, 2012
Garrett Sponsored Team: RMR 3rd and 4th Place
RHYS MILLEN PLACES 4TH AT TEXAS MOTOR SPEEDWAY MOVING INTO 4TH OVERALL IN POINTS. STEPHAN VERDIER FINISHES 6TH AND REMAINS 3RD IN CHAMPIONSHIP POINTS MOVING INTO X-GAMES 18.
Rhys Millen Racing – Huntington Beach, CA – June 11, 2012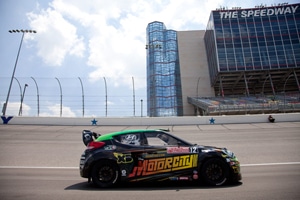 Texas Motor Speedway Hoon Kaboom lives up to its name as the finial race gives Texas fans not 1 but 3 checker flag, 6 lap battles after two red flag incidents. Rhys Millen in the Hyundai Turbo Veloster finishes 4th place, his highest position yet this year. "Car ran great, exciting weekend, lots of carnage, huge jumps, and reliability gave the number 67 Hyundai its best finish yet," said Millen after Saturday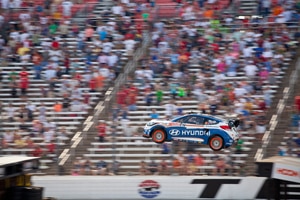 Stephan Verdier in the Motorcity Hyundai Turbo Veloster drove a clean and consistent line all weekend. "We needed a strong finish this weekend to insure we got every championship point possible. I'm happy to report we did just that putting the Motorcity Car into X-Games 18 and still remain in 3rd place overall in the championship," Verdier replied after finishing 6th for the weekend.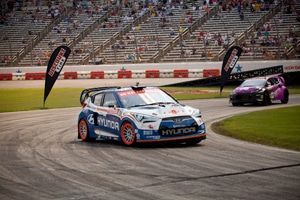 A new obstacle at the Hoon Kaboom was the 70-foot gap jump. Last season we got to see drivers negotiate a dirt-to-dirt style jump. GRC for Texas rolled out a metal-to-metal style jump causing difficulty for some divers and complete carnage for others trying to judge correct speed.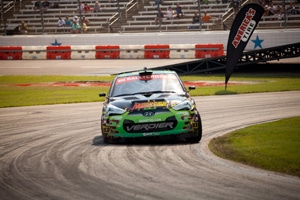 Millen would place second in his first heat to automatically put him into the finial as Verdier sustained a flat tire in his first heat putting him into the Last Chance Qualifier. Verdier would go onto finish first in the LCQ putting both RMR Veloster's into the A Main Finial.