At CES 2019 in Las Vegas, we invited you to see how Garrett – Advancing Motion delivers the promise of clean and reliable mobility solutions. We help OEMs and fleet operators safeguard vehicle integrity at all times by detecting, reporting and preventing anomalies that may occur.
We demonstrate how a combination of onboard network Intrusion Detection System (IDS) and the Intrusion Detection and Prevention System (IDPS) can block known attacks to prevent damages on the vehicles and its occupants.
Moreover, our system reports to the off-board Security Operations Center (SOC) anomalies detected on-board, whether they are due to a new attack or a system defect.
In both cases, the OEM or the fleet manager will have the necessary information to act and to remediate the vulnerability or the system defect in a proactive way. With our solutions, OEM(s) and fleet managers can ensure their fleets can be operated in a safe way, avoiding costs related to unexpected breakdown or large scale attacks.
Learn more about the demo, requesting more information, below.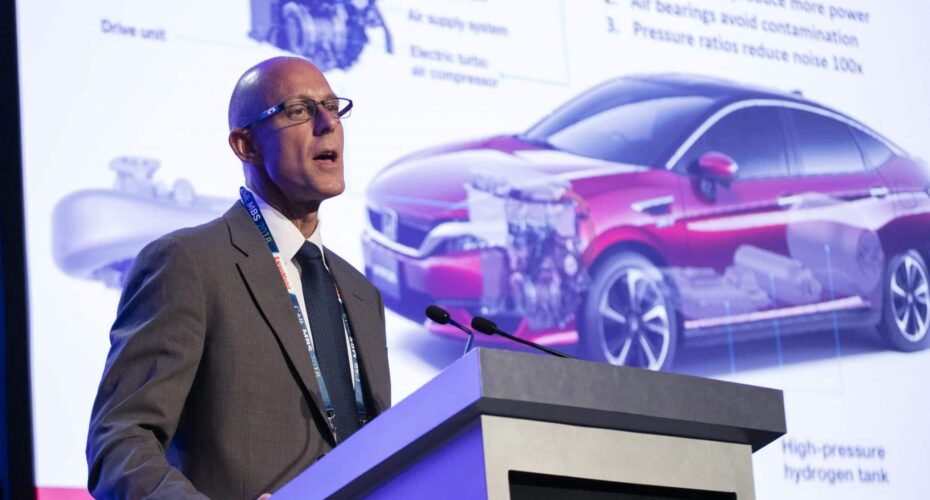 Craig Balis
Vice President and Chief Technology Officer
Garrett Advancing Motion
Craig Balis, Senior Vice President and Chief Technology Officer of Garrett – Advancing Motion, at the Consumer Electronics Show in Las Vegas 2019, USA.
Part of what we presented, speaks about how our team of software experts has prepared an exciting demo here to showcase how we can help our customers and partners safeguard connected vehicle integrity.
Learn more about Garrett's unique automotive anomaly detection expertise and the demo we presented at CES 2019, delivering on the promise of clean and reliable mobility solutions.
The automotive industry is facing many challenges associated with advanced connectivity, performance, and safety. By 2025, every car sold will be connected. For autonomy and smart mobility, automakers must integrate many new technologies with the appropriate safeguards to protect their intended function.
At CES, our Garrett Connected Vehicle team demonstrated the benefits of its differentiated and innovative software portfolio. Garrett software supports automakers and fleet owners with 3 interconnected elements: cybersecurity, advanced controls, and integrated vehicle health management. We can do this by drawing upon our history of more than 60 years of automotive innovation.
Our Garrett automotive software architecture is based upon best practices we developed during the past 30 years for multiple industries. It has been tailored to meet the unserved needs of the automotive industry. Our customers can count on Garrett Advancing Motion experience and expertise to provide the near-term and long-term solutions needed by our industry.
At CES, the latest and greatest in consumer electronics innovations are on display, and this certainly includes the automotive industry.
Indeed, today's vehicle is a consumer electronic device. As soon as you can pair your phone with your car, you have a connected vehicle.
Tomorrow, higher computing power, Ethernet, 5G, Wi-Fi, and many other technologies will enable vehicles to interact with their surroundings, drive autonomously and provide new capabilities we cannot imagine today. As a recognized technology leader in the industry, Garrett Advancing Motion has developed a unique portfolio of monitoring, diagnosis, prognosis and analysis solutions that focus on maintaining vehicle integrity.
Missed us at CES 2019
Get in touch for help on your project!