PN: 880736-6001
2013-2018 2.0L Ford Focus ST Intercooler
Supports Up To 670 HP (499 kW)
Description
Part Number: 880736-6001
The Garrett® direct fit Ford Focus ST performance charge air cooler boasts a 115% larger core that helps reduce intake manifold temperatures by an average of 11 °F (6.1 °C) based on OBD II data. Optimized end tanks improve air flow through the core. This performance intercooler showed an increase of up to 25 HP (19 kW) and 9 lb-ft (12 N-m) of torque compared to OE during back to back dyno comparisons in a wind tunnel which generates air velocity that matches vehicle speed. During testing the heat saturation point increased from 4 dyno pulls to 8 dyno pulls.
This direct fit performance intercooler installs in 1.5 hours and can support up to 670 HP (499 kW) all while reusing the stock bolts, hoses, and clamps. This intercooler also features an integrated drain plug to allow removal of condensation buildup.
Install Instructions: Click Here
Note: For customers outside of North America, MAP sensor BV61-9F479-AA must be purchased separately and used for installation to ensure a proper fit.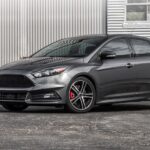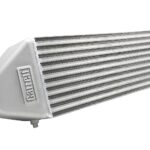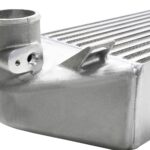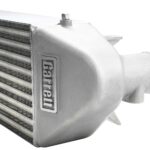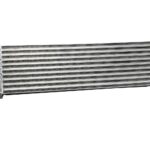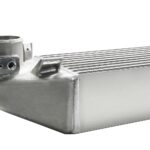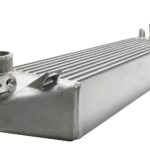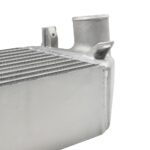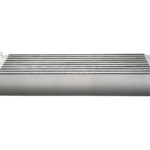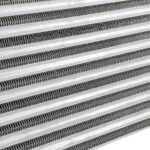 Features
Supports up to 670 HP (499 kW)
115% larger core than stock
Installs in stock location
Up to 25 HP (19 kW) and 9 lb-ft (12 N-m) of torque
Average 11 °F (6.1 °C) reduction in intake temperature based on OBD II data
Integrated drain plug to evacuate condensation
Cast aluminum end tanks
Advanced offset fin design
Bar-and-plate construction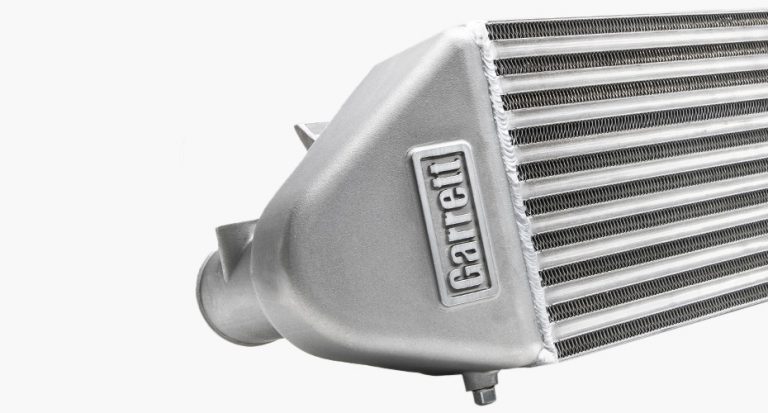 Application Tech Info
Make: Ford
Model: Focus ST
Year: 2013-2018
Type: 2.0L
Fuel: Gas
Part Number: 880736-6001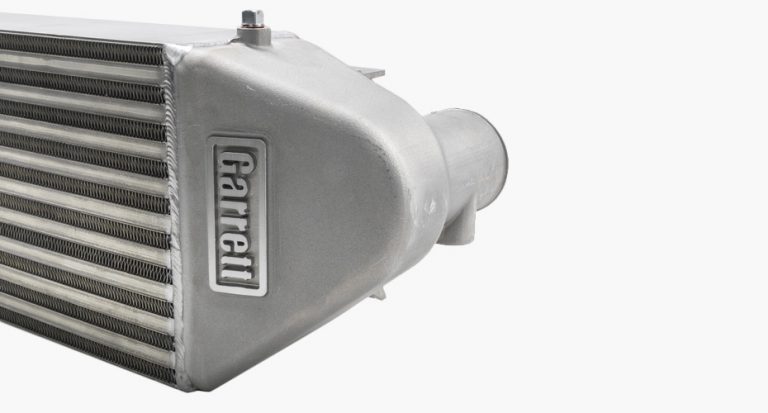 Superior Fatigue Protection
Intercooler specifications
Garrett intercoolers offer superior fatigue protection for the high boost pressures and temperatures of today's extreme engines
| Intercooler specs: | Inches: | Milimeters: |
| --- | --- | --- |
| Core Length | 26.3" | 668mm |
| Core Heigth | 4.3" | 109mm |
| Core Width | 7.8" | 198mm |
| Weight | 23 lbs | 10.4 kg |
How Intercoolers Improve Performance
The paragraphs below contain excerpts from an article written in partnership with MotoIQ. For the full article click here 
We like intercooler upgrades; they are a modification that gives you something for nothing.  Upgrading to a more effective intercooler will increase horsepower by improving intake air density and reducing thermal stress on the engine thru cooler intake air temperatures. Cooler temperatures results in a decrease in combustion temperature, moving the engine further from the edge of detonation under boost. As a result, water and oil temps can drop and that pressure drop across the core reduces the strain on the turbo's compressor while reaching target boost pressure.
This means the turbine does not need to recover as much power from the exhaust stream to power the compressor. Less power recovery needed reduces back pressure resulting in less propensity for detonation, less heat retained in the engine as well as better volumetric efficiency. With cooler intake air temperatures and less back pressure, the engine's tolerance for detonation increases.  This new higher tolerance utilize tuning to increase boost pressure, ignition timing, and perhaps a leaner air-fuel ratio to produce even more power. For a simple bolt-on upgrade, a performance intercooler has a cascade effect for making more power and efficiency while reducing stress on the engine; something we can all appreciate.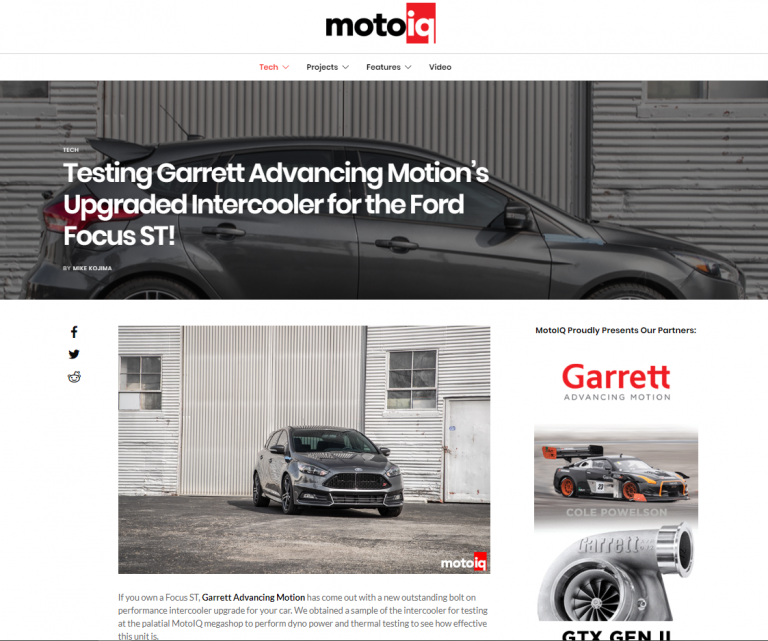 Why Construction Matters
The Garrett intercooler design utilizes a bar and plate type core. Bar and plate type intercoolers have a large thermal mass by design, which enables them to quickly and efficiently soak up large amounts of heat. The core also has internal offset fins, which transfers heat externally to the plates that are cooled by ambient air flow. The charge air fins transfers heat from the charge air to the plates, and the ambient air fins transfers that heat from the plates while the ambient air cools the fins. The process repeats as long the car remains in motion or until the core gets heat soaked.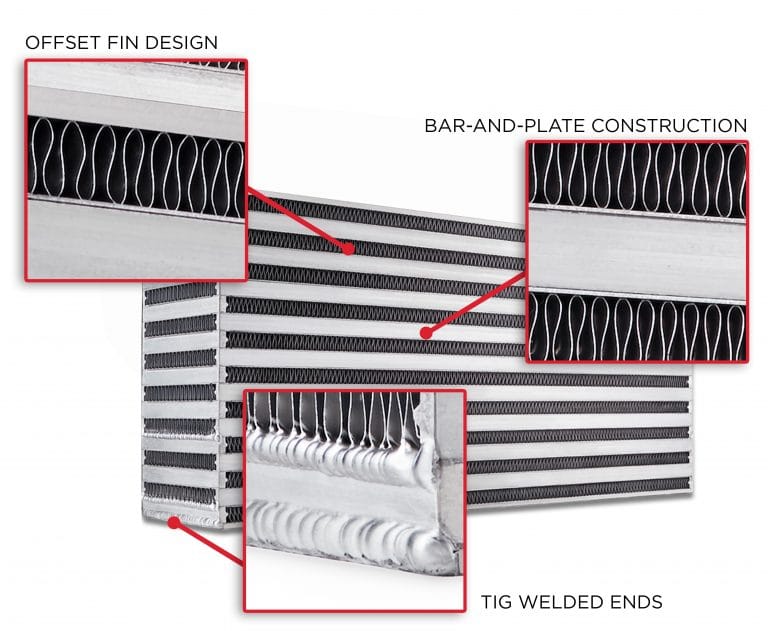 Drop-In Installation
After we dyno tested the stock intercooler, the MotoIQ team installed the Garrett performance intercooler. The process took about one and a half hours to complete. For install instructions click here. The Garrett intercooler is considerably thicker, taller and wider than the stock intercooler.  It has a lot more heat exchanger frontal area in comparison to stock. In fact, the Garrett intercooler core is 115% larger than stock and maintains the factory mounting locations.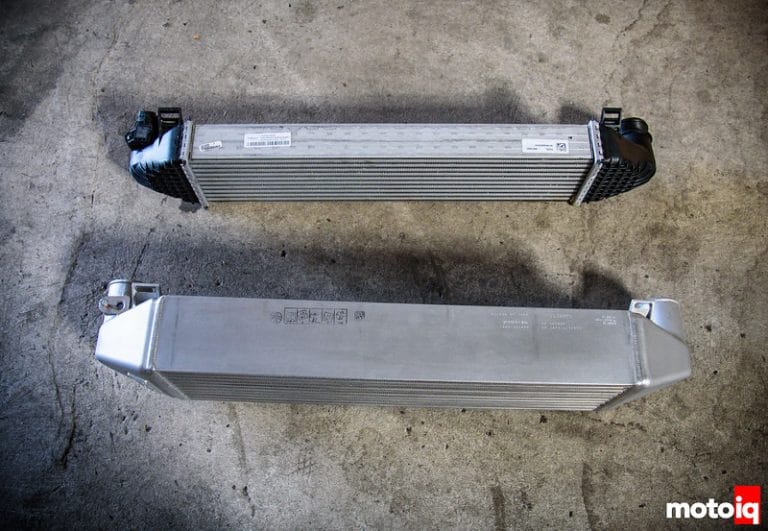 Focus ST PowerMax Intercooler Test Results
We threw the car back on the dyno with the Garrett intercooler and were very pleased with the results. We used the same methodology, completing back to back pulls until our intercooler outlet temperatures stabilized.  It took an additional 5 runs to do this due to the larger  and more efficient Garrett performance intercooler's ability to absorb heat. Our average power reading over 18 runs was 203 whp and 277 lb/ft of torque. The result is an average improvement of 28 whp and 20 lb/ft of torque over the stock intercooler!  The standard deviation for torque and power was 5.2 lb/ft and 7.3 whp respectively.  This means that the run to run variance in torque was 330% better with the new intercooler.  The run to run power variance is a 12% improvement over stock.
The A to B comparison of two of the dyno runs to show a typical power and torque difference between the stock and the Garrett intercooler.  The numbers stated before are the average gains. As you can visually see here, the gains are huge and across the board, with a lot of area under the curve. With major power gains like this, the power increase is readily felt in the seat of the pants as soon as you step on the throttle.  The turbo spooled faster and the car had more easily felt power everywhere.
The paragraphs below contain excerpts from an article written in partnership with MotoIQ. For the full article click here