Learn More About The Best Turbo Combinations For Your 2014 - 2018 2.0L VW / Audi TSI MK7
2014 - 2018 2.0L VW / Audi TSI MK7 Engine Performance Data
The VW Golf and Audi TT are two of the hottest Euro vehicles on the market and Garrett offers a PowerMax Stage 1 and Stage 2 upgrade for the 2014 – 2018 model years. See below for more information as well as dyno performance numbers from some of our customers. For application data see the reference chart below and to view the product page at any time click the button below
Click Here To View The Product Page
Turbocharger Data
| PowerMax PN | Stage | Power | Model | Comp Ind | Comp Exd | Turb ind | Turb Exd |
| --- | --- | --- | --- | --- | --- | --- | --- |
| 898199-5001W | Stage 1 | 485HP | 362kW | GT2260S | 47mm | 60mm | 50mm | 45mm |
| 898200-5001W | Stage 2 | 600HP | 447kW | G25-660 | 54mm | 67mm | 54mm | 49mm |
Garrett PowerMax™ turbocharger upgrades for the Volkswagen and Audi MK7 2.0L TSI engine platform is engineered to increase engine performance while maintaining OEM installation specifications. Stage 1 (485 BHP*) and Stage 2 (600 BHP*) upgrades maximize efficiency and air flow compared to the OEM turbocharger. High temperature, Mar-M alloy turbine wheel and twin scroll stainless steel turbine housings are rated for up to 1050° C. These turbochargers are fully assembled with a calibrated electronic actuator and ancillary components for direct OEM fitment.
WARNING: Maximum allowable turbocharger speed is 185krpm (Stage 1) | 165krpm (Stage 2). The use of this product above max turbocharger speed is at the owner's risk, and can result in damage and premature failure. To protect the turbocharger from overspeed when operating, a speed sensor port is machined into the compressor housing for the fitment of speed sensor part numbers 781328-0003 (includes sensor and gauge), and 781328-0004 (includes speed sensor). Speed sensors sold separately.
2014 – 2018 Volkswagen / Audi 2.0L TSI MK7 Stage 1 Turbocharger
Underground Performance out of Australia specializes in tuning and performance for European vehicles. They recently tested the Garrett PowerMax performance drop-in Stage 1 VW / Audi TSI MK7 turbo. See below for the results.
Garrett Powermax Stage 1 GT2260S tested by UGP. A lot of interest has been generated for the smaller of the two Garrett direct-fit turbos for VW/Audi. It's low price point and great stock replacement potential is too hard to ignore. But does it spool / perform? Thankfully yes, we saw near stock spool against an IS38 and +30kw on top with a flex-tuned Mk7.5 GTI. We chased the maximum safe shaft speed to 185k rpm equaling just under 2 bar on this setup. Underground Performance – Garrett Powermax Stage 1 tuned. 300kw / 575nm at the wheels  402HP / 424ft-lb
2014 – 2018 Volkswagen / Audi 2.0L TSI MK7 Stage 2 Turbocharger
Underground Performance in Australia, and Garrett Performance Distributor GCG paired up with Fullboost YouTube to make a video showcasing performance results of the Garrett PowerMax drop-in Stage 2 turbocharger for the 2014-2018 VW/Audi MK7 engine platform. The results are great for this all wheel drive VW Golf with 359kw / 560nm   481HP /  413ft-lb on just over 30psi of boost with E82 detected fuel and 165k turbo shaft speed.
Well done Underground Performance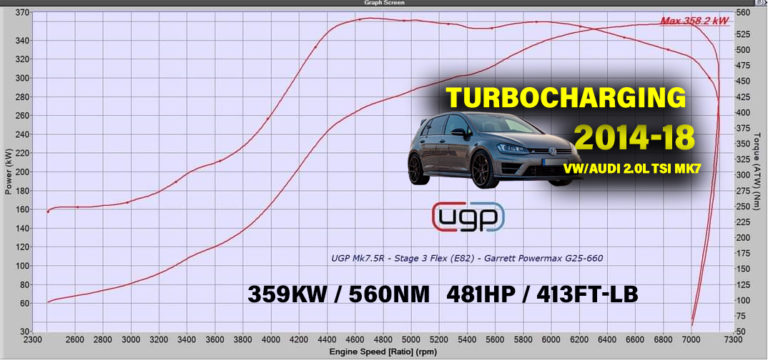 Full Boost Video Testing the PowerMax Stage 2 Turbocharger