Learn More About The Best Turbo Combinations For Your 2013 – 2018 Ford 2.0L EcoBoost
2013 – 2018 Ford 2.0L EcoBoost Focus ST | Escape / Kuga | Fusion | Taurus | MKC | MKT | MKZ
The Ford 2.0L EcoBoost is a great engine platform that can easily be upgraded to 350 BHP (260kW) with the Garrett PowerMax stage 1 drop-in performance turbocharger upgrade. Engineered to increase power by 16% and compatible with 2013-2018 model years. For more application information please visit the product page below.
The Garrett PowerMax™ Stage 1 turbocharger upgrade for the 2013 – 2018 2.0L Ford EcoBoost engine platform is engineered to increase engine performance capability while maintaining OEM installation specifications. This direct drop-in turbocharger provides up to 16% more flow than OEM and will support up to 350 BHP* (260kW). Improvements in compressor efficiency and flow can be attributed to the 52mm fully-machined compressor wheel with advanced aero design. Inconel alloy turbine wheel and stainless steel turbine housings are rated for up to 950° C. This turbocharger kit comes fully assembled, calibrated, and is outline interchangeable with the OE hardware to ensure a perfect fit every time.
WARNING: The maximum allowable turbocharger speed is 214.9 krpm. The use of this product above 214.9krpm is at the owner's risk, and can result in damage and premature failure. To protect the turbocharger from overspeed when operating, a speed sensor port is machined into the compressor housing for the fitment of speed sensor part numbers 781328-0001 (includes sensor and gauge), and 781328-0002 (includes speed sensor). Speed sensors sold separately.
*Performance results of this product are highly dependent upon your vehicle's modifications and tuning/calibration. The target power has been calculated based strictly on choke flow of the compressor map (total turbo capability), which represents the potential flywheel power.
2013 – 2018 Ford 2.0L EcoBoost Focus ST | Escape / Kuga | Fusion | Taurus | MKC | MKT | MKZ Stage 1 Turbocharger
Edge Autosport in Colorado reviewed and tested the Garrett PowerMax stage 1 performance drop-in turbocharger on their Ford Focus ST. Edge Autosport is a leader in high performance parts for any performance automotive build. The Garrett PowerMax turbo comes with a bypass valve and has the boost controller plumed and ready to be installed. The installation process is one of the easier ones they have done because of the compact size of the Garrett PowerMax turbo allowing it to be installed from the under side of the car. Edge Autosport tested the turbo in several stages to show how performance can be improved in stages based on fuel type, pump vs ethanol blend, vs stock intercooler vs performance intercooler. In the end the results are impressive because when trying to make power on a smaller displacement engine, you need efficient parts and that's what the Garrett PowerMax turbo and intercooler can do for this little 2.0L
Edge Autosport Performance Englewood, CO  (5400 ft | 1637 M Elevation) 

Horsepower
Torque
Stock
243 WHP
324 ft-lb
91 pump gas (stock intercooler)
262 WHP
349 ft-lb
E30 blend (stock intercooler) 180 degree peak IAT
282 WHP
367 ft-lb
E30 blend same tune as above (Garrett PowerMax Intercooler) 95 degree peak IAT
296 WHP
386 ft-lb
E30 blend with optimized tune (Garrett PowerMax Intercooler)
304 WHP
391 ft-lb
As you can see the results are impressive and one thing to remember is the elevation in Englewood, Colorado is 5400Ft | 1637M so there can be more power potential at sea level. All in all, the PowerMax intercooler and turbocharger made just over 300 WHP. Check out the video below for the full review and more details.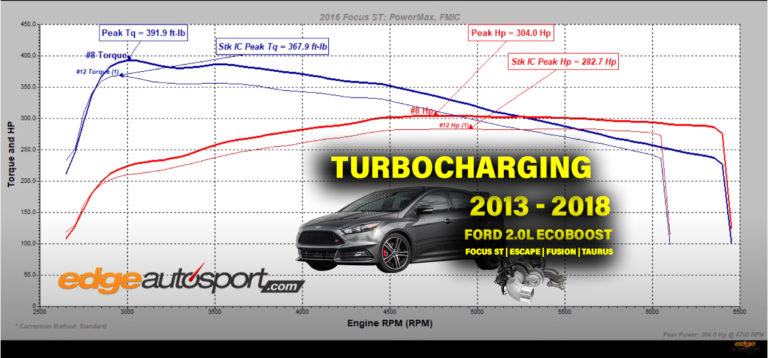 Edge Autosport Video Testing the PowerMax Stage 1 Turbocharger and Intercooler