March 4, 2020
Turbo Test: Garrett G35-1050 Tested On Nissan GT-R

Project Supercar Killer
Andrew Hawkins is one of Australia's top builders of performance import cars. He started Motive DVD, a Facebook and YouTube channel dedicated to documenting builds, testing new products, and documenting Australia's car culture and event scene. In this latest video he dyno tests one of Garrett Advancing Motion's latest performance turbochargers, the G Series G35-1050 in a 2.6L RB26 powered R32 Nissan GT-R. In the end the car made 899 horsepower on 35 PSI of boost! With a RWD correction factor of 10% that's 989 crank horsepower. Click the play button below to see the Supercar Killer GT-R on the dyno and on pavement as Andrew takes it for a shakedown run at the Sydney Power Cruise
Making Good Better
If you have a car with a maxed out turbo and turbine configuration, there are only a few ways to make more power. You can install a larger turbo but you will most likely notice a decrease in throttle response because larger wheels mean more rotational mass. When you have more mass you need more inertia to spin the turbo and the only way to do that is to increase engine RPM. The result would be a similar boost curve that starts later in the RPM range. The other option is to install a newer turbo that has an increase in air flow performance and efficiency.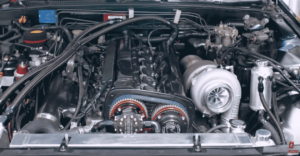 Garrett G Series turbochargers increase compressor flow (horsepower potential) and efficiency when compared to GTX Gen II and GTW turbochargers. New compressor aero helps the G Series turbos flow up to 20% more than previous Garrett turbos with up to 78% compressor efficiency. Brand new turbine aero has 5% more flow capability than GTX Gen II turbos meaning G Series turbochargers support up to 0.5 more liters of exhaust flow than before so it's perfect for high flowing engines like the 2JZ and RB26.
Andrew's GT-R needed a new exhaust manifold with a 3″ V-band inlet flange so he picked the 6Boost RB26 non-divided manifold. To improve boost control and to eliminate boost creep he increased the wastegate size from 50mm to 60mm with a new Turbosmart Gen V 60mm Power Gate and set it up with 14psi spring. Fabtech Australia fabricated a new 4″ stainless steel dump pipe to match up with the existing exhaust, a new 2.5″ dump tube for the wastegate, and a new compressor outlet to intercooler tube to tie it all together. New oil and water lines were also installed to ensure a clean installation free of contaminants.