March 18, 2022
This 1966 Nova's 2,300+ Horsepower Is Made Possible by ACE Racing and Garrett Turbo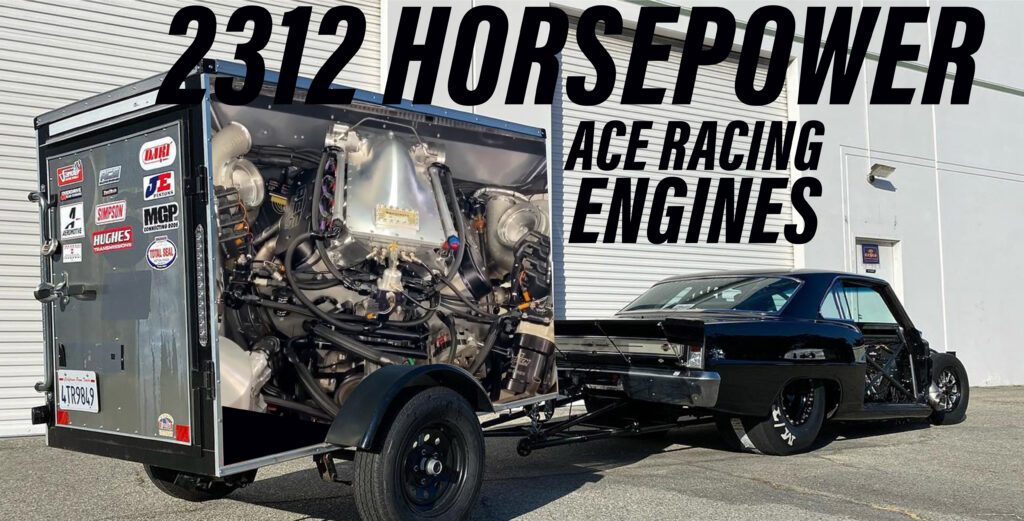 By Justin Hutto
ACE Racing put together a Garrett turbocharged engine to produce 2,300+ horsepower for this street legal (in some states) 1966 Chevy Nova SS.
Using cutting-edge turbocharger technology from Garrett to run sub-6.50-second quarter-mile passes between dozens of hours of driving that come with the grueling, week-long Sick Week drag-and-drive marathon road trip of racing, ACE Racing built this wild 1966 Chevy II Nova SS to do the job. An ongoing build during weekends and evenings for most of the year, the project was coming together exactly as planned and it seemed that the sick, street-legal Chevy would be the star of the show.
To start, Stefan Rossi, founder of the California-based ACE Racing Engines shop, paired his beautiful Chevy Nova's 427ci LS engine with a set of 88mm Garrett GTX5533R ball bearing Pro Mod turbochargers capable of pushing more than 2,300-horsepower to the wheels in the twin configuration. The engine itself was built in-house by ACE and features a Dart LS Next2 block, billet crankshaft, billet aluminum connecting rods, JE/ACE Racing Engines custom pistons with Total Seal gas-ported rings, and a custom hydraulic roller camshaft from Nick Evdos at Brian Tooley Racing. Next, the LS engine was topped with a set of Dart cylinder heads and Shaun's Custom Alloy billet intake manifold to ingest the 60+ psi of boost that it was destined to see.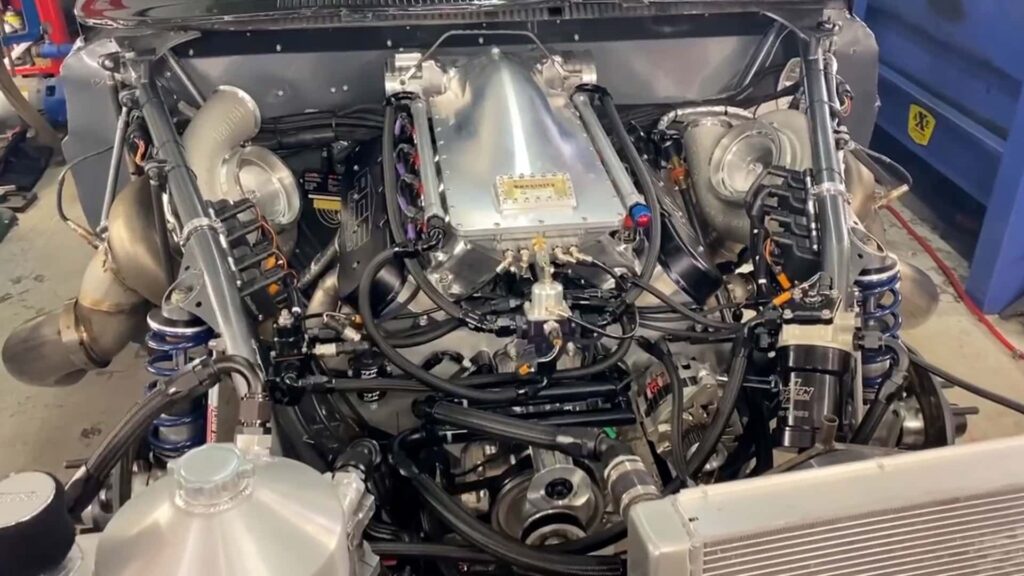 Transferring the 2,300+ horsepower from the twin 88mm Garrett GTX5533R Pro Mod turbos was a task entrusted to Hughes Performance, as the Pro Mod transmission they supplied was paired with a Gear Vendors overdrive to help make the street sections of Hot Rod Drag Week a bit more bearable. A Hughes converter was installed, as was a carbon fiber driveshaft from Dynamic Drivelines. Strange Engineering supplied the rear end, axles, and brakes in a complete package as a beautiful masterpiece of motorsports engineering. Wheelie bars were fitted for use on track, and other suspension components were carefully selected to accommodate both race and street use.
It was a mad thrash to wrap up the work on the Nova with many long days and late nights spent sleeping on the shop floor. Committed to seeing the ambitious build through to completion, the ACE Racing Engines Garrett-turbocharged and street-legal 3,000+ horsepower, LS-powered 1966 Chevy II left California in a trailer and headed to Ball Ground, GA to be tuned at the Fuel Tech USA facility. The hub dyno at Fuel Tech is the premiere location to tune these high horsepower drag cars using the Mainline hub style dyno cells. Stef's Nova put down a massive 2312 horsepower to showcase the performance of his engine packages.

After dyno tuning, ACE headed to Florida to kick off the 2022 Sick Week event and the rest was history.
VEHICLE: 1966 Chevy II Nova SS
ENGINE: Chevrolet 427ci LS
TURBO: Garrett GTX5533R Pro Mod turbocharger
TRANSMISSION: Hughes Performance
POWER: 3,000+
USED FOR: drag, street