April 13, 2022
RS Future's K20-Powered and Garrett Turbocharged Time Attack Acura NSX Makes 500+ Horsepower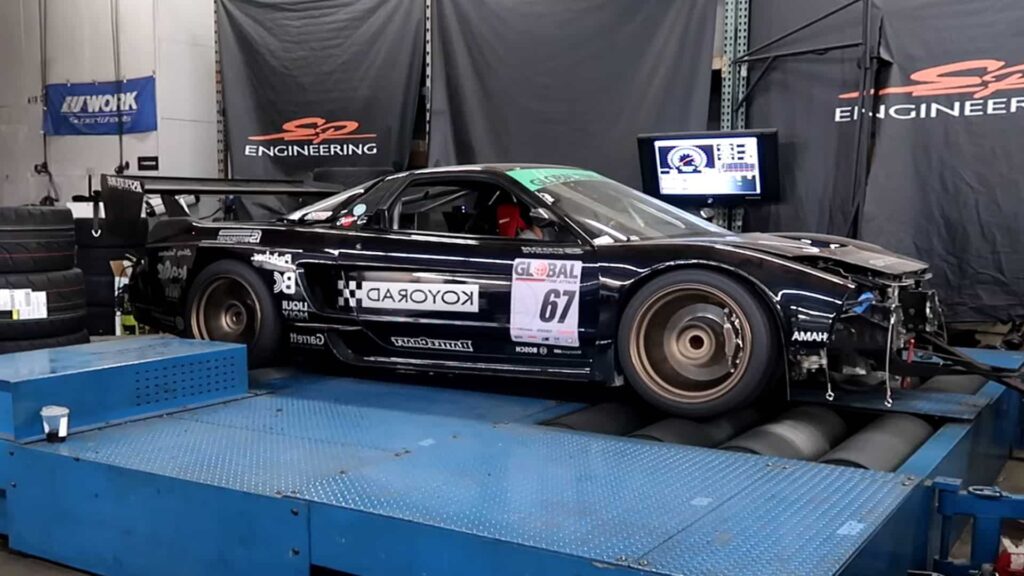 By Ainsley Jacobs
Built to dominate in time attack racing, RS Future's killer Acura NSX is powered by a Garrett turbocharged Honda K20 engine.
To prep for the 2022 Global Time Attack and Super Lap Battle seasons, RS Future owner Amir Bentatou reworked his NA1 Acura NSX's turbo setup and stepped up the power game with a new Garrett G-Series G30-770 turbocharger.
Prior to the start of his 2018 season, Bentatou swapped in a modern Honda K20Z1 engine sourced from a DC5 Acura Integra. Sportcar Motion handled the build of the 4-cylinder 2.0-liter, which included sleeving the block before fitting it with 9.5:1 compression Arias pistons, Drag Cartel stage 2 camshafts, and a Supertech valvetrain. Next, a K20A2 manual transmission was outfitted by Ghostwerks with a KAAZ differential and Gear-X gear set before being installed in the NSX.
The mid-engine placement of the Japanese supercar's powerplant made it tough for the RS Future team to access and service during the relentless abuse of Time Attack road racing. Bentatou knew there was a better way, and worked with Riley Stair at RS Motorsport to fabricate a custom turbo system that would relocate the snail underneath the NSX's chassis.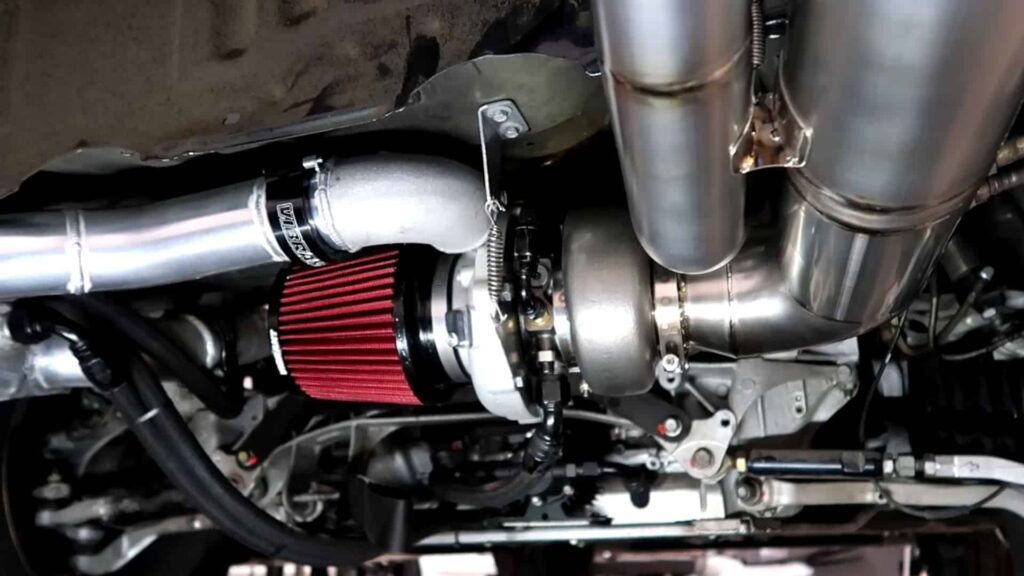 The result was nothing short of a masterpiece, as Stair modified the exhaust manifold for a bottom-mount turbo configuration, made a new charge pipe, and fabricated a 4" exhaust and 2.5" dump pipe from lightweight Vibrant Performance titanium components.
Placing the turbo underneath the NSX improved both packaging and stealth while making it easier to work on with greater accessibility. Bentatou took the opportunity to also upgrade to a larger unit, a new Garrett G-Series G30-770 turbo, and plumbed it to flow through a Garrett 1,000HP air-water intercooler core alongside a Koyorad heat exchanger, all also mounted under the NA1.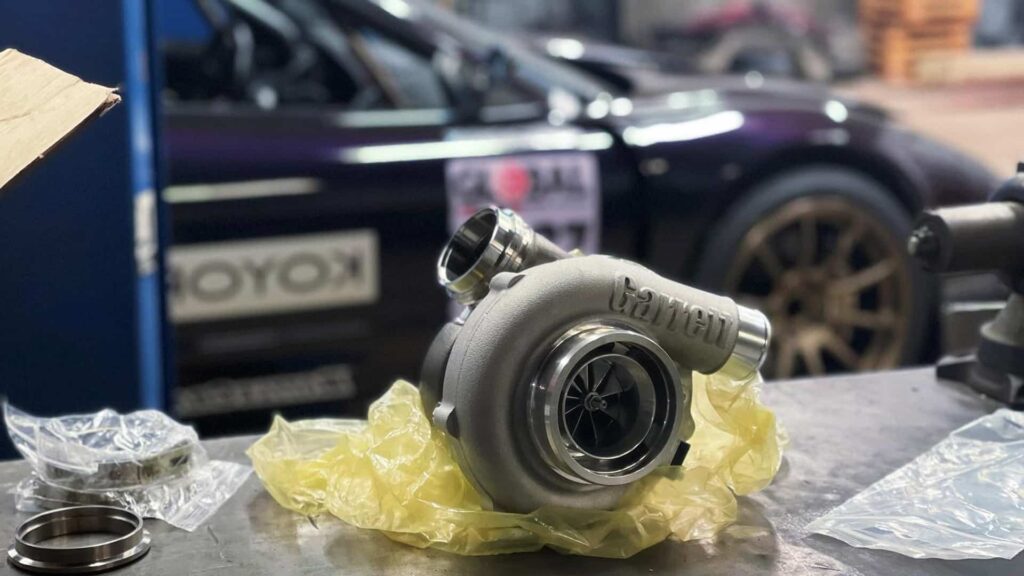 Bentatou selected the G-Series Garrett turbo specifically for its ability to provide tons of power with quick spool and greater efficiency. Throttle response, even at low speed, is critical for a time attack car where only the best lap counts on the road course and the Garrett G-Series line delivers with consistency and reliability.
On the Mustang dyno at SP Engineering in Southern California with tuner Kristian Wong at the controls to manage the flow of E85 fuel through the Injector Dynamics JDX1700 injectors, Bentatou's NSX delivered more than 150+ horsepower over its previous turbo with a max reading of 515.3-rear wheel horsepower and 396.9-torque – with plenty of wheel spin keeping those numbers on the lower end – from its Garrett G30-770. Both the horsepower and torque curves were relatively straight, even with the rear wheels slipping on the rollers, and give undeniable evidence that there's plenty of power still left in reserve at the top end of the powerband.
Despite the new Garrett turbo being larger than the previous one, the overall result showed that it was a better change for the car and the performance gains were maximized without impacting driveability. Plus, the way the turbo whistles as it spools makes the NSX sound extra mean.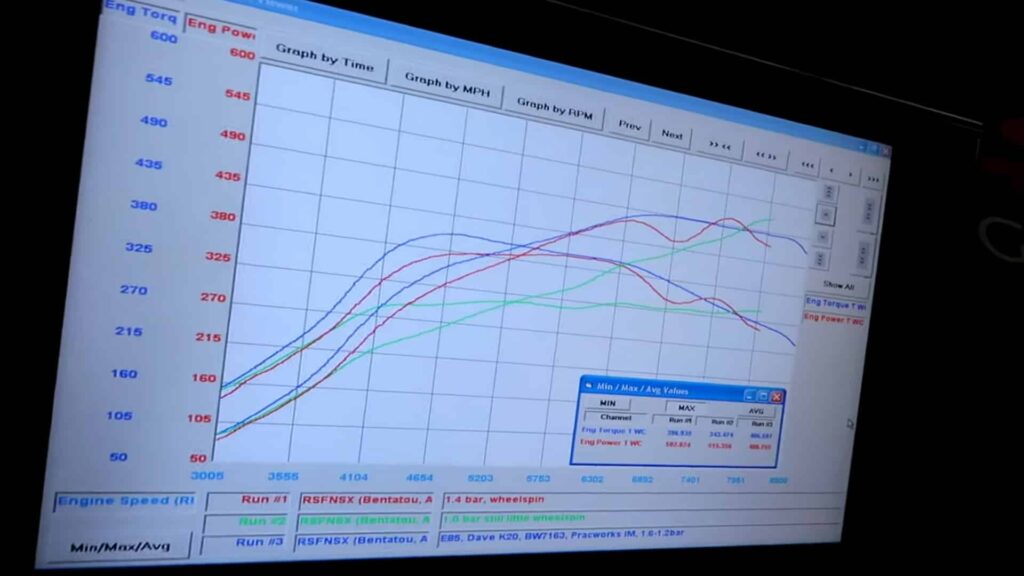 Ready to tackle the corners and blast the straights, Bentatou was careful in his selection of suspension components so that he could optimize his car control. KW Clubsport coilovers with Swift Springs in the front and rear work harmoniously with Dali Racing sway bars, upgraded camber arms, and sticky Yokohama rubber wrapped around a set of classic bronze Rays TE37 wheels.
Knowing that proper aerodynamics are essential for any good road race car, Bentatou blended form and function with an I's Impact front bumper, Yokota Bodycraft front fenders, Marga Hills rear fenders and side skirts, an Advance rear bumper, and both an RS Future GT wing and RS Future front splitter for the perfect aggressive aesthetic.
the NSX still retains a somewhat street car-esque interior with classic red Bride Proface racing seats, Cusco 5-point harnesses, and carbon accents that tastefully dress up the '90s-era design.
RS Future works hard to use personal motorsport experience and expertise to enhance its clients' projects, and the Garrett turbocharged Acura NSX shop car certainly serves as an impressive test bed both on and off the road course.
VEHICLE: NA1 Acura NSX
ENGINE: Honda K20Z1 2.0-liter 4-cylinder
TURBO: Garrett G-Series Garrett G30-770 turbocharger
TRANSMISSION: K20A2 manual
POWER: 515
USED FOR: road racing