October 10, 2020
Record Setting Racer Feras Qartoumy Puts Garrett Mirrored Turbos To The Test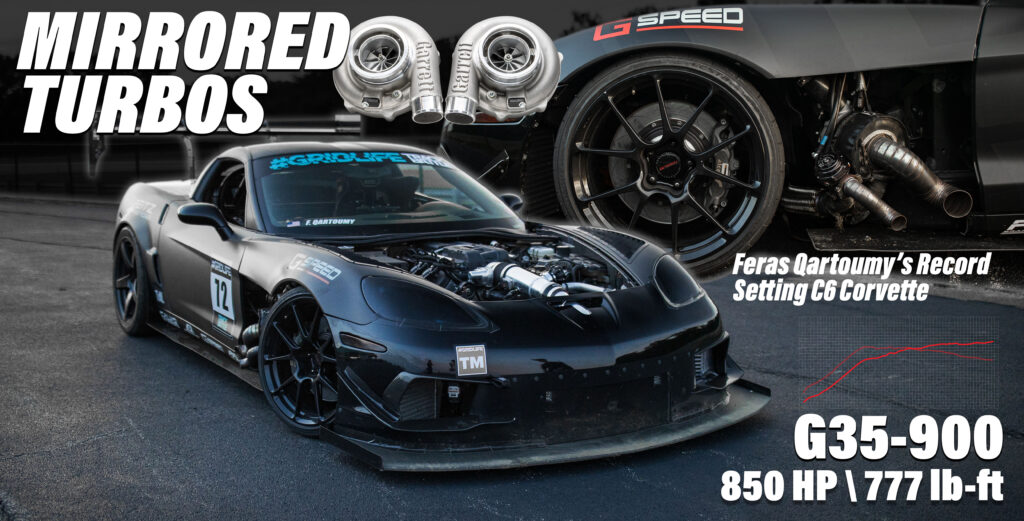 This is a story of how one turbo offered as a prize became the tipping point for an engine overhaul that helped Feras Qartoumy's C6 Corvette set a track record at every race it has attended. We first met Feras at the 2020 Global Time Attack Super Lap Battle at the famous Circuit of the Americas track when winning his class and setting a class record during the event. For his accomplishments, we awarded him a turbo of his choice. At the time his car was naturally aspirated, however he did have thoughts about converting the car to twin turbos in order to make more power. He also had a Late Model Engines built LS7 in his garage with 9.0:1 compression, Darton Sleeves, Brodix BR7 heads, Wiseco Pistons, Callies crank and more. Needless to say, the turbo became one of several reasons this C6 Corvette boasts 6 track records, 4 of which are with the turbocharged configuration.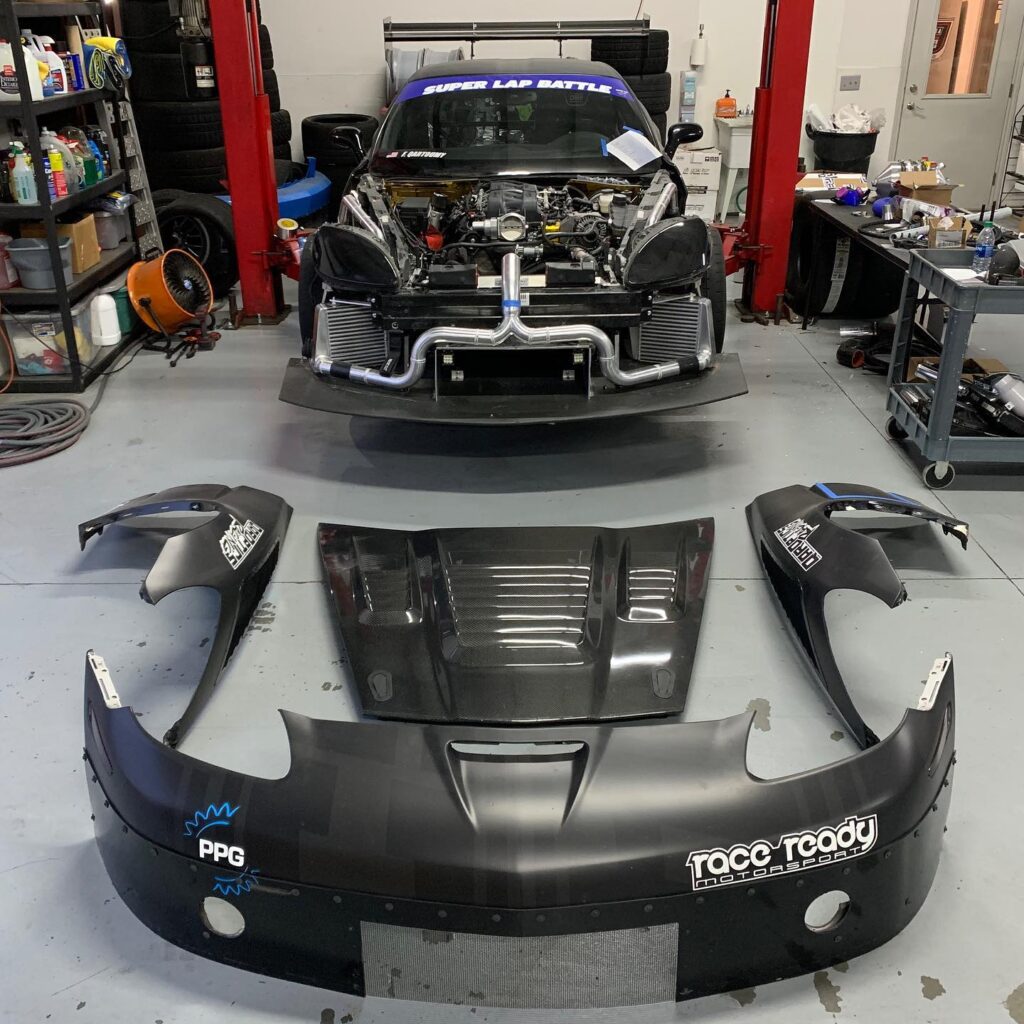 With Feras' engine being 430 cubic inches or 7 liters, we decided the new Garrett G35-900 would be the best match for this twin turbo beast. The G Series turbochargers can be ordered in standard and reverse rotation or "mirrored turbos" as some call them. This means there is one turbo for the left side of the engine and one for the right side of the engine. A great option when fabricating symmetrical charge piping throughout the engine bay as it can help deliver consistent exhaust energy to both turbos. With some trimming of the lower half of the front fenders, the G35-900 turbos with V-band 1.01 A/R housings sit perfectly in the wheel wells just behind the front tires.
Power delivery is critical for a Time Attack build like this and Feras opted to use Motec to control the boost. This setup is configured by horsepower per gear, a setting that limits throttle position depending on the gear the transmission is in. With 875 horsepower and 780 lb-ft of torque on tap at just 9 lbs of boost, a PPG 6 speed sequential transmission is responsible for delivering the power to the ground allowing Feras to focus on his driving with one simple goal, to set a class or track record at every time attack event he attends. In his first outing with the turbocharged C6 Corvette, Feras took the Track Modified track record at the Gridlife Gingerman Raceway event with a 1:30.548. Next was Autobahn Country Club where he set a Track Mod class record with a 1:25.422 lap time. After that was Grid Life's Pikes Peak International Raceway where Feras set an overall record for the event with a 0:56.04 lap time. Most recently, Feras reset his track record at Gingerman Raceway lowering his time from earlier in the year and becoming the first Track Mod car to make a sub 1:30 time with a 1:26.9.
This is a fantastic record year for Feras and with 1/4 of the year remaining he has set his sights on several Autocross events. This will require some engine tune and turbo changes to help keep the turbos in boost and improve throttle response as much as possible. Optima Street Car Invitational hosts several Autocross events across the nation with some large purses for first place. Feras has his eyes set to the top of the Autocross leaderboard. Earlier this year, Feras won an Autocross event at NOLA Motorsports Park in the Outlaw Class, securing an invitation to the Optima Ultimate Street Car Challenge! With the season approaching an end, Feras has a few more events to conquer including the Optima Street Car Invitational with $25,000 cash to the winner so keep an eye out for this awesome build.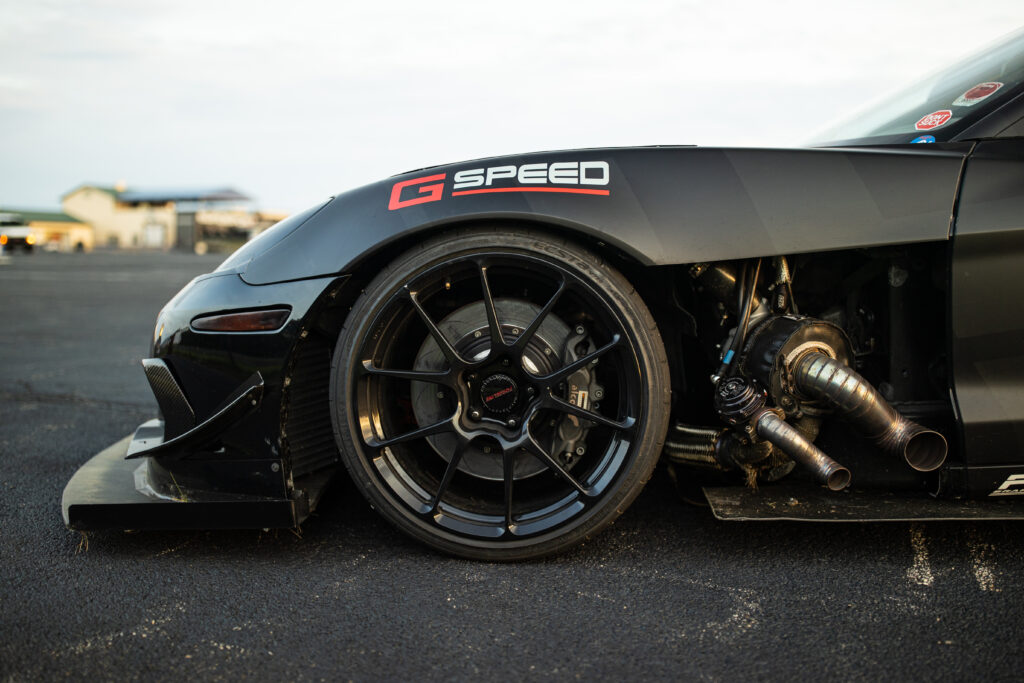 Dyno Data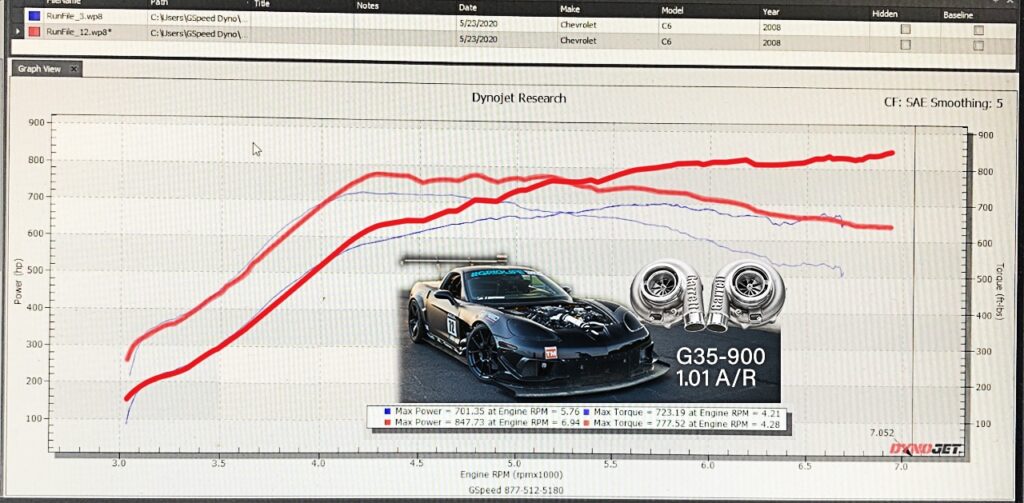 Watch the Hoonigan Autofocus video on the turbocharged Corvette