April 13, 2022
Nth Moto's "Juggernaut" 3,000+HP Dodge Viper Sets a New World Record with Twin Garrett Turbos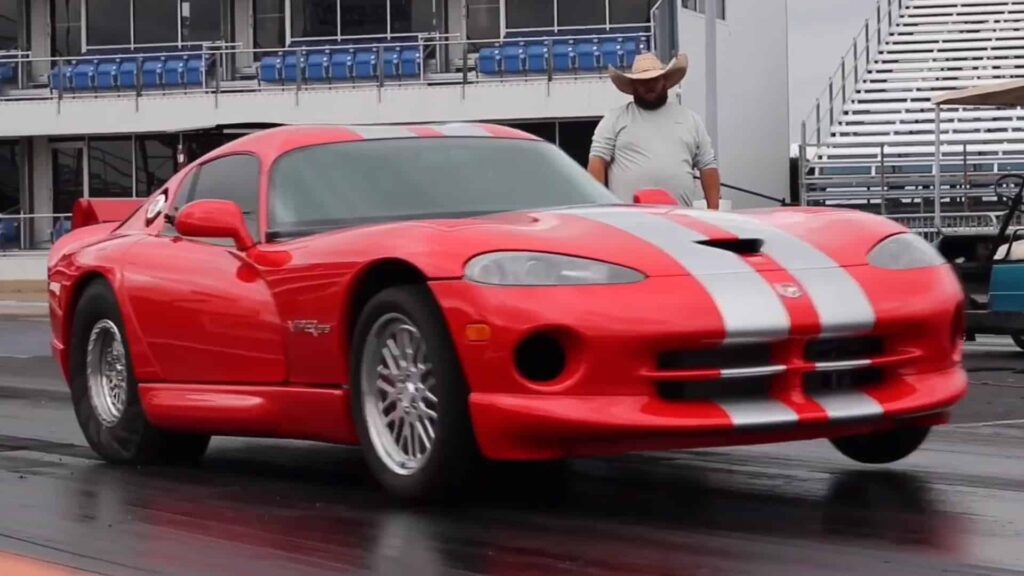 By Ainsley Jacobs
Nth Moto's "Juggernaut" 3,000+ horsepower Dodge Viper set a new drag racing world record with its twin Garrett turbochargers.
Nth Moto, the world-renowned exotic car performance shop, built Will Dugas's super sick 2001 Dodge Viper to have 3,000+ horsepower with twin GTX5533R Gen II 88mm Pro Mod Garrett turbochargers, then went and set a new drag racing world record.
Known as "The Juggernaut," the Gen 2 Dodge Viper features one of Nth Moto's 540 ci Gen 5 Viper engine packages. More than just a turbo kit and high-end MoTeC electronics, Nth Moto carefully crafted a combination that's capable of truly extraordinary results. The team painstakingly designed the Dodge Viper engine as a complete induction system with every aspect critically reviewed to maximize flow, efficiency, and performance.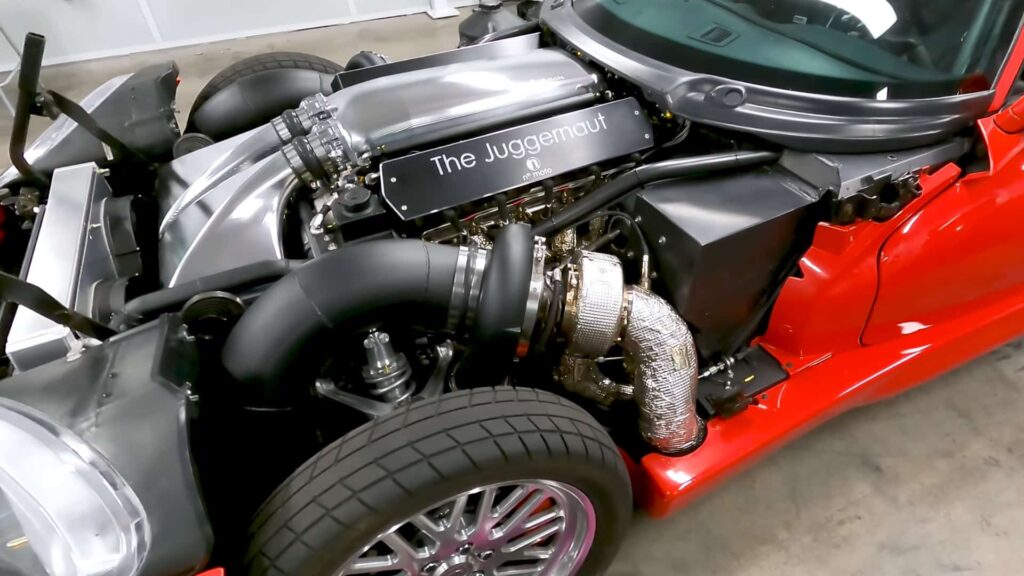 Built in-house at Nth Moto, the stock Gen 5 Dodge Viper V10 engine block was fitted with a Callies 4.200" stroker crank for more displacement but still uses fairly basic internals such as steel connecting rods while also retaining the factory cooling provisions and passageways. The engine was topped with stock casting cylinder heads and titanium intake valves for greater sustainability at higher rpm, and an ATI TH400 three-speed automatic transmission with lock-up torque converter was bolted on.
Twin 88mm Garrett turbos suck air through massive 6" inlet tubes that are fed clean and cool air from the factory fog light locations. The compressed air is then fed to a trick, aluminum intercooler with one-piece CNC-designed aluminum end tanks and tons of core capacity before passing through the colossal V10 engine and exiting via dual 5" aluminum exhausts.
After an initial dyno session yielded 2,860-wheel horsepower at 36 pounds of boost, both Dugas and Nth Moto were curious to see what would happen if they really leaned on it and pushed the tune up.
Back on the Dynocom hub dyno for another go and with One Ethanol "R" blend fuel being delivered through twenty Injector Dynamics ID1700X injectors, the boost was cranked up to 39 psi. The twin Garrett turbos easily pushed the power up to an astounding 3,103.8-wheel horsepower at 7,050 rpm and 2,404.3-wheel torque at 6,600 rpm.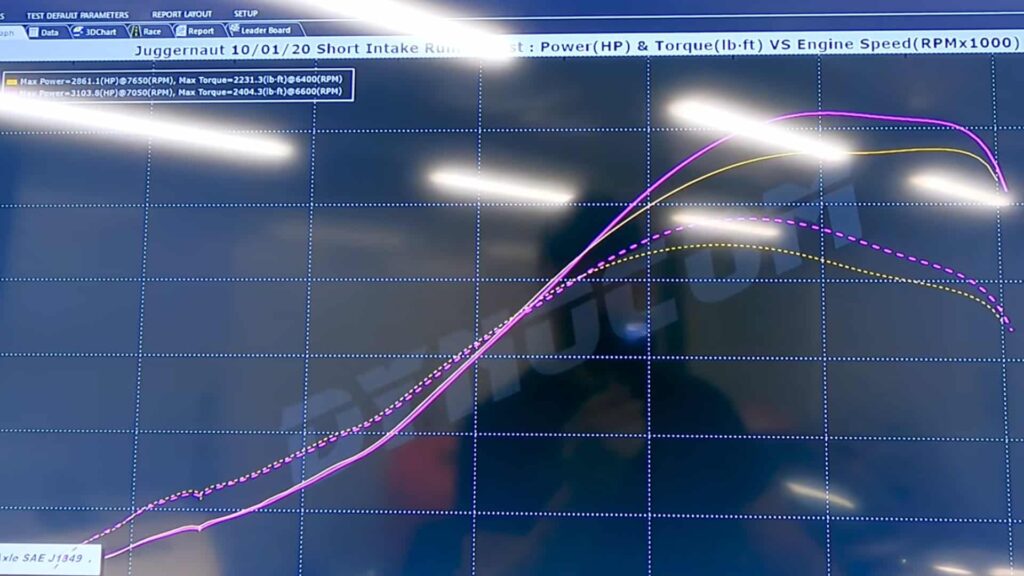 "The Juggernaut" had certainly earned its nickname. Wanting to see what the dyno numbers would translate to on the race track, Dugas suited up and headed out Maryland International Raceway for the Hail Mary Derby event in May of 2021.
There, Dugas dipped into the six-second zone when he ran 6.963 at 215.75 mph in the quarter-mile and tied the Viper independent rear suspension elapsed time world record. Not one to ever give up, Dugas pushed the nearly 4,000-pound Dodge even harder on the next pass and easily shattered the existing record with an all-new one of his own to the tune of 6.891 at 205.16 mph.
With the freedom to explore more open architecture of the build and not restrained by the challenges of keeping modern-day conveniences commonly found in street cars, Dugas's goal was for Nth Moto to put together a car capable of dominating in Hot Rod Drag Week and Rocky Mountain Race Week drive-and-drag-style events. The result definitely met the mark and then some as the streetable 6-second twin turbo 2001 Dodge Viper "Juggernaut" with its 3,000+ horsepower is ready to take on the world.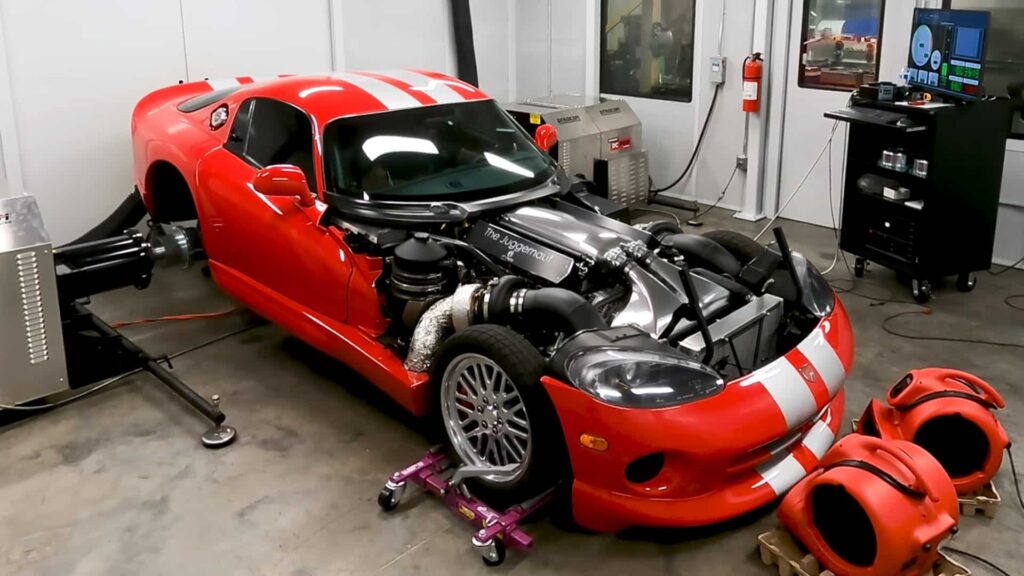 VEHICLE: 2001 Dodge Viper
ENGINE: 5th Gen 540 ci Viper V10
TURBO: Garrett 88mm twin turbochargers
TRANSMISSION: ATI three-speed TH400
POWER: 3,100+
USED FOR: drag