February 2, 2021
Mark Micke Wins Pro 275 Title At 2021 US Street Nationals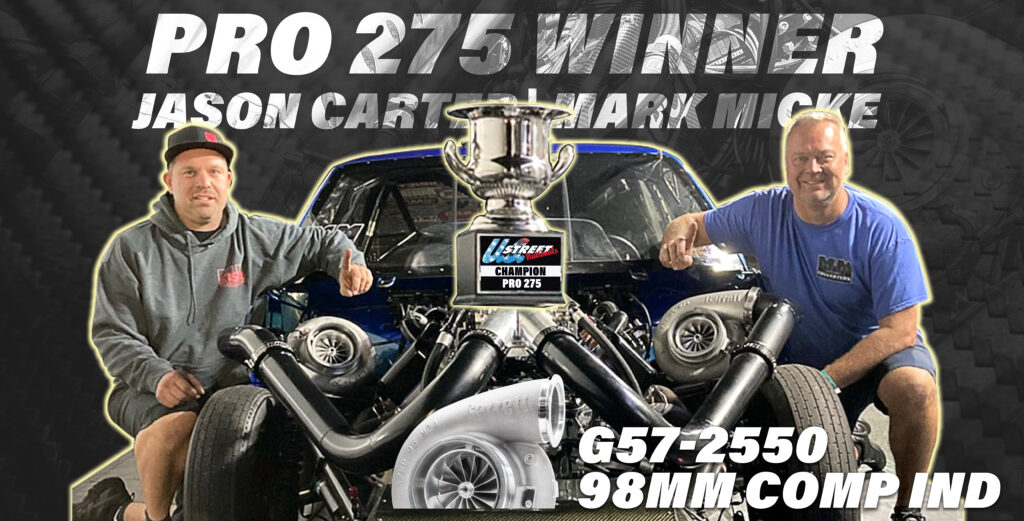 The 2021 drag racing season is off to a great start for Mark Micke and Jason Carter, winning the first race of the season at the US Street Nationals in Bradenton, FL. Pro 275 class is one of the hottest and most competitive classes in the door slammer category. The weapon of choice is a 1978 Chevrolet Malibu nicknamed " the bu" is capable of 200+ MPH with it's 4600 horsepower, twin turbocharged big block V8 engine. The trick to this class is getting all that power to the ground on a 275 wide (11 inch) drag radial tires and that's where Mark Micke and Jason Carter seem to excel.
The first races of every year seem to be the most competitive, as racers have down time during the holidays to make updates to the car and to analyze race data, in an effort to improve fractions of seconds along the track. Mark Micke, the CEO of M and M Transmission has driven the Malibu to many race wins, and records over the past 10 years. Drag racing is also where he tests new configurations of his transmissions, torque converters, and shifters, giving him first hand experience and data that helps drive his sales.
Since 2005 the U.S. Street Nationals has lead off the professional drag race season, attracting the fastest door slammers on earth, huge payouts, amazing track prep, and amazing race conditions help start the season off right. Mark Micke said, "The track prep was awesome and the air was great for the Garrett G57 turbos." The 78 Malibu features a pair of Garrett G57-2550 98mm turbochargers. These are the latest performance products from Garrett Advancing Motion. The new G57 turbine wheel allows for 28% more exhaust flow compared to the GTX55. Increased exhaust flow will lower back pressure and and ultimately improve the overall efficiency of the turbo system, including the engine. Just one of the parts to their successful weekend. Micke says, "the new G57 turbochargers accelerate very linearly, allowing for better response to CO2 on the wastegates, it makes what you want it to make."
With the car dialed in and running smoothly, Mark won 4 rounds against some of the best competitors in Pro 275. His ET and MPH was very consistent throughout each run. Round 1: Micke vs Mewshaw (Micke Win) 3.816 sec at 208.97 MPH, Round 2: Micke vs Slavens (Micke Win) 3.787 sec at 210.93 MPH, Round 3: Micke vs Carinci (Micke Win) 3.785 sec at 210.67, Finals: Micke vs Ziff Hudson 3.815 sec at 203.83 MPH. Congratulations to Mark Micke and Jason Carter for winning the 2021 US Street Nationals. The team will be competing next at Lights Out 12 on February 25-28  at South Georgia Motorsports Park.
More on the G57 Turbochargers
G Series G57 turbochargers feature the latest innovations in turbocharger technology. Advanced compressor and turbine aero offer a range of high horsepower performance boosting solutions for 3.0L – 12.0L engine platforms. 88mm, 94mm, 98mm, 102mm, 106mm compressor inducer sizes produce up to 3000 horsepower for today's top drag race teams.
Turbine Stage:
The newly engineered turbine wheel with optimized G Series aerodynamics increases flow up to 28% (Compared to GTX Gen II, see graph below). The large 90 trim turbine stage measures 118mm at the inducer and 112mm at the exducer. G57 is offered with three stainless steel V-band turbine housings in 1.09 A/R, 1.25 A/R, and 1.41 A/R.
Part Numbers
1.09 A/R: 761208-0083 (Stainless Steel V-band inlet & Outlet)
1.25 A/R: 761208-0084 (Stainless Steel V-band inlet & Outlet)
1.41 A/R: 761208-0085 (Stainless Steel V-band inlet & Outlet)
Center Housing:
One-piece aluminum center housing reduces supercore weight. The center housing is air cooled, features a 16mm dual ceramic ball bearing for premium rotor dynamics, and retains the oil inlet and outlet specifications from previous GTX designs.
Compressor Stage:
Garrett G57 compressor stages are offered in 88mm, 94mm, 98mm, 102mm, and 106mm inducer sizes each with their own horsepower ratings indicated in the model name.
Turbine Housings:
Stainless steel turbine housings
Short outlet (SFI certified not available)
(3) Turbine configurations: 1.09 A/R, 1.25 A/R, 1.41 A/R
V-band inlet: 4.25 inch (108mm) (same as GTX55)
V-band outlet: 5.15 inch (131mm) (same as GTX55)
Dual Ceramic Ball Bearing
An oil restrictor is recommended for optimal performance with ball bearing turbochargers.The G57 turbochargers utilize a massive 16mm dual ball bearing cartridge with steel cages. An oil pressure of 40 – 45 psi at maximum engine speed is recommended to prevent damage to the turbocharger's internals. In order to achieve this pressure, a restrictor with a 0.040" orifice will normally suffice, but you should always verify the oil pressure entering the turbo after the restrictor in insure that the components are functioning properly. Recommended oil feed is -3AN or -4AN line or hose/tubing with a similar ID. As always, use an oil filter that meets or exceeds the OEM specifications.