April 12, 2022
Ken Block's "Hoonitruck" 1977 Ford F-150 is a Lean, Mean, Twin Turbo AWD Machine
By Ainsley Jacobs
Built in addition to his Hoonicorn, Ken Block's Hoonitruck '77 Ford F150 brings twin turbos and an AWD platform to the party.
After his epic "Hoonicorn" 1965 Ford Mustang build, Ken Block used what he learned to build its successor – the all-wheel-drive "Hoonitruck," a 1977 Ford F-150 with twin Garrett turbos and a double dose of badassery.
Working with the creative masterminds at Detroit Speed, Block gave the shop his renderings and ideations on paper and they brought it all to life. Inspired by his late father's own 1977 F-150 that Block enjoyed as a teenager, the sentimental project would be built as a tribute and destined for stardom in Block's famous Gymkhana videos.
Starting with a modular chassis to facilitate quick disassembly thanks to the innovative clevis system, Detroit Speed designed each section to be easily replaceable if damage was sustained. Most of the other parts on the project, too, were designed to be quickly replaced, including the hand-formed and military-grade aluminum body panels. The front and rear bumpers, as well as the front splitter and a few other pieces, were formed from carbon while the factory grill, headlights, tail lights, and emblems were all Cerakoted to protect them from road debris and carnage.
Block worked with Ford Performance on the Hoonitruck, too, and asked for their suggestions when it came to powering the rowdy restomod. Given that one of Block's favorite daily drivers is a twin turbocharged, V6-powered Ford Raptor, it made sense to continue that trend and place a twin turbo V6 in the Hoonitruck as well.
The team selected a Roush Yates/Ford Performance 3.5-liter EcoBoost V6 engine with an aluminum block that was actually part of the Le Mans-winning Ford GT development program and topped it with a custom-made and 3D-printed metal intake manifold from Ford Performance as well. Similar to the Hoonicorn's combination, the engine was then fitted with a Sadev six-speed all-wheel-drive gearbox.
True to Block's style, the twin Garrett GTX3071R Gen II twin turbochargers were situated in the engine bay to take center stage. Flanking both sides of the immaculate bay, the snails pumped up the direct injected engine's power to a whopping 917 horsepower and 702 foot-pounds of torque.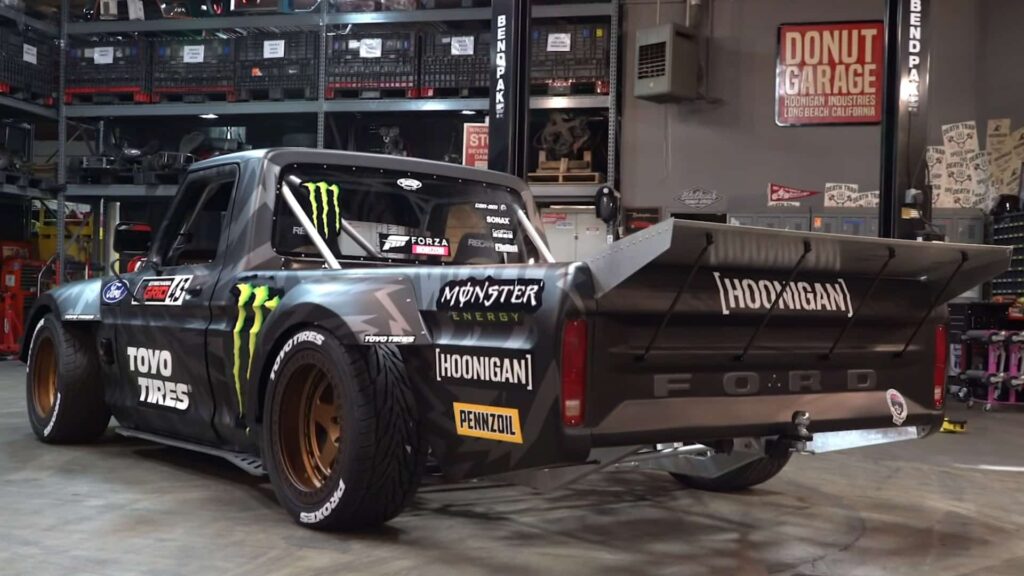 Inside the original steel cab, space is limited as the engine and transmission encroach in the area. The carbon fiber dash features a Bosch Motorsports digital dash system, Hoonigan gauges by AutoMeter, Recaro Profi SPA carbon fiber race sears, and there's even a backup camera and trailer brake controller because, yes, the truck is also equipped with a functional hitch.
Rolling on 315/35R20 Toyo Proxes rubber made for sport utility vehicles and a set of gorgeous Fuel Block wheels, Block relies on Wilwood 6-piston brake calipers and huge 14" rotors to safely slow him back down when his antics get a little too speedy.
In addition to wowing fans all over the world, the Hoonitruck won the "best dressed" truck/SUV award while on display at the 2019 Tokyo Auto Salon. Perhaps the baddest Ford F-150 ever built in a wild Pro Touring style, Block's Hoonitruck with its Garrett GTX3071R twin turbos is the epitome of cool and definitely ready to party wherever there's pavement present.
VEHICLE: 1977 Ford F-150
ENGINE: Roush Yates/Ford Performance 3.5-liter EcoBoost V6
TURBO: Garrett GTX3071R Gen II twin turbochargers
TRANSMISSION: Sadev 6-speed all-wheel drive
POWER: 914
USED FOR: gymkhana