January 28, 2022
Ken Block's 1,400+ HP "Hoonicorn V2" AWD Ford Mustang is Garrett Boosted

Ken Block's 1,400+ HP "Hoonicorn V2" AWD Ford Mustang is Garrett Boosted
By Ainsley Jacobs
Boosted by twin GTX3584RS Garrett turbos, gymkhana legend Ken Block's latest "Hoonicorn" AWD Ford Mustang makes 1,400 horsepower.
In the iconic film "Gone in 60 Seconds," the 1967 Ford Mustang GT500 known as "Eleanor" is referred to as a Unicorn – a fabled creature that's impossible to capture. Hoonigan's head honcho Ken Block, however, built his own take on the mythical animal when he assembled his "Hoonicorn" all-wheel-drive 1965 Ford Mustang and then upped the ante with a set of massive Garrett twin turbochargers.
Knowing that the Mustang would be the newest star in Block's wildly popular series of Gymkhana cinematic masterpieces, the project began with months of design work and pre-planning mock-ups.
ASD Motorsports was entrusted to fabricate the NASCAR-style tube chassis and roll cage for Block's beast and a suspension system more closely resembling that of a Formula One or IndyCar as opposed to a drift car was meticulously engineered with consulting assistance from drift legend Vaughn Gittin Jr. A pushrod-style setup was ultimately utilized to allow for inboard-mounted shocks and dampers and gave the team a ton of adjustability within the constraints of a tighter package.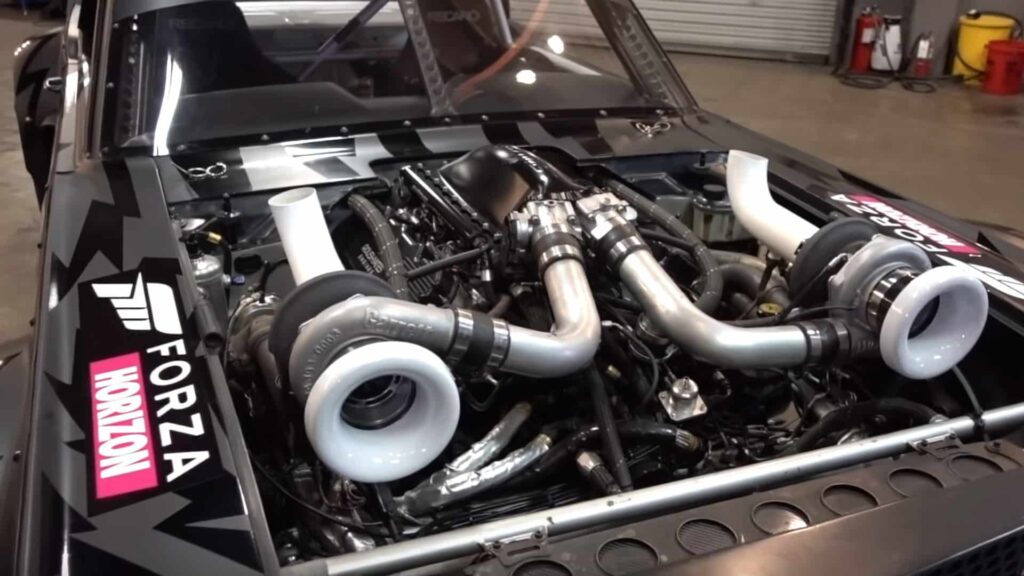 Running a naturally aspirated Roush Yates 410 ci Ford V8 engine initially, the Hoonicorn V1 only produced only 845 horsepower. Wanting to tackle Pikes Peak, Block knew he would have to compensate for the high altitude's thin atmosphere and decided to bump up the power level.
The addition of a set of Garrett GTX3584RS turbos nearly doubled the notchback's output to 1,400+ horsepower and 1,250-lb/ft of torque and officially christened the Hoonicorn V2. As the MoTeC M150-controlled engine runs on methanol fed through 16 individual 1,050cc fuel injectors, there's no need for an intercooler and the twin turbos were able to be positioned on top of the engine and deliver more than 20 psi of boost to the custom Switzer Dynamics intake manifold.
Check It Out On Hoonigan Build Biology
Pushing the absolute limits of traction requires a whole lot of guts and an abundance of grip. A square setup featuring 295mm R-compound grooved slick tires from Toyo at all four corners means there's nearly 4' of contact patch traction available on-demand, and the Sadev SC90-24 six-speed rally racing transmission delivers power to each without hesitation.
Although the AWD Ford Mustang is a far cry from its factory form, the Hoonicorn V2 still retains original steel A-pillars, C-pillars, roof, doors, and VIN plate. RTR Vehicles in North Carolina supplied an abundance of other carbon fiber body panels, parts, and pieces such as the massive fender flares, side skirts, front and rear bumpers, front lip, and more.
Inside, Recaro seats and Sparco harnesses keep Block secure when he's in his office working at his carbon fiber dashboard desk, and bead-rolled body panels add a sleek and stylish surrounding finish.
Block and his Hoonigan crew are known for their wild, mind-boggling builds and the all-wheel-drive, twin turbo, meth-ingesting Hoonicorn V2 1965 Ford Mustang is absolutely no joke. Block's insane antics and unparalleled car control make his menacing interpretation of the "unicorn" a truly magical work of automotive art and undeniable gymkhana megastar.
VEHICLE: 1965 Ford Mustang
ENGINE: Roush Yates 410ci Ford V8
TURBO: Garrett GTX3584RS twin turbos 6762 turbo compressor wheel to turbine wheel specs
TRANSMISSION: Sadev 6-speed SC90-24
POWER: 1,400+
USED FOR: gymkhana