February 8, 2022
K240SX: From KA24 to K24, Hert's Garrett-Boosted S13 Nissan 240SX Has a Honda Swap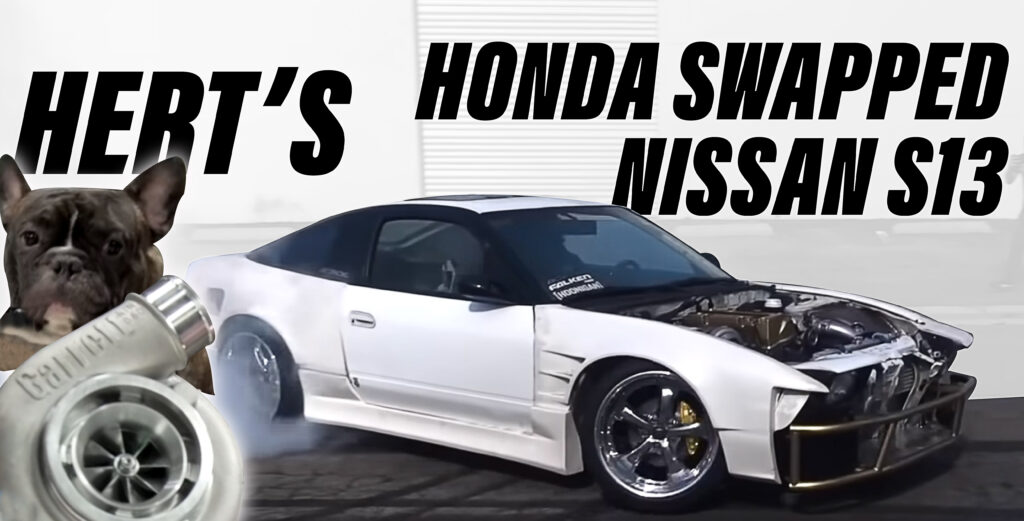 By Ainsley Jacobs
Hoping for some simple seat time, Hoonigan's Hert swapped his S13 Nissan 240SX from its original KA24 to a Honda K24 instead
A regular in Hoonigan's "Home Wrenchers" and "UnPros Garage" series, Hertrech Eugene Jr. aka "Hert" had been hunting for some more bare-bones basic drifting fun when he picked up his S13 Nissan 240SX in 2017 for around $1,200. At first, the plan was to build a "Simple Seat Time Stallion" and use the original 2.4-liter Nissan KA24DE engine but it soon evolved into a Honda K24 swap instead – with a Garrett GTX3071R Gen II turbo for boost, of course.
Bolted to a Dynapack hub dyno and with the Garrett GTX3071R Gen II turbo producing tons of sweet spooling sounds, the K24 cranked out 512.94 horsepower and 415.78 foot-pounds of torque on 16 pounds of boost. The fuel injectors were reaching maximum capacity, so the guys turned the fun down to the 400-horsepower range to be safe – still plenty of power to have effortless fun on the streets with friends and to keep the four-cylinder engine able to party for a long time.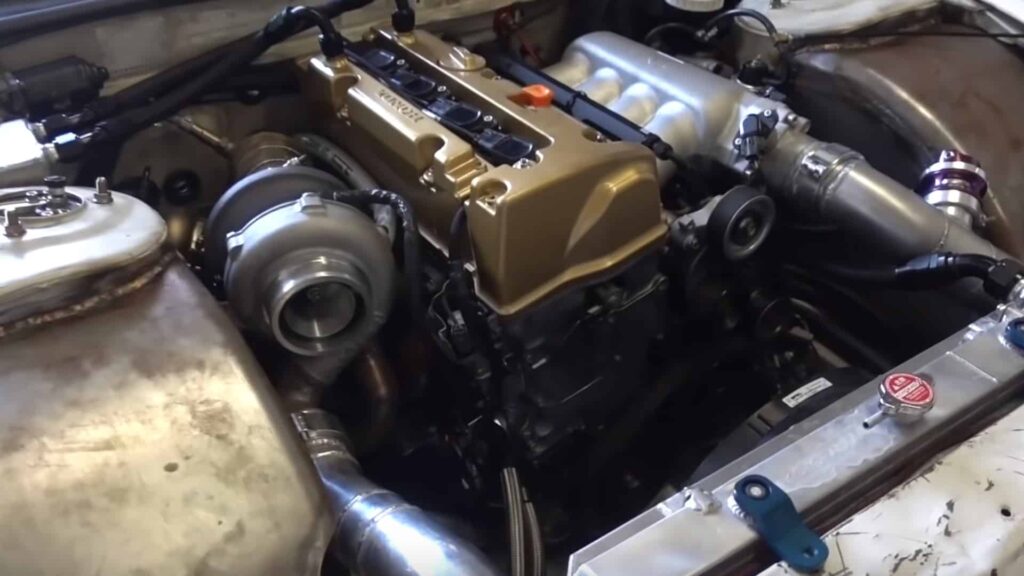 Hert's S13 came with a set of BC Racing coilovers and a welded differential that helped the iconic hatchback slide easily, but a spun bearing in the stock KA24DE engine quickly put an end to the shenanigans. He swapped in another, but that only ran once due to wiring issues and left Hert feeling heartbroken and betrayed. So, he changed course and picked up one of Honda's legendary K-series rear wheel drive powerplants instead for only $800 from JDM of California.
Still a somewhat simple swap requiring no more work than a more common Toyota 2JZ change, Hert picked up the pieces he needed to make the different manufacturers' parts play nicely together. A TFWorks/Touge Factory billet mounts facilitated the placement of the engine, and a TFWorks K24 exhaust manifold was bolted on before the Garrett GTX30 Gen II turbocharger with V-band inlet/outlet housings was ceremoniously installed.
Freshened up with parts from BimmerWorld and fitted with a Clutch Masters flywheel, Hert chose a BMW ZF 5-speed manual transmission to back the engine and used a KMiata adapter to ensure it fit the Nissan block. Axle adapter studs from TFWorks allowed significantly stronger Z33 Nissan 350Z axles to be used with the stock S13/S14 differential.
The budget build was finished up with some wheel tubs fabricated from $80 worth of trailer fenders, some fresh aero to update the K240SX's appearance, and a set of Work VS-KF wheels with 265 tires in the rear.
Watch It On Hoonigan
Lastly, while getting tuned, the Haltech Elite 1500 engine management system's launch control was also enabled and adjusted so the turbocharged Honda K24-powered S13 will throw some wicked flames out of its custom-made straight pipe exhaust when it's up on the rev limiter and to make it look especially spicy at night.
With everything locked and loaded and ready to shred, Hert celebrated the birth of a new build by doing a big burnout to test the integrity of the engine (for science!) and confirmed that the Garrett turbo and the tires were are spinning exactly as planned.
VEHICLE: S13 Nissan 240SX
ENGINE: Honda K24
TURBO: Garrett GTX30 Gen II
TRANSMISSION: BMW ZF 5-speed
POWER: 512
USED FOR: drifting