February 23, 2022
Hoonigan's "Lord Frightening" Ford F-150 Lightning Makes 500HP with its Garrett Turbo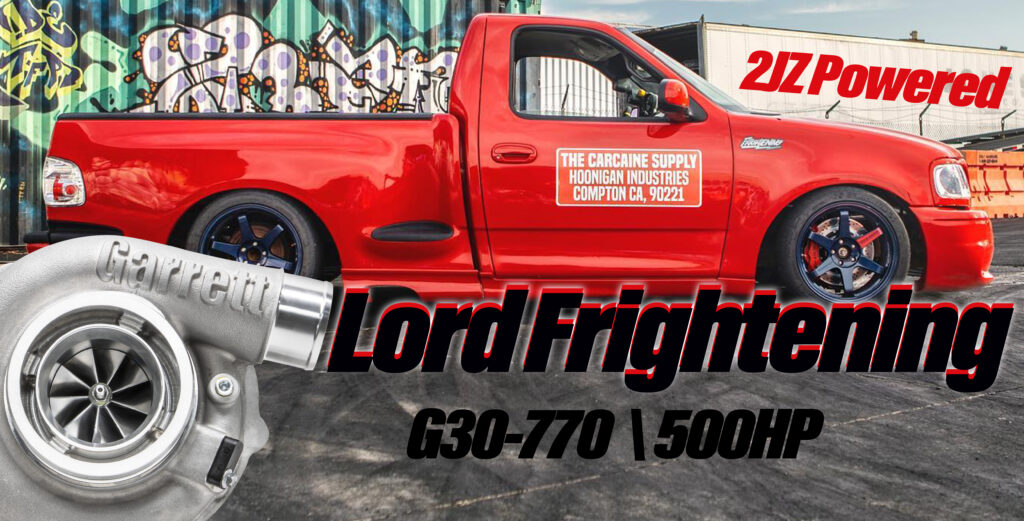 By Ainsley Jacobs
An homage to the Fast & the Furious movie's first shop truck, Hoonigan's "Lord Frightening" F150 monster is Garrett turbocharged.
It's not a flashback from the first of the Fast & Furious franchise movies, it's Carcaine Parts Supply by Hoonigan's "Lord Frightening" Ford F-150 Lightning. Inspired by and built as an homage to the famous film's shop truck, the Hoonigan recreation takes things even further than the 2001 blockbuster ever did with a hefty dose of horsepower from a unique engine combination.
Although the truck started out in admittedly rough conditions as "one of the worst that ever pulled in to the Hoonigan shop," the Ford F-150 Lightning received a stunning makeover courtesy of a fresh coat of eye-catching paint and a beautiful set of period-correct wheels. A lucky find on Facebook Marketplace, the old school JDM mag blue Volk Racing TE37 wheels were actually sized with a Nissan GTR fitment with a 5×114.3 bolt pattern. Thanks to an adapter, however, the guys were able to bolt on the massive 20×9.5 front wheels as well as the 20×10.5 rears for an absolutely amazing finished appearance.
Under the hood, an inline six-cylinder 3.0-liter Toyota 2JZ-GTE engine was sourced from JDM California and swapped to create the unconventional import-powered domestic. Controlled by a Haltech Elite 2000 engine management system with Haltech coilpacks, Toyota's legendary powerplant is amped up even further by the addition of a Garrett G-Series G30-770 turbocharger. Renowned for its industry-leading power in a compact package and state-of-the-art G-series aerodynamics, the Garrett G30-770 ball bearing turbo produces big power in a small frame and outflows similarly-sized turbos from other manufacturers. The Hoonigan crew opted to go with the V-band inlet/outlet turbine housing option for easy installation and a hefty dose of cool. Running at only 15 pounds of boost, the newly-minted "Lord Frightening" 2JZ-swapped and Garrett boosted Ford F-150 Lightning produced an impressive 500-wheel horsepower on the dyno with a substantial amount of torque.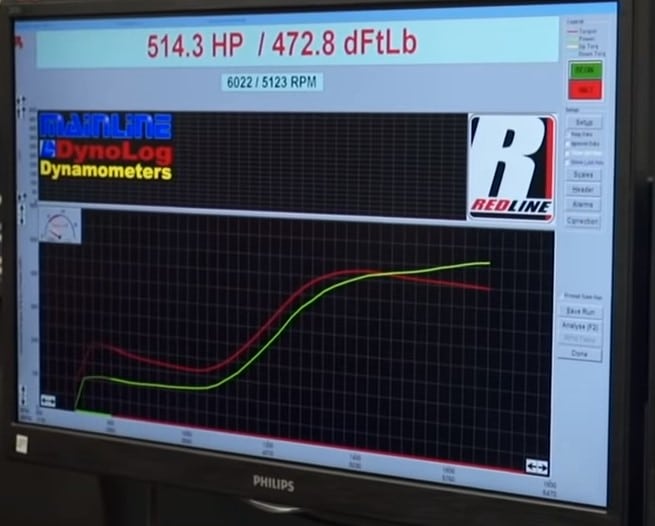 Finally, a K&N stock car filter, Mishimoto radiator, and GReddy intake manifold were bolted onto the engine before it was mated to a TREMEC T-56 manual transmission thanks to a Grannas Racing adapter kit.  As no truck destined for shop use would be complete without a wicked sound system to enjoy when out making parts runs, the Ford's interior was stripped down to focus on form and function. Thermo-Tec sound deadening was installed throughout the cabin before the new carpet was installed to ensure that the top-of-the-line MTX audio system delivered crisp performances to its audience. Lastly, the interior was fitted with a set of Sparco seats, matching Sparco steering wheel, and Hoonigan Chase Bays handbrake.
While the Ford F-150 Lightning came fresh from Ford's factory as an impressive performance truck to begin with, this lucky Lightning got a new lease on life thanks to the Hoonigan's crew creativity and made its first public appearance at Race Wars, er, FuelFest Los Angeles at historic Irwindale Speedway in California in June of 2021.
Watch the Build on Hoonigan
VEHICLE: Ford F-150 Lightning
ENGINE: Toyota 2JZ-GTE
TURBO: Garrett G-Series G30-770 ball bearing turbocharger
TRANSMISSION: TREMEC T56 manual
POWER: 500+
USED FOR: shop truck