January 24, 2022
Garrett Turbocharged Grocery Getter: Hert's Lexus GS300 "Thicccstallion"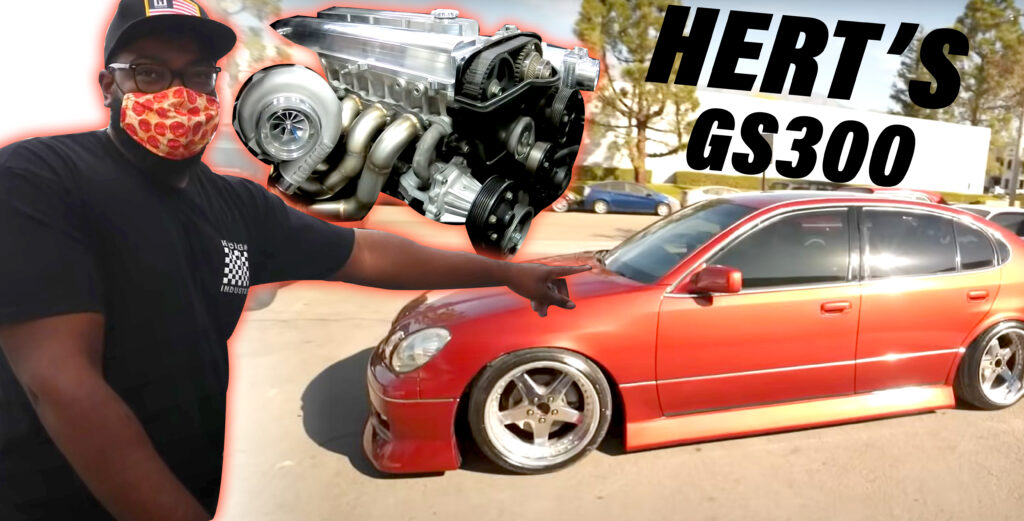 By Ainsley Jacobs
Boosted by a Garrett G35-900 turbo, Hert's Lexus GS300 family cruiser build went from simple to insane with a full 2JZ swap.
Just because Hoonigan's Hertrech Eugene Jr. aka "Hert" is embracing his new dad life doesn't mean he's ready to give up cool cars. Although his initial plan was a "simple build" for his four-door Lexus GS300 family sedan, Hert quickly realized he wanted bigger, badder, and more heavily boosted things.
At first, Hert was focused on a budget bolt-on project. He intended to utilize the GS300's original 200,000+ mile naturally aspirated Toyota 2JZ-GE engine (as its VVTi cylinder heads held a distinct performance advantage over those of the factory turbocharged 2JZ-GTE platform) and add a turbo for an NA+T setup. In preparation of tackling the upgrade, he began accumulating the necessary parts and components, and selected a new Garrett G35-900 turbocharger.
Hert specifically chose the G35-900 turbo because it has a 6262 turbo compressor to turbine wheel specs which make it a balanced, fast spooling turbo and he had been running the same unit on another one of his cars for years prior, and liked how quickly it spooled plus the facts that it made great power and was reliable. His goal was a modest 350-400 horsepower, but that quickly escalated. On the dyno the 2JZ made 610 horsepower at 17 PSI of boost with an E85 / 91 blend.
Hear it on the dyno!
After a beautiful Plazmaman billet Pro Series intake manifold and front-mount air-to-air intercooler, Koyo radiator, complete DeatschWerks fuel system, and the Driftmotion turbo kit with its exhaust manifold, wastegate, and downpipe arrived in May of 2020, Hert got to work tearing down and cleaning up his stock powerplant.
Soon, the family-friendly car was headed down a different path: a full-on, 700+ horsepower change of course centered around a twin turbo Toyota Aristo 2JZ-GTE engine swap instead. The bullet had been imported directly from Japan and came with about 220,000 miles on it, so Hert gave it a quick freshen up to remove the gunk and free up some horsepower.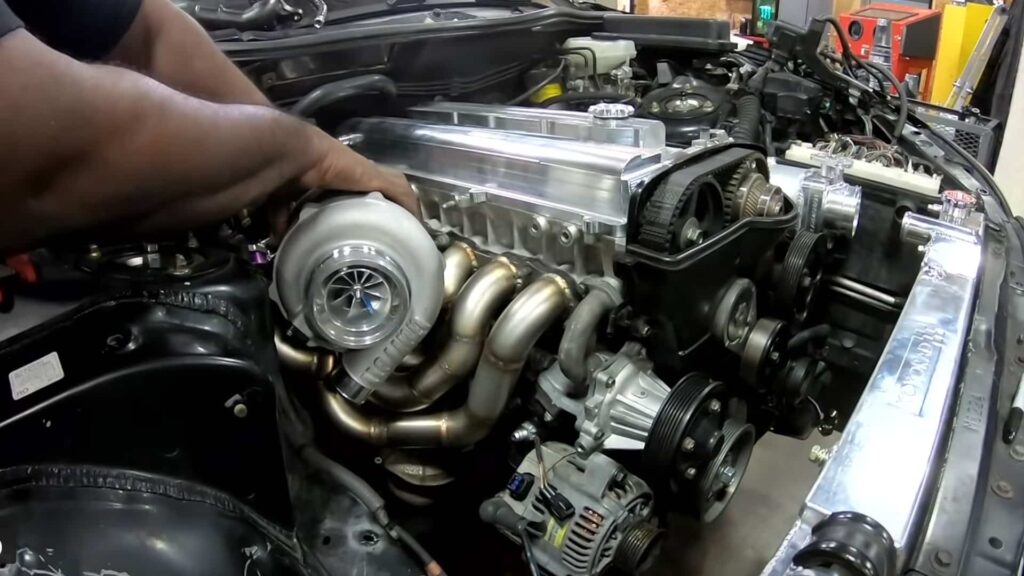 Hert topped the potent JDM 2JZ with the VVTi heads from his original engine and wired up a Haltech Elite engine management system, then converted the famous Toyota engine to use the single Garrett G35-900 turbo with its V-band flange turbine housing for easy installation and removal, if needed.
Wanting to make good use of all of the Garrett-supplied boost on demand, Hert also converted the big-bodied sedan over from its original automatic to use a six-speed manual transmission instead.
A few months, countless hours of thrashing, and a color change later, Hert had completed the tire-slaying project. Christened "Thicccstallion," Hert debuted his Hoonigan Lexus GS300 on the punishing Drift Week 2 road trip extravaganza in November of 2020. He put thousands of miles on the new combination over fourteen days at about half as many tracks, all while pushing the parts to their limits as he shredded tires with his unique drift machine.
VEHICLE: Lexus GS300
ENGINE: Toyota 2JZ-GTE
TURBO: Garrett G35-900
TRANSMISSION: 6-speed manual
POWER: 700+
USED FOR: drifting