March 19, 2022
Garrett Turbo Helps Bruno Massel Win NHRA Comp Championship with His 2JZ-Powered Cobalt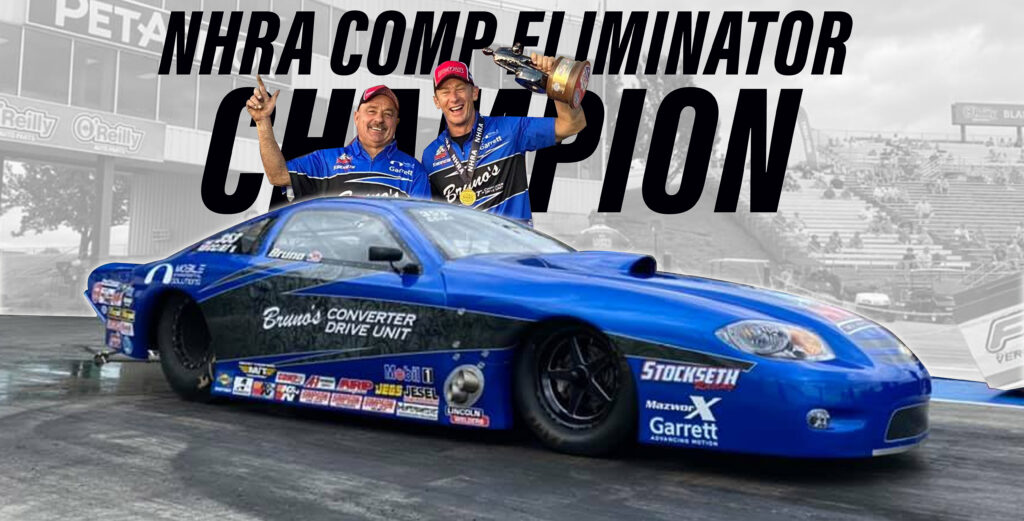 By Ainsley Jacobs
With G Series G30-770 Garrett turbochargers boosting his Toyota 2JZ engine, Bruno Massel earned an NHRA Comp championship in his Chevy Cobalt.
Winning a title takes talent, a terrific team, and the right combination of powerful parts. NHRA Comp Eliminator driver Bruno Massel picked up his third NHRA drag racing championship in 2021 with Garrett turbos on board his unconventional 2JZ-powered Chevy Cobalt. In between his busy schedule as the host of several TV shows and his job as a motorsports commentator, Massel competes in both NHRA Pro Stock and NHRA Competition Eliminator – two incredible competitive categories. In the later, his Autogeek-backed 2010 Chevrolet Cobalt has been a reliable partner for years but recently underwent a radical transformation.
Massel had run a turbocharged, 4-cylinder EcoBoost engine in Comp Eliminator for years but was inspired to go a different route during the winter off-season between 2019 and 2020. Seeing potential in the legendary 6-cylinder Toyota 2JZ-GTE powerplant, he scored an all-billet 3.0-liter block manufactured by Mazworx along with a matching rotating assembly and a billet Plazmaman intake manifold. Massel's friend and fellow multi-time drag racing champion, Brad Personett, put the engine together but the pair were forced to wait on a lot of parts due to Coronavirus-related production delays.
One thing that he didn't have to wait on, though, were the twin Garrett G-Series G30-770 turbochargers. Each capable of supporting up to 770-horsepower in a single configuration, the twin turbo setup that Massel runs can easily accommodate 1,400+ horsepower for a tremendous amount of muscle in a small frame package, especially when paired with a massive air-to-liquid intercooler. Of course, Massel selected a converter drive from his father's company, Bruno's Automotive, and a Liberty four-speed clutchless transmission to complete the powertrain.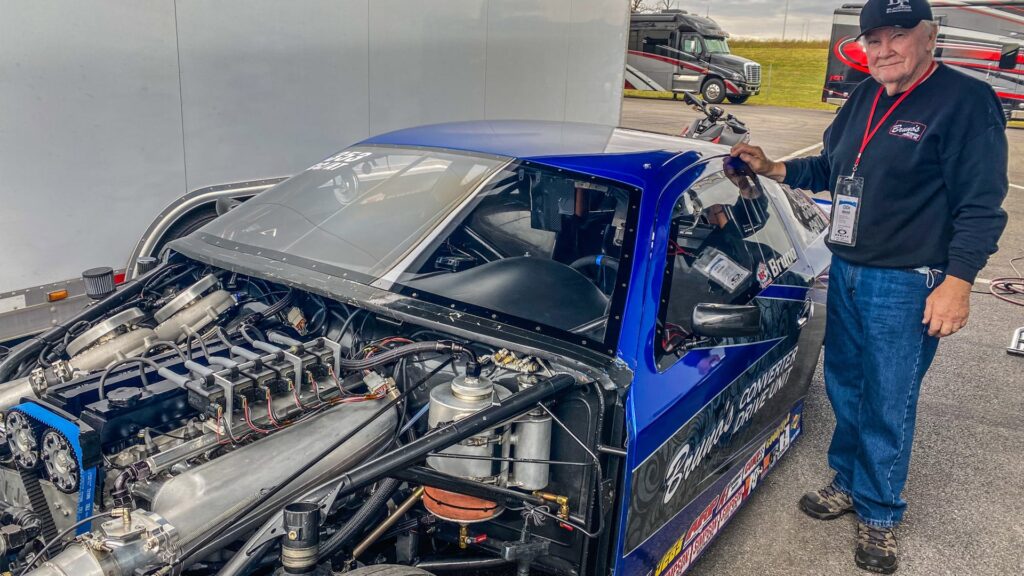 Massel stripped the Jerry Bickel Race Cars-built chassis down to bare metal and made changes to the front of the Cobalt to accommodate a longer engine with two extra cylinders. Nearly 300-pounds of weight had to be added, but Massel's teammates at Elite Motorsports offered their expert assistance to properly baseline the car at its new weight. Additionally, Precision Racing Suspension's Adam Lambert helped spec out and set up the Penske shocks to keep the Cobalt happy and balanced. Joe Oplawski from Hyperaktive Performance Solutions set up a base calibration of the Chevy's Emtron engine management system while the car was bolted to the Hyperaktive hub dyno. With all systems go, Massel validated the combination in competition in 2020 with his crew chief Darrell Herron and it was great right from the get go.
At just his second outing, he scored the number one qualifier position. Massel had no trouble spooling the Garrett turbos with the 2JZ engine, and the snails provided plenty of boost despite often encountering hot air and challenging conditions. His new quarter-mile personal best elapsed time of 7.01-seconds at 197 mph was undeniably quick, and he's confident the car can easily produce 6-second runs once it gets further dialed in. With a goal of chasing the championship title for 2021, Massel secured his dream and picked up his third NHRA season championship when he earned the honors in Comp Eliminator with Garrett turbocharged 2JZ power under his Chevy's hood. Over the years, he's accumulated an impressive number of NHRA national and divisional victories and also now has the first Toyota-powered entry to win a non-sport compact NHRA national event.
https://www.facebook.com/BrunoMasselRacing/videos/3582552388530482/
VEHICLE: 2010 Chevrolet Cobalt
ENGINE: Mazworx Toyota 2JZ-GTE 6-cylinder
TURBO: Garrett G-Series G30-770 turbochargers
TRANSMISSION: Liberty 4-speed clutchless
POWER: confidential
USED FOR: drag racing