March 19, 2022
Daigo Saito's 1,000+ Horsepower Garrett Turbocharged Yaris Drift Monster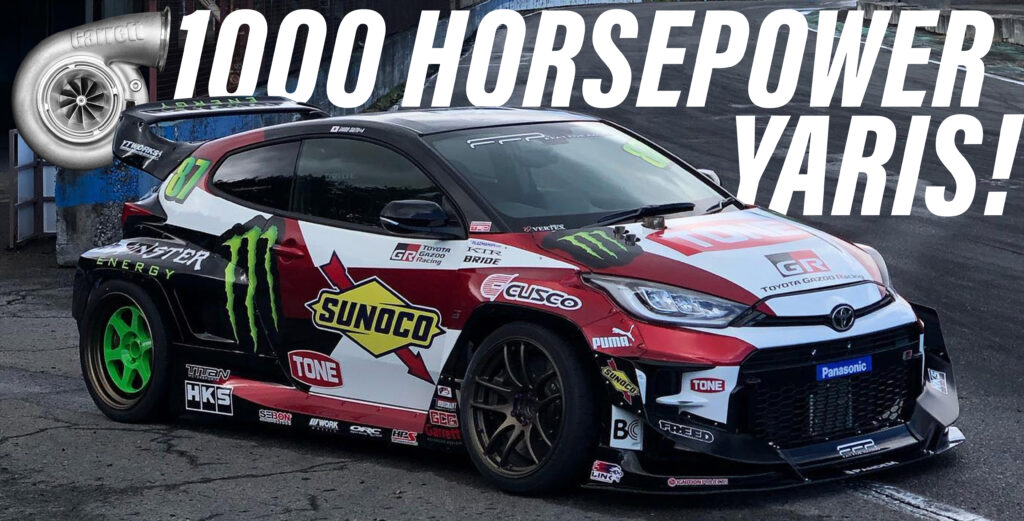 By Ainsley Jacobs
A 2JZ engine and Garrett turbo amp up Daigo Saito's Toyota Yaris from its factory form to a 1,000-horsepower drift machine.
International drift superstar Daigo Saito knows a thing or two about building high-horsepower, tire-shredding monsters, so when he acquired his 2020 Toyota Yaris GR, he quickly transformed it into something similar with a 2JZ engine and massive Garrett turbo. The Yaris GR is a performance-oriented variation of the subcompact hatchback, and the D1 Grand Prix and Formula Drift champion pushed its capabilities further with his selection of parts. Saito started by removing the anemic 1,600cc 3-cylinder G16E-GTS engine. He made some major engine bay modifications and replaced the factory powerplant with a potent Toyota 2JZ-GTE engine similar to the swap he had done in his 2020 MK5 Supra. He didn't settle for the stock 3.0-liter configuration, though, as he had the 2JZ stroked out to 3.4-liters instead.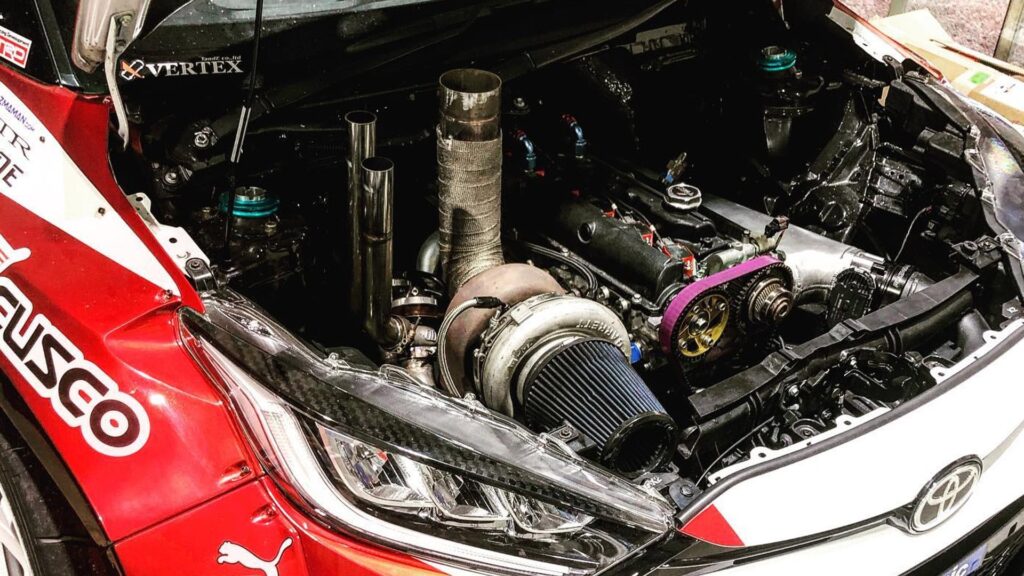 Next, Saito equipped the engine with two TurboSmart GenV external wastegates to control the massive Garrett GTX4294R 70mm ball bearing turbocharger. With its advanced GTX aerodynamics and excellent efficiency, the GTX4294R turbo is capable of supporting up to nearly 1,000 horsepower. As the hot hatch was destined for lots of high-rpm abuse and sideways shenanigans, Saito also opted to delete the Yaris's GR-Four all-wheel-drive system in favor of a more slide-happy rear-wheel drive configuration. A high-end Samsonas sequential transmission, too, further amplified just how far Saigo was pushing the limits with his tiny monster.
Next, the Yaris's steering angle was increased through the addition of Cusco suspension components and matching coilovers so that Saito could take full advantage of all of the Garrett turbocharged power every time he blipped the throttle. The Yaris received an exterior makeover, too, as Saito carefully selected a special Pandem aero kit by TRA Kyoto to beef up its presence. Inside, the interior was decorated tastefully as well to keep its occupants safe in style. With roughly 1,000-horsepower on tap in a package estimated to weigh less than 3,000-pounds, Saigo's Garrett turbocharged, tire-smoking, short wheelbase Toyota Yaris GR isn't what Toyota intended but it's absolutely what drifting enthusiasts needed.
VEHICLE: 2020 Toyota Yaris GR
ENGINE: Toyota 3.4-liter 2JZ-GTE 6-cylinder
TURBO: Garrett GTX4294R turbocharger
TRANSMISSION: Samsonas sequential
POWER: 1,000
USED FOR: drifting