April 16, 2020
Building An 800 Horsepower BMW N54 335i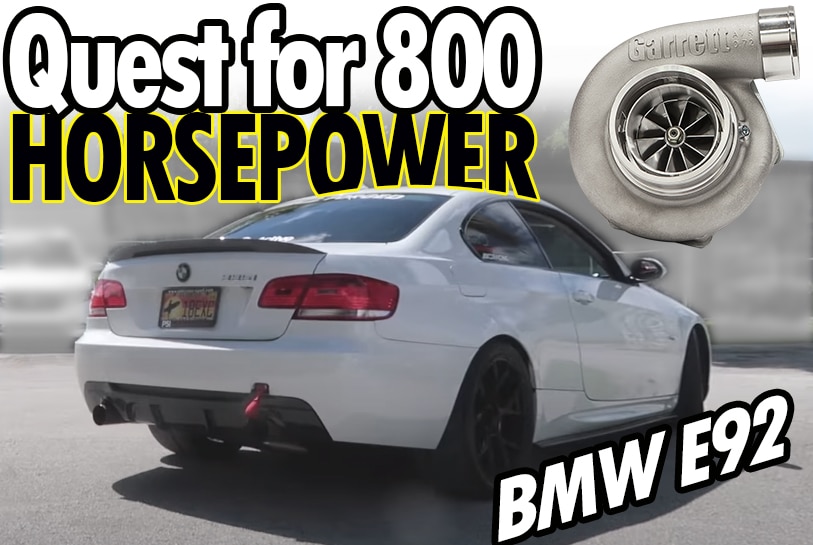 The BMW N54 engine was manufactured from 2006 – 2016, it is a 3.0L straight six-cylinder, twin turbo, all aluminum, dual overhead cam, with variable valve timing engine that has been proven to be an extremely stout platform for performance. Adam LZ takes his 2008 BMW E92 335i and shows us what it takes to make 800 horsepower with virtually the stock setup.
The 335i is one of Adam's first cars that he used on his YouTube channel and the one that gave him the motivation to design and sell merchandise as well as to use his YT channel as a business platform. The car is one he holds as a reminder of what got him into the business. It is also one he is not afraid to push the limits on and for that we thank him.
The E92 sports a clean minimalistic look and at 800+ crank horsepower, it's a sleeper! Subtle exterior features like Z Work Lights headlights with DTM halos and carbon inserts, Brembo big brakes, Nitto NT05 tires, BC Forged wheels, BC suspension keep it nice on the outside. The N54 engine is a great platform for boosting and sports a titanium exhaust, Motive turbo manifold with a Garrett GTX3584RS turbo charger.
3.0L BMW N54 Power
Adam gets it dyno'd and although not completely dialed in and the dyno not quite working properly, it still makes great power on a stock engine. At 30 PSI of boost the GTX3584RS makes 750-780 wheel horsepower at about 7000 RPM. We will have to call this one TO BE CONTINUED………… 
Listen To It Rev
Adam and Alberto Big Boost fire it up and give you a few blips of the throttle. We must admit the E92 BMW has a nice sounding exhaust note.