February 12, 2019
Garrett Motion history with F.I.A. World Rally Championship
Turbochargers started appearing at World Rally events in the late 1970s. The first win by a turbo was the Garrett T03 boosted Saab 99 of Stig Blomqvist at  the Swedish Rally in 1979.  In 1980 Renault came with the Garrett T3 boosted R5 Turbo which was the second turbo car ever to win a rally, the Monte Carlo Rally at the beginning of the 1981 season. During the entire turbo era from 1979 to present, Garrett turbochargers have been the turbo of choice by the three winningest marques in the history of World Rally, Lancia, Ford and Peugeot. Garrett boosted cars have won 16 Manufacturers' Championships and 12 Drivers' Championships through 2007.
Group B period 1982-1986
In 1981 Audi came with their revolutionary KKK boosted 4WD Quattro, winning three events while sorting out their technologically advanced car.  The fruits of Audi's developments paid off quickly, and in 1982 the Audi Quattro became the first turbo to win the World Rally Manufacturers' Championship.  Turbocharged cars have won every World Rally Manufacturers' and Drivers' Championship since.
Audi followed up with another Manufacturers' Championship in 1984 and Drivers' Championships in 1983 with Hannu Mikkola and in 1984 with Stig Blomqvist.
It was Lancia that interrupted the Audi streak by winning the Manufacturers' Championship in 1983 with their Lancia Rally 037, which was supercharged.  Then Peugeot leapfrogged them both with their revolutionary Garrett T03 boosted Peugeot 205 T16 which won Manufacturers' and Drivers' Championships in 1985 and 1986 with Timo Salonen and Juha Kankkunen respectively. 1986 would be the last year for the powerful Group B rally cars which were retired because of safety concerns due to their blossoming horsepower estimated in the 500HP range. Garrett boosted cars won 25 of the 61 rallys during the Group B era.
Group A period 1987-1996
The Group A cars approved from 1987 were closer to 300HP and much safer for drivers and spectators alike.  Lancia made the transition to the new rules the quickest and the best winning six consecutive Manufacturers' Championships along with four Drivers' Championships through 1992, all with Garrett® T3 turbos.  These wins were with the Lancia Delta HF 4WD and the Lancia Delta Integrale. Garrett boosted cars won 47 of  79 rallys during this period.
The European manufacturers preferred the development of high technology to boost their technical images. The Japanese manufacturers preferred rules that kept the cars closer to production specifications.  As Group A rules evolved to reduce power for safety and to reduce cost, the rules began to favor the interests of the Japanese manufacturers. Consequently some European Manufacturers departed and Japanese marques Toyota, then Subaru, then Mitsubishi had their turns winning championships until the Group A period ended in 1996.
World Rallycar period 1997 – 2010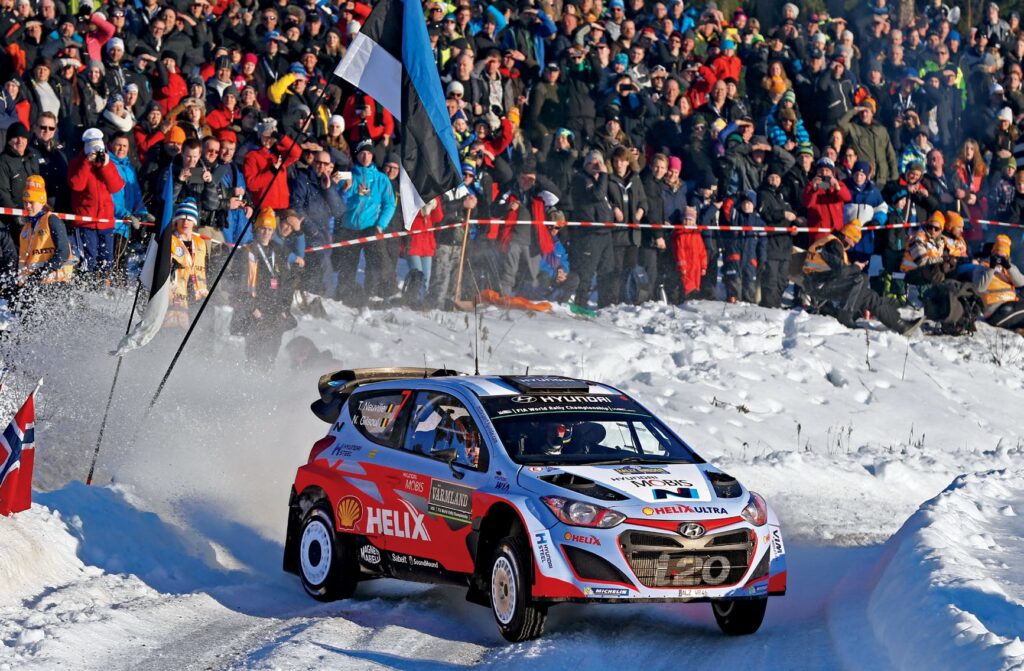 In 1997 "World Rally Cars" replaced the Group A specification.  World Rally Cars had more  freedom to depart from production specifications.  It was no longer necessary to produce 5000 of a car to achieve homologation approval, so this opened up the technology to more race specific designs.
In response, Garrett developed a rally-specific turbocharger called the TR30R for the Ford WRC team in 1999. TR30R was a very lightweight aircooled ball bearing racing turbo.
The TR30R has dominated the World Rally scene since 2000 when Marcus Gronholm and Peugeot won the Drivers' and Manufacturers' Championships with TR30R.
In the eight years from 2000 through 2007, Garrett TR30R boosted cars have won 97 of  120 rallys, eight Manufacturers' Championships (3 Peugeot, 3 Citroën and 2 Ford) and six Drivers' Championships (2 Marcus Gronholm and 4 Sébastien Loeb).
YEAR

Manufacturers' Champion
Drivers' Champion
Driver
Car
Turbo
1985
Peugeot
Timo Salonen
Peugeot
Garrett
1986
Peugeot
Juha Kankkunen
Peugeot
Garrett
1987
Lancia
Juha Kankkunen
Lancia
Garrett
1988
Lancia
Miki Biasion
Lancia
Garrett
1989
Lancia
Miki Biasion
Lancia
Garrett
1991
Lancia
Juha Kankkunen
Lancia
Garrett
2000
Peugeot
Marcus Gronholm
Peugeot
Garrett
2002
Peugeot
Marcus Gronholm
Peugeot
Garrett
2004
Citroën
Sébastien Loeb
Citroën
Garrett
2005
Citroën
Sébastien Loeb
Citroën
Garrett
2006
Ford
Sébastien Loeb
Citroën
Garrett
2007
Ford
Sébastien Loeb
Citroën
Garrett

World Rallycar Global Race Engine period 2011 -present
In 2011, the World Rally Car spec was revised, and the engine was downsized from 2L to 1.6L, and was slated as the "Global Race Engine".  In response, Garrett created the GTR2560R turbocharger, which is a scaled down version of the TR30R.  Since the initiation of the GRE, the Garrett GTR2560R is the only homologated turbocharger in WRC, and from 2011-2013, the same turbo spec was used for WTCC, which uses the same 1.6L engine.