Meet #GenerationGarrett
Sreeja Nandagopal
Technical Lead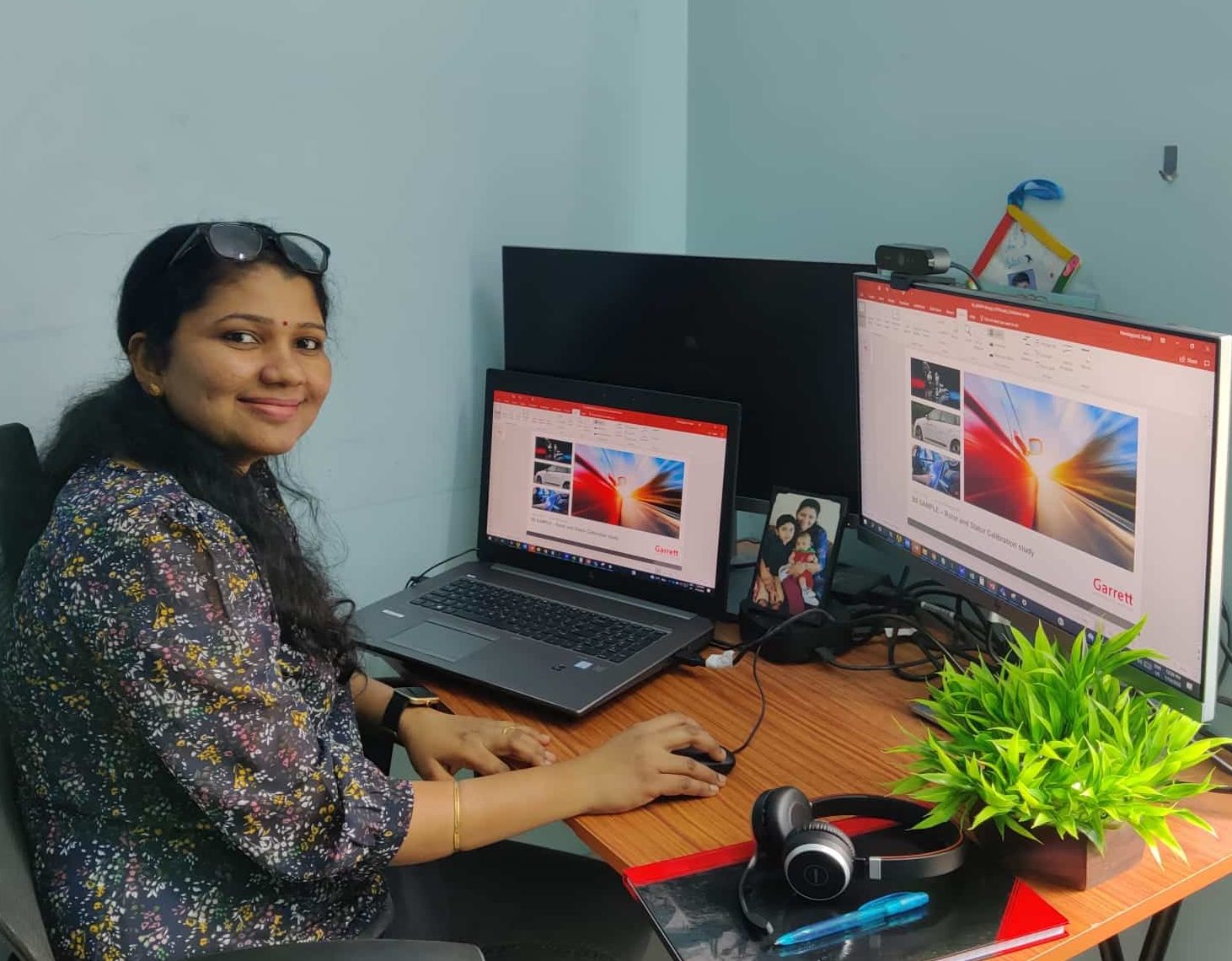 Working on impactful new automotive technologies in an equal opportunity environment is creating a strong sense of fulfilment for Sreeja Nandagopal, a Technical Lead at Garrett Motion's Bangalore R&D center.
Sreeja's role as a technical lead in motor cooling methods for high speed electric machines is challenging. In addition to the difficult technical problems she solves in her day to day job, Sreeja balances successfully developing her career and raising a family. Thus, she was looking for an innovative, flexible, and respectful workplace culture that will empower her career pathway and support her personal wellbeing.
Inspiring technology

in an equal opportunity environment
Driven by her passion for innovation, Sreeja joined Garrett to be part of an exciting engineering environment influencing the auto industry's future direction.
"I joined Garrett because I saw an opportunity to work on really exciting projects as part of a team that truly values collaboration," said Sreeja.
"My work gives me a strong sense of self-accomplishment and fulfillment. At Garrett, I am doing meaningful work in an equal opportunity environment, which enables me to develop leadership skills and advance my career. I feel valued here…and that makes me happy."
"I worked for more than 10 years in thermal analysis and performance assessment of large, complicated rotating machines, and this is an engineering area that I really enjoy. Joining Garrett was very exciting, but, at the same time, for me the question was how best to apply my expertise while achieving the right balance with my family commitments. Being a working mother is not easy…it can be difficult to balance work with family life, even with a very supportive social system. Many working mothers look for flexibility, and Garrett provides me with that," continues Sreeja.
Working at Garrett: a place where

ideas are valued
For Sreeja, Garrett offers creative freedom and unceasing learning and development opportunities.
"It's been a wonderful journey so far because of the diversity of talent, the culture of mutual respect and our collaborative approach. Here, we are empowered with decision-making authority to perform our jobs well, to learn new skills and to continuously enrich our knowledge through training.
"What really excites me is being part of a design development team that is applying new technology and correlating simulation results with prototype performance. As a team, we know that our suggestions and ideas are valued – and we see the outcome of our hard work and innovation in the end results."