GTW3684R Turbocharger 62MM
Horsepower: 425 - 750
Displacement: 2.0L - 5.3L
Important product information: Garrett Performance Kits are professional aftermarket products only designed for certain racing vehicles driven on particular racing tracks and shall only be used on racing vehicles that will never be driven on public roads or highways. Garrett Performance Kits are not legal for the use in vehicles on public roads or other roads to which public road law applies. Any vehicle modifications using Garrett Performance Kits are AT YOUR OWN RESPONSIBILITY and AT YOUR OWN RISK. Only use Garrett Performance Kits in compliance with all applicable laws, regulations, and ordinances (including but not limited to emission, noise, operating license, performance, safety, and type-approval aspects). A vehicle modification using Garrett Performance Kits may particularly affect or void a vehicle's warranty, operating license or type-approval. Moreover, only use Garrett Performance Kits in compliance with all applicable racing and racing track provisions. It is YOUR OWN RESPONSIBILITY AND RISK to ensure that your Garrett Performance Kit fits your vehicle and area of application. YOU MUST ENSURE LAWFUL AND SAFE OPERATIONS AT ANY TIME. You should particularly consult the owner's manual and service manual of your vehicle. You should also contact your vehicle's manufacturer to determine what effects modifications may have on important aspects such as safety, warranty, performance, etc. Only install and use Garrett Performance Kits if you have fully read and understood this important safety information and if you fully agree with the terms and conditions set forth therein.
Features
PORTED SHROUD DESIGN FOR SURGE RESISTANCE
62mm TURBOCHARGER COMPRESSOR OPTION
AVAILABLE IN BOTH JOURNAL BEARING AND BALL BEARING OPTIONS
FORGED FULLY-MACHINED BILLET COMPRESSOR WHEEL
TURBINE HOUSINGS AVAILABLE IN DIVIDED CONFIGURATION
LIGHTWEIGHT ALUMINUM BACKPLATE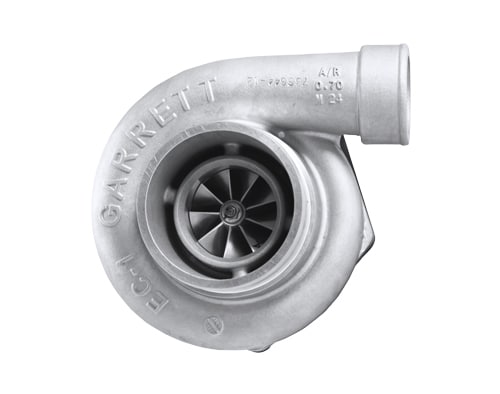 GTW3684R 62MM
Reference Data
GTW3684R
Compressor
Turbine
Inducer
Exducer
Trim
A/R
Inducer
Exducer
Trim

HP: 425-750              Disp: 2.0L-5.3L

62mm
84mm
54
0.70
71mm
62mm
76
Supercore
PN
Ball Bearing
841691-5002S
Journal Bearing
841297-5002S
Turbine Kits: GTW36
PN
A/R
Inlet
Outlet
Wastegate
Divided
Interchangeable with GTW 3684 Supercores
844669-0005
0.70
T4
V-Band
Free Float
Y
844669-0007
1.15
T4
V-Band
Free Float
Y



GTW3684R 62MM
Compressor Map & Exhaust Flow Chart
Compressor Map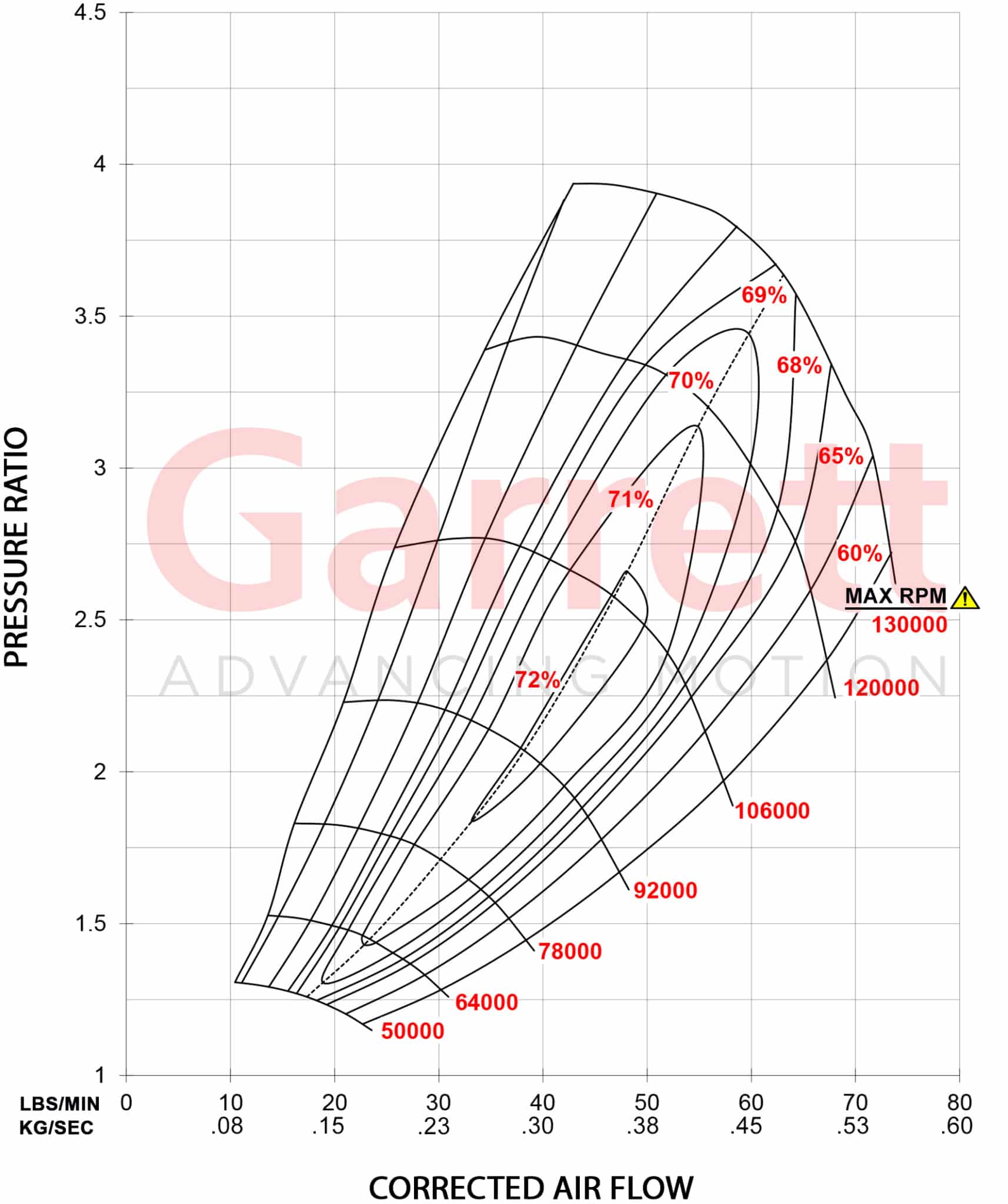 Exhaust Flow Chart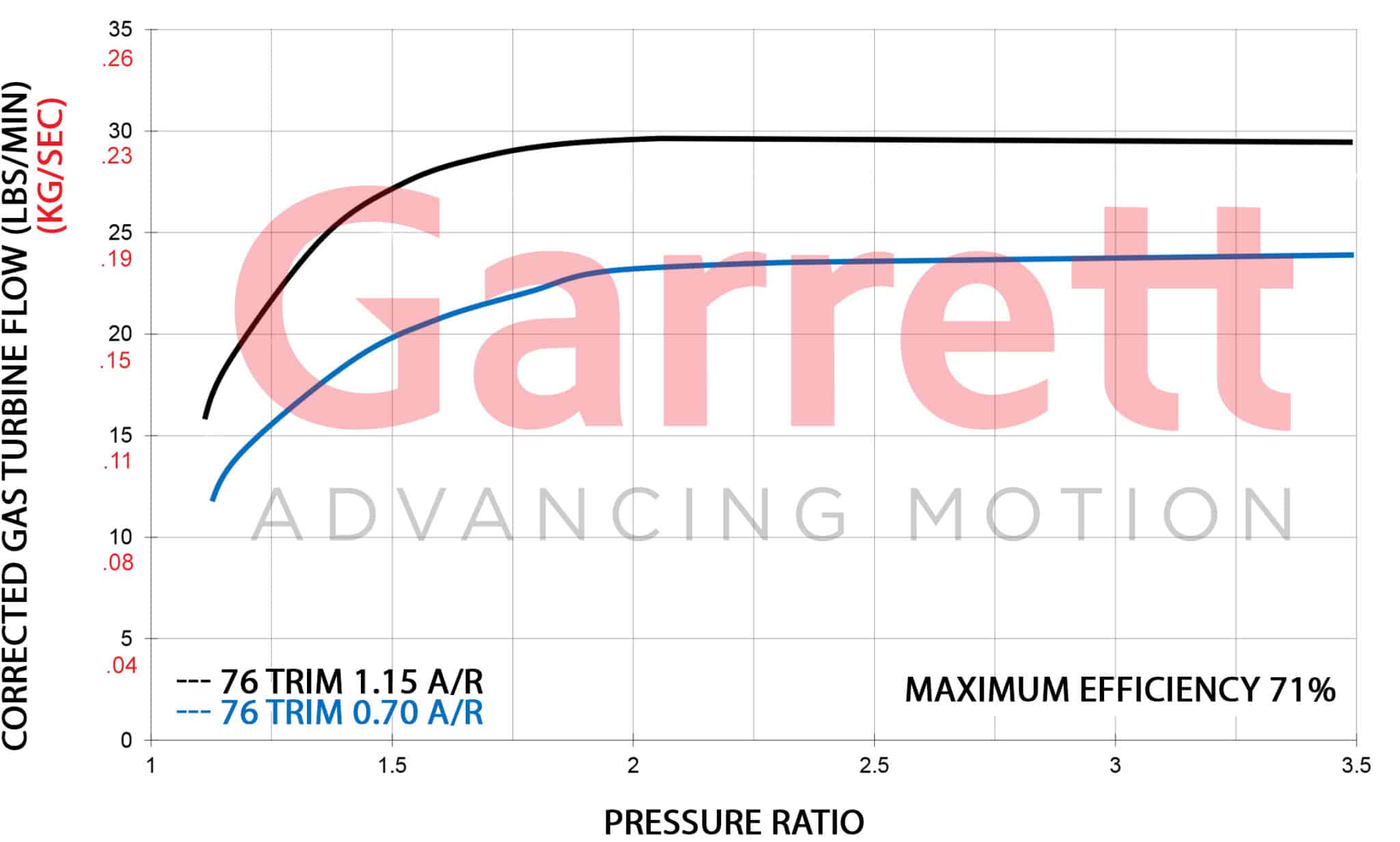 About Garrett GTW Series Turbochargers
Garrett GTW Series Turbochargers are designed to provide budget-minded enthusiasts with a high-performing mid frame product offering available in ball bearing and journal bearing options.
The fully-machined billet aluminum compressor wheels provide optimal horsepower range and boost response. Ported shroud compressor housings increase surge resistance and provide reliable, continuous power throughout the power band. A lightweight aluminum backplate comes standard on all GTW turbochargers and reduces overall weight.
The water cooled CHRA keeps housing temperatures to a minimum. The GTW3684 turbine wheels are constructed from Inconel, a Super Alloy that maintains strength during prolonged exposure to high exhaust gas temperatures. Turbine kits are offered in open T4 twin scroll, and a variety of A/R and flange configurations. The GTW is a cost effective option for enthusiasts looking to turbocharge their vehicles.