Garrett G Series | G55 Turbochargers
The first two numbers indicate the turbo frame size. The larger the number the larger the turbine wheel. The numbers following the dash indicate the peak potential flywheel horsepower rating. There are 7 G55 turbochargers with different compressor inducer sizes and horsepower ranges: G55-1850 (85mm) | G55-1950 (88mm) G55-2100 (91mm) | G55-2250 (94mm) | G55-2450 (98mm) | G55-2650 (102mm) G55-2900 (106mm). G Series | G55 turbos are are outline interchangeable with GTX5533R Gen II and G Series | G57, this allows turbos to be installed without the need to change/modify piping. Forged, fully-machined compressor wheels are offered in inducer sizes of 85mm, 88mm, 91mm, 94mm, 98mm, 102mm, and 106mm and can support from 1000 up to 2900 horsepower.
G Series | G55 features the same compressor stage (compressor housing and compressor wheel) as the popular GTX5533R and GTX5544R Gen II turbos. The main difference is the center housing and turbine wheel aero. The air cooled center housing is one piece aluminum and is 28% lighter than GTX. G Series | G55 turbine wheel is 4mm larger at the turbine exducer and provides up to 15% more turbine flow than GTX. It features advanced aerodynamics, and a redesigned hub that can decrease spool-up time by 6%.
Advancements in turbine aero will reduce backpressure on an engine (if operated at the same turbo RPM) allowing the engine to operate more efficiently and with less strain on internal components. This is because the turbine wheel can flow up to 15% more exhaust volume when compared to the GTX turbine wheel.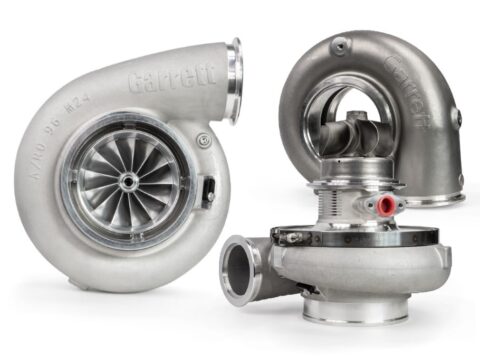 Features: G55 Turbochargers
Features:
• 85mm | 88mm | 91mm | 94mm | 98mm | 102mm | 106mm
• GTX Gen II compressor aerodynamics
• 106mm turbine exducer (+4mm compared to GTX55)
• 15% more turbine flow (compared to GTX)
• Stainless steel turbine housings with V-Band and T6 inlet flanges
• One-piece aluminum center housing (28% lighter)
• 16mm dual ceramic ball bearing with steel cages
• Outline interchangeable with GTX Gen II turbos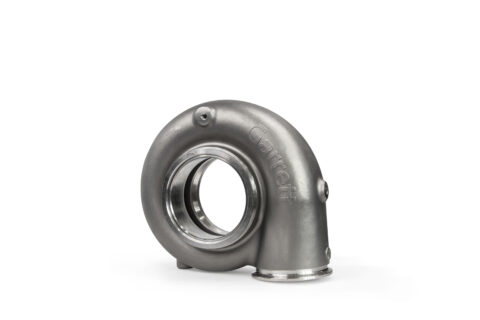 7 Different Sizes To Choose From
Garrett G Series  | G55-1850  Reference Data
Compressor
Turbine
Inducer
Exducer
A/R
Inducer
Exducer
Trim
85mm
133mm
0.88
112mm
106mm
90
Garrett G Series  | G55-1950  Reference Data
Compressor
Turbine
Inducer
Exducer
A/R
Inducer
Exducer
Trim
88mm
133mm
0.88
112mm
106mm
90
Garrett G Series  | G55-2100  Reference Data
Compressor
Turbine
Inducer
Exducer
A/R
Inducer
Exducer
Trim
91mm
133mm
0.96
112mm
106mm
90
Garrett G Series  | G55-2250  Reference Data
Compressor
Turbine
Inducer
Exducer
A/R
Inducer
Exducer
Trim
94mm
133mm
0.96
112mm
106mm
90
Garrett G Series  | G55-2450  Reference Data
Compressor
Turbine
Inducer
Exducer
A/R
Inducer
Exducer
Trim
98mm
133mm
0.96
112mm
106mm
90
Garrett G Series  | G55-2650  Reference Data
Compressor
Turbine
Inducer
Exducer
A/R
Inducer
Exducer
Trim
102mm
144mm
0.96
112mm
106mm
90
Garrett G Series  | G55-2900  Reference Data
Compressor
Turbine
Inducer
Exducer
A/R
Inducer
Exducer
Trim
106mm
144mm
0.96
112mm
106mm
90
Stainless Steel Turbine Housing Kits
Stainless Steel turbine kit sold individually.
• T6 Inlet: 1.00 A/R, 1.12 A/R, 1.24 A/R, 1.40 A/R
• V-Band Inlet: 1.24 A/R, 1.40 A/R
G Series | G55 Turbine Housings
Turbine Kit PN
A/R
Inlet
Outlet
Wastegate
Divided
Trim
Supercore and Turbine Kit Sold Separately
761208-0069
1.24
V-band
V-Band
Free Float
N
90
761208-0070
1.40
V-band
V-Band
Free Float
N
90
761208-0071
1.00
T6
V-Band
Free Float
N
90
761208-0072
1.12
T6
V-Band
Free Float
N
90
761208-0073
1.24
T6
V-Band
Free Float
N
90
761208-0074
1.40
T6
V-Band
Free Float
N
90
G55 Turbine Wheel Aero
• 106mm turbine exducer (+4mm compared to GTX55)
• 15% more turbine flow ( compared to GTX)
• Stainless steel turbine housings with V-Band and T6 Inlet flanges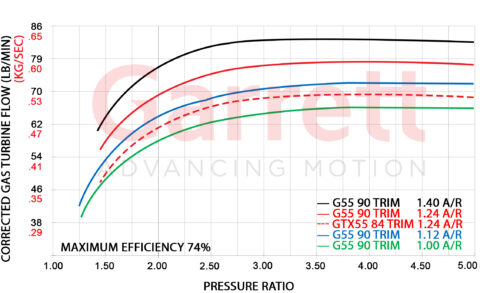 G55 Aluminum Center Housing
• One-piece aluminum center housing (28% lighter)
Find A Distributor Near You