April 13, 2022
ZWING's Beater E30 BMW is Reborn as a Stunning Show Car with Garrett Turbocharged S52 Power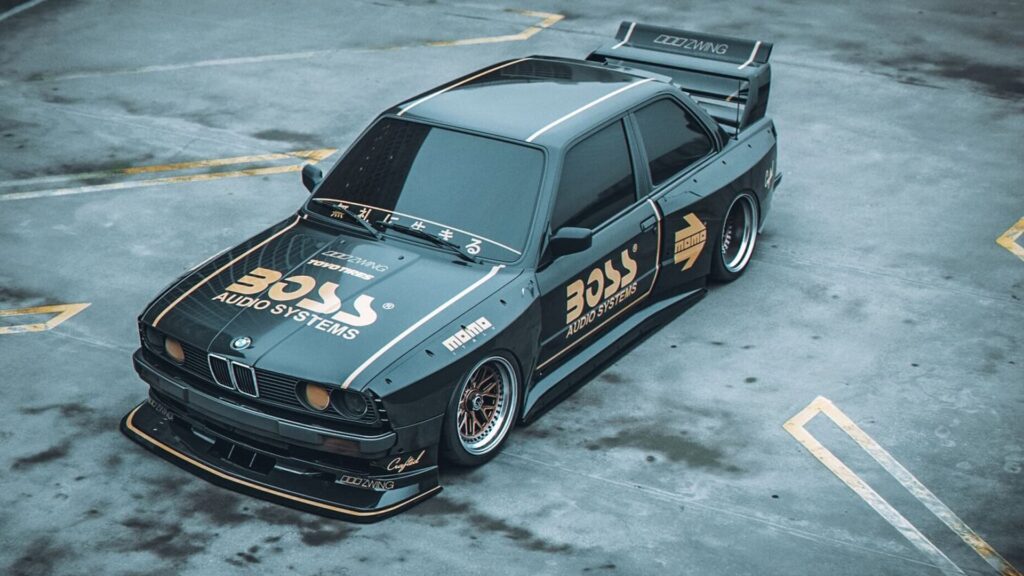 By Ainsley Jacobs
Zach Wingfield rebuilt his beater E30 BMW 325i as a stunning SEMA Show car with an S52 swap and potent Garrett GTX3582 turbo.
Founder of film production and automotive performance shop ZWING, Zach Wingfield knows how to produce machinery masterpiece as he transformed his beater E30 BMW into a stunning SEMA Show car and turbocharged its S52 engine with a single Garrett GTX3582R turbocharger.
Wingfield got his E30 chassis BMW in 2015 and the 1990 BMW 352i was definitely in need of a major overhaul. Used for street drifting around Seattle, Washington, Wingfield gutted the stock M20-powered ride. After several engine failures and rebuilds, he moved on to a more modern S50 engine and finished the change in just three days.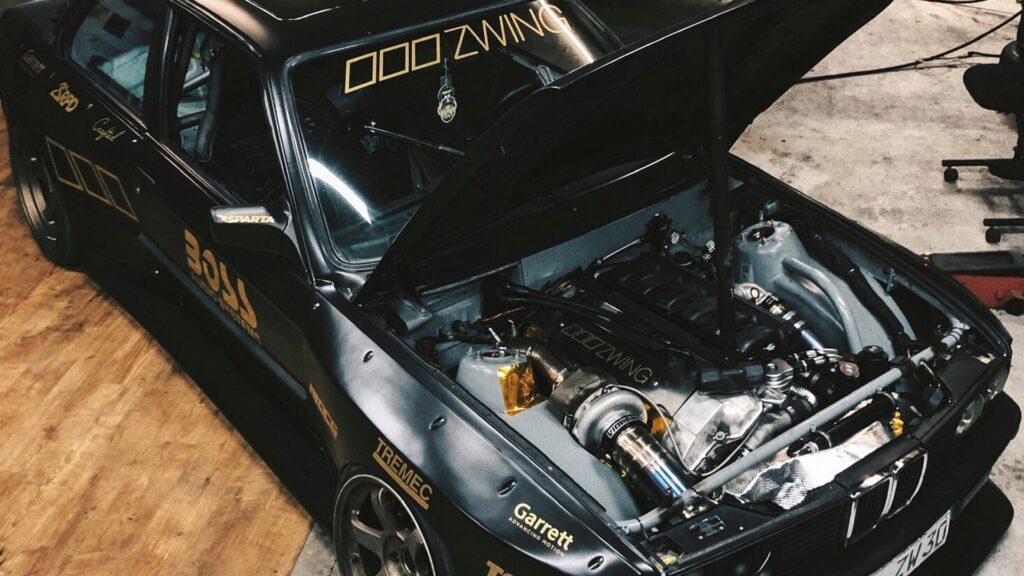 The simple build served as a spirited grocery getter while Wingfield mastered his drifting skill, but just six months after having buttoned it up, the S50 was destroyed with another driver at the wheel.
Wingfield used the incident as an opportunity to upgrade to an S52 inline 6-cylinder engine from an E36 BMW M3 instead. To prepare for the transplant, Dream Chasers Garage helped built the tubed front end with custom frame rails, and Ryan Smith from Complete Customs fabricated the half-cage to improve both the E30's chassis rigidity as well as overall safety.
A bulletproof engine was assembled by C & D Engine Performance using forged JE Pistons with Eagle connecting rods, a crankshaft that had once been in Wingfield's E36 BMW, and a Supertech Performance top end. Many of the miscellaneous components needed to complete the engine swap were provided by Chase Bays and RallyRoad, and heat management was handled by Design Engineering.
Next, Wingfield had Rampage Fabrication & Design put together the piping and plumbing for a killer turbo kit with Vibrant Performance titanium components and a massive Vibrant front-mount intercooler. Centered around a Garrett GTX3582R Gen II turbocharger sized to optimize flow and efficiency and equipped with a TiAL wastegate, the new system could support up to 900-horsepower.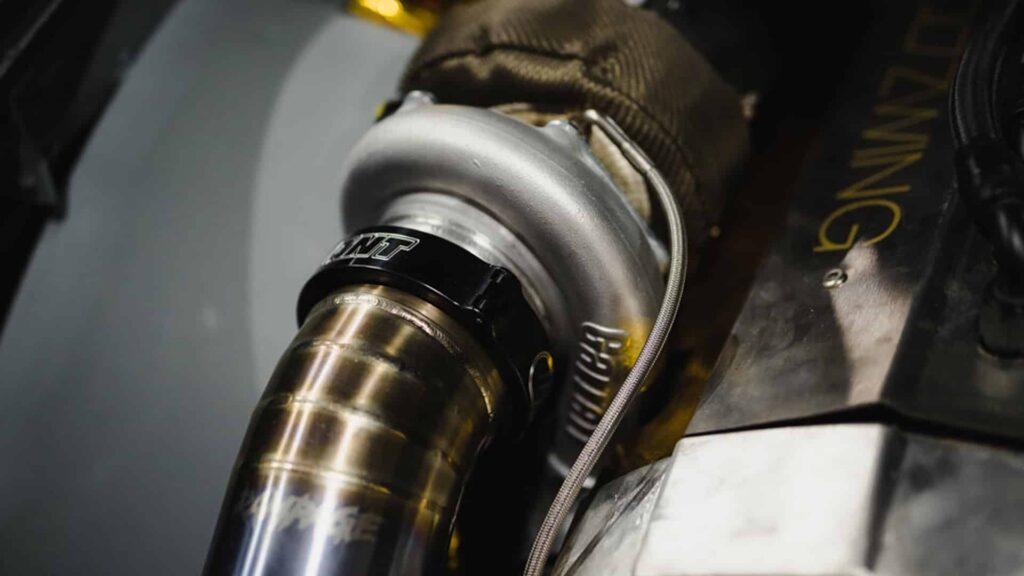 To complete the powertrain, Wingfield installed a TREMEC Magnum-F 6-speed manual transmission with Quick Time SFI-rated bell housing and a 3" steel driveshaft from Drivelines Northwest. A Sparta Brakes Evolution Triton big brake kit was added, along with an Air Life Performance 3P air ride suspension to adjust the car's ride height on the fly and an SLR steering angle kit.
Finally, with fuel being delivered by Aeromotive products to a Nuke Performance fuel rail and flowing from a cell from Fuel Safe, Tom Bell from Custom Importz in Australia dialed in the tune up of the Link G4+ Xtreme ECU, sourced from Mark Panic of Panic Wire, to ensure it all came together as expected.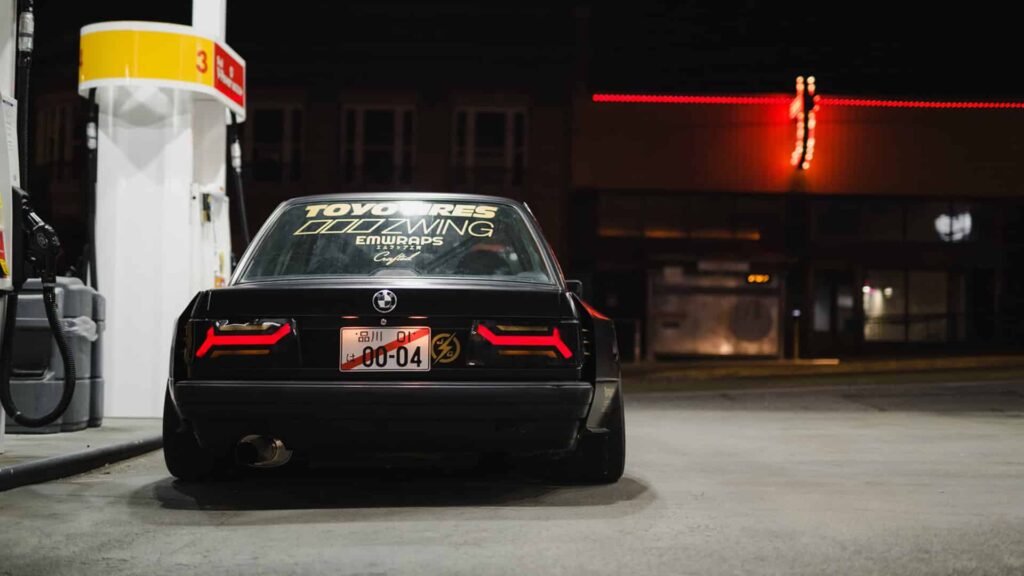 Wingfield finished out his ZWING flagship shop car E30 build as a SEMA Show-worthy stunner with a beautiful LTO Live to Offend widebody kit seamlessly wrapped my EMWRAPS, Volk TE37 wheels in the front with Kansei KNP rears all wrapped in Toyo Proxes R888R rubber, one-of-a-kind custom Lamborghini-inspired tail lights from Illumaesthetic, and tasteful upholstery by Northwest Crafted Interiors.
Although it hasn't been on the dyno to confirm the max output numbers, Wingfield has a blast cruising the streets of Seattle in his head-turning ZWING E30 1990 BMW 325i with 8 pounds of boost from his GTX3582R Gen II turbo and the Boss Audio Systems, wired by Jump Garage, providing the perfect soundtrack.
VEHICLE: 1990 BMW 325i
ENGINE: BMW S52 3.15-liter inline 6-cylinder
TURBO: GTX3582R Gen II turbocharger
TRANSMISSION: TREMEC Magnum-F 6-speed manual
POWER: 700+
USED FOR: street