February 8, 2022
World Challenge Evolved: This Garrett Turbocharged Evo Gets a Second Shot at Life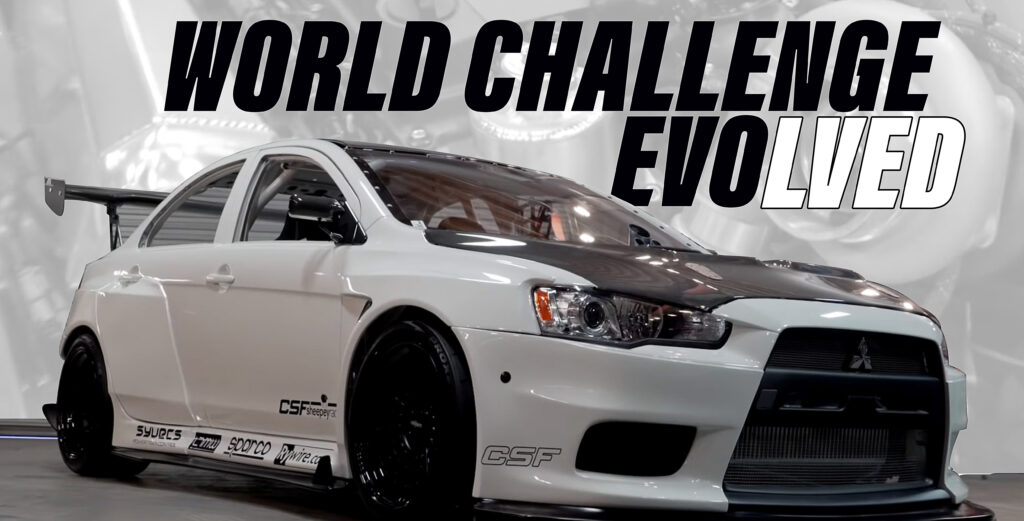 By Ainsley Jacobs
Salvaged from a wrecked World Challenge build, this Garrett-boosted Evo got a second shot at road racing glory thanks to CSF
When this Mitsubishi Evolution X was wrecked while serving in Pirelli World Challenge competition, Ravi Dolwani of CSF, Inc. picked it up and gave it a second shot at road racing glory with an all-new build and a heaping helping of boost thanks to a wicked Garrett turbo.
Dolwani intended to use the resurrected Evo as his personal road race platform and development car for CSF, so he knew he would need plenty of power. A Mitsubishi 2.0-liter 4B11T four-cylinder engine was called into duty, Rywire managed the plumbing and electrical work, and Sheepey Race crafted the turbo manifold with results that would be at home in any art gallery. The custom tubular manifold feeds a reverse rotation Garrett GTX3582R Gen II turbocharger, which although commonly used in twin turbo configurations for a symmetrical install, allowed for quicker spool response and better fitment of the turbo within the confined space of the engine bay. Finally, the spent exhaust gas exits via the hood through more insanely beautiful titanium fabrication work.
On an all-wheel-drive Mustang dyno, this Garrett GTX3582R Gen II -boosted Evo X made 720-horsepower and 534-torque with a factory transmission and Tilton twin-disc clutch. Dolwani plans to keep the power in a more moderate range of 680-700 for regular use and installed a set of StopTech Trophy big brake calipers with Aero rotors to quickly get the car under control in the corners.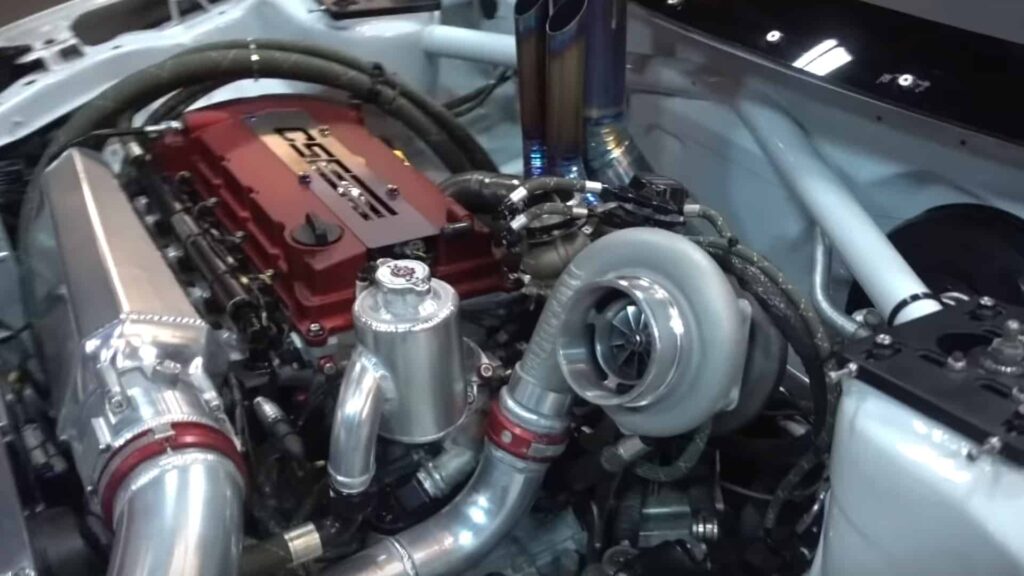 The Evo had been stripped down to a roller before Dolwani acquired it, so he had a clean slate with which to start building. Despite the four-door car's carnage, its original 25-point FIA-spec roll cage from GMG still had plenty of life left in it. Starting with the exterior, a complete StreetFighter LA widebody kit, including the diffusers, front lip, and side skirts, was carefully grafted and molded to the Evo for a seamless yet aggressive integration with its original bodylines before the car was sprayed in BMW Alpine White paint.
Quick release attachment points for the pieces were also installed, and the Evo was fitted with a set of beautiful Rotiform 3-piece forged LAS-R 18-inch wheels. Other minor touches, such as the Toyo R888 tires, PWC Lexan windows, Varis LED taillights, and Jun x Craftsquare carbon fiber mirrors finish out the Evo's sophisticated yet racy appearance. Suspension is key for any track car, so the team installed two-way adjustable coilovers from JRZ along with the Ralliart arms that came with the car from its former PWC days and T45 steel tubular replacements of the front and rear subframes from AKmotorsports.
Check Out The Video On Hoonigan
High-end everything, even down to the bolts, clamps, fittings, and Mil-Spec connectors, were used in finishing out the engine bay for a truly clean and classy aesthetic. Of course, the CSF Evo was also fitted with an intercooler utilizing a 4.5" CSF vertical core, good for up to 1,000-horsepower, CSF radiator, and CSF's new bar-and-plate oil coolers which are integrated with the dry sump system.
Proving that more doors mean more fun, the sedan that started its life as a street car, did a stint as a competition car, and is now enjoying retirement as a road racer, CSF's widebody Mitsubishi Evo X has certainly evolved in more ways than one.
VEHICLE: Mitsubishi Evolution X
ENGINE: 2.0-liter 4B11T
TURBO: Garrett GTX3582R Gen II reverse rotation turbocharger
TRANSMISSION: factory manual with Tilton twin disc clutch
POWER: 720 WHP
USED FOR: road racing