April 13, 2022
Vivid Racing's 2020 Ford Raptor Gets a Garrett Turbo & Intercooler Upgrade for Lots More Power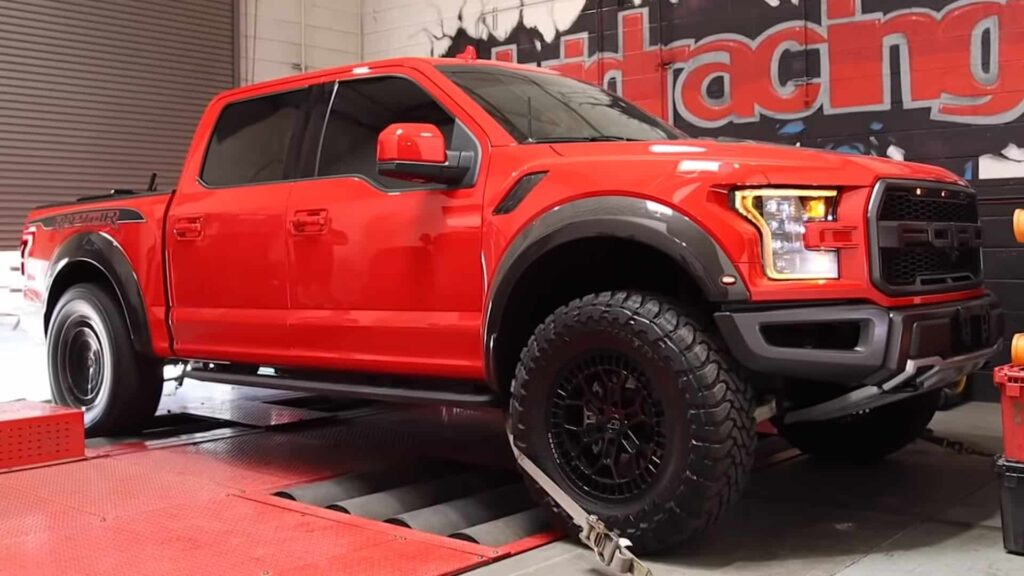 By Ainsley Jacobs
Vivid Racing enhanced the EcoBoost engine in the 2020 Ford F150 Raptor with a Garrett PowerMax turbo and intercooler upgrade.
The 2020 Ford F-150 Raptor is already an impressive platform straight from the factory with its twin turbo V6 engine, offroad-friendly long-travel suspension, and aggressive appearance. Vivid Racing knew the truck was capable of so much more, though, and pushed the Raptor's performance even further with Garrett's direct-fit replacement PowerMax turbochargers and matching Garrett intercooler.
Wanting an accurate before and after comparison of the 3.5-liter EcoBoost V6 engine, Vivid Racing strapped the mostly-stock test truck to the Mustang dyno for a few baseline runs. With only an upgraded cat-back exhaust system and VR Tuned ECU flash via the HPTuners platform, the Ford Raptor produced an uncorrected output of 348-wheel horsepower and 407-pound feet of torque.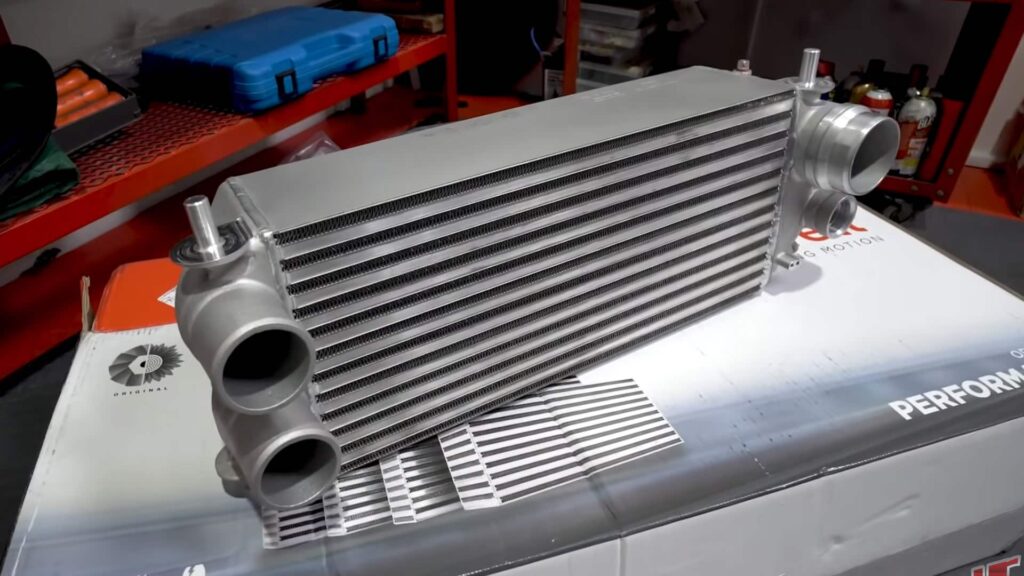 Vivid Racing started their comparison by changing the factory intercooler out in favor of an upgraded Garrett front-mount intercooler for the F-150 Raptor. A true bolt-on replacement with OEM fitment, the Garrett Raptor FMIC utilizes a core that's 85% larger than stock to provide an estimated 25°F reduction in temperature and a 30% reduction in pressure drop. Additionally, the Garrett intercooler's optimized end tanks improve airflow over stock and the entire unit is rated to support up to 750-horsepower while still reusing the stock Ford bolts, hoses, and clamps.
Back on the dyno during the height of the Arizona day's heat and with only 91-octane pump gas in the tank, the Raptor benefitted from the Garrett intercooler and responded well with a vast improvement to 362-wheel horsepower and 426-torque. The simple, easy to install upgrade did a tremendous job in giving the Ford Raptor more muscle with gains of +14-wheel horsepower and +19-torque.
Next, it was out with the old and in with the new as Vivid Racing's team tackled the F-150 Raptor twin turbo upgrade. Designed to fit 2017-2021 model years, the Stage 2 kit includes both left and right Garrett PowerMax turbochargers for the 3.5-liter EcoBoost engine.
Engineered to increase engine performance capability while maintaining OEM installation specifications, the twin Garrett turbos are a direct drop-in replacement that provide 54% more flow than stock and support up to 700+ brake horsepower with 60mm fully-machined compressor wheels and 50mm Inconel turbine wheels. Additionally, the new – not remanufactured – turbos come fully assembled and calibrated, complete with electronically-actuated wastegates, to be outline-interchangeable with the truck's original hardware for a perfect fit.
The Ford Raptor hit the rollers for one last session and the VR team got the tune up dialed in with a final, impressive result of 427-wheel horsepower and 516-torque for total gains of +79-horsepower and +109-torque. With SAE standard correction factors in play, and assuming a 20% drivetrain loss, Vivid Racing estimates the engine's crank horsepower figure to be right around 800 at just 16 pounds of boost.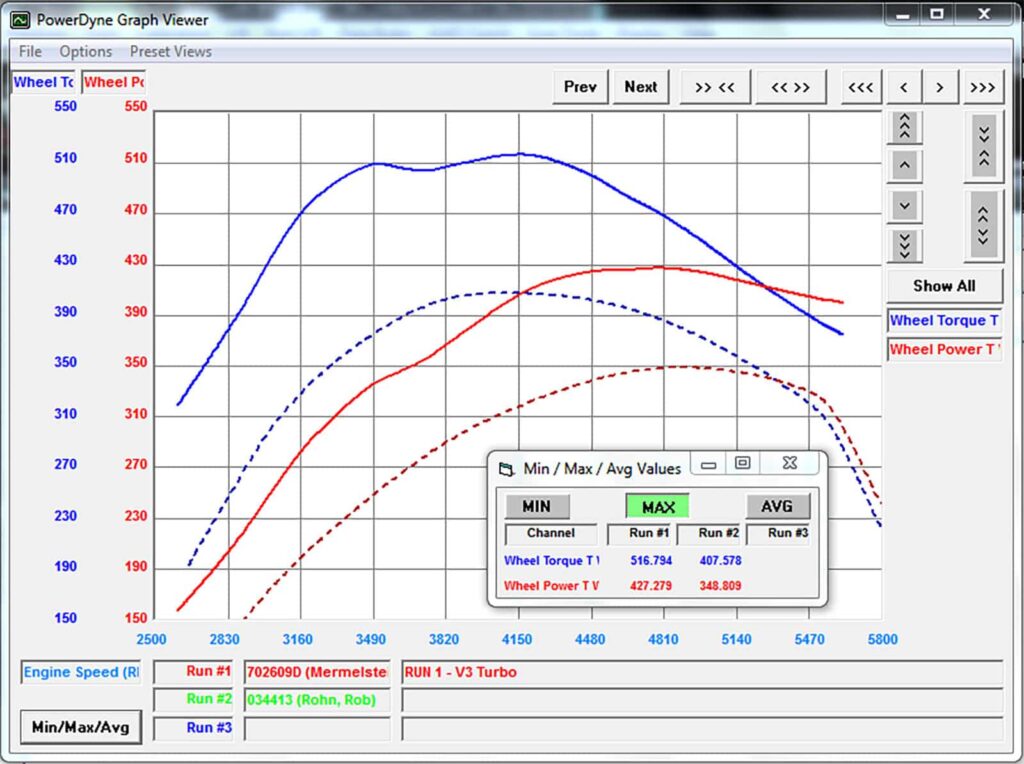 A quick drive out on the street to enjoy the Garrett-supplied enhancements netted a 0-to-60 time of just 6.46-seconds and a 60-foot time of 2.29-seconds via the Dragy GPS-based performance meter.
Given the fact that the Vivid Racing Raptor is rolling on a set of massive 20" VR forged monoblock wheels wrapped in tall 37" Toyo Open Country tires with each wheel and tire weighing in at 110-pounds, the performance results of Garrett's 2020 Ford F-150 Raptor twin turbo upgrade kit and direct-fit replacement intercooler with a very conservative tune up for 91-octane become even more impressive.
With E30 or E50 fuel, Vivid Racing would be able to advance the timing and add more boost for even better results. Similarly, for those able to run 93-octane fuel or higher and who live in areas with more moderate atmospheric conditions, there's still plenty more power that's easily obtainable thanks to Garrett's goodies with a more aggressive tune of the EcoBoost V6 engine.
So much more than just peak vs peak comparisons, the Garrett Ford F-150 Raptor intercooler and PowerMax turbochargers dramatically broaden the entire power curve and give substantially better performance while exponentially increasing driving fun.
VEHICLE: 2020 Ford F-150 Raptor
ENGINE: 3.5L EcoBoost V6
TURBO: Garrett PowerMax turbochargers
TRANSMISSION: Ford 10-speed 10R80 automatic
POWER: 427
USED FOR: street