March 18, 2022
"Valley Fever" Land Speed Streamliner Goes 300+ MPH with Garrett Turbocharged 2JZ Engine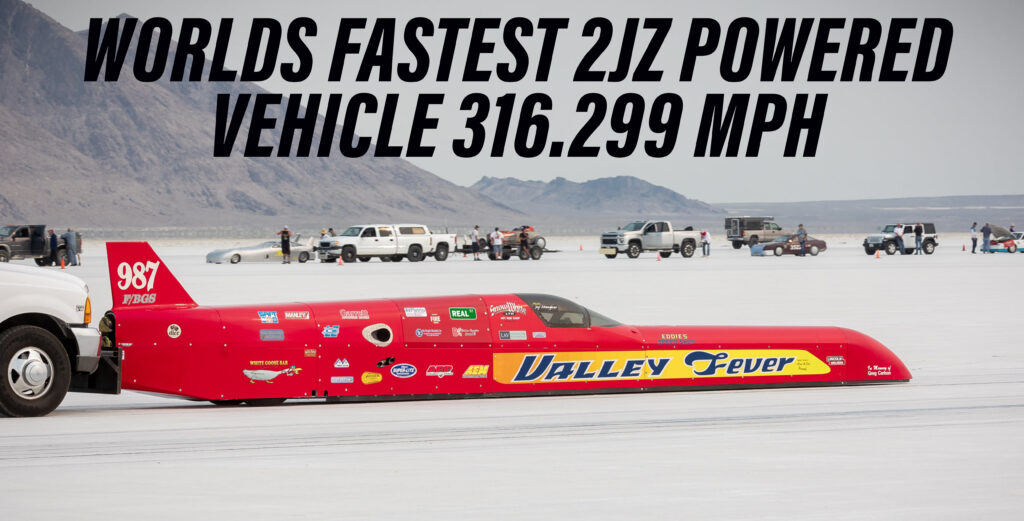 By Ainsley Jacobs
Running at over 300 mph on the salt flats, the "Valley Fever" uses a Toyota 2JZ-GTE engine and single Garrett turbo.
Named in honor of a Top Fuel dragster that Brad Bosworth crewed on when he was in high school in the 1970s, his "Valley Fever" land speed streamliner pushes the limits of performance at over 300 mph with a Garrett turbocharged Toyota 2JZ engine on the salt flats instead of the drag strip. Based out of Fresno, California, Bosworth began constructing his custom-built, one-off streamliner in 2009 shortly after first being introduced to land speed racing. He caught the "salt fever" and wanted to see what he could achieve at the legendary Bonneville Salt Flats in Utah, and finally finished his project – which he designed and built entirely at his shop at home – in 2013.
At first, Bosworth's build was powered by an 80 ci Hayabusa engine that was amped up by a Limit Engineering/Garrett turbocharger. He completed all of his licensing runs and even attained a speed of 264 using only 400 of the available 750-horsepower. With his home-built streamliner's design and handling confirmed, Bosworth moved on to the next phase – a bigger engine and loads more power. Bosworth chose a 3.0-liter Toyota 2JZ-GTE inline 6-cylinder engine. He entrusted Jay Meagher at Real Street Performance to assemble it with a full Brian Crower valvetrain and rotating assembly, along with a Mazworx CNC machined intake manifold.
Upwards of 45 psi of compressed air comes courtesy of a large frame 88mm Garrett GTX5533R Gen II Pro Mod ball bearing turbocharger sporting the latest in aerodynamic technology for increased performance, improved spool, and dependable durability. Next, a GM TH400 transmission built by Kilgore Racing Transmissions was paired with a Dice torque converter, and the drivetrain was completed with the addition of a highly-modified, land speed-specific Winters Xtremeliner quick change rear end.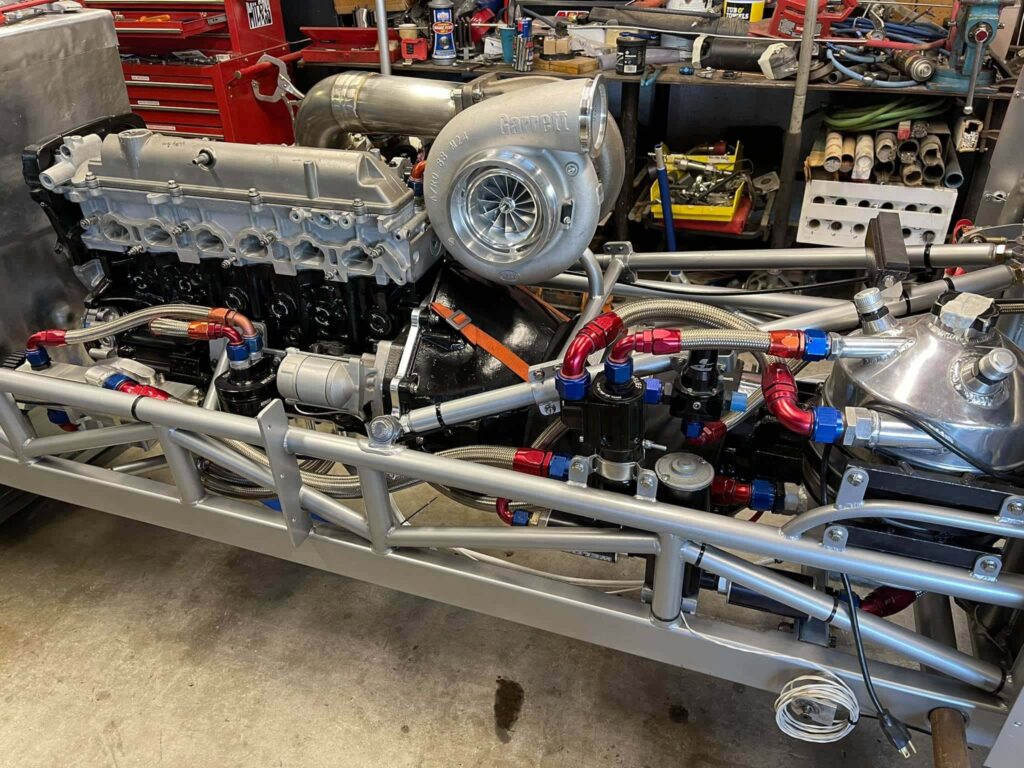 Keeping Bosworth's pride and joy firmly planted as it rockets across the salt flats is a custom-designed and fabricated link-style suspension using JRi coilover shocks, carefully calibrated by Steve Watt at Maxwell Industries, and 1,000-pound springs. With approval from the "Valley Fever" Top Fuel car's co-owners Mike Garrison and Rance McDaniel, Bosworth finished up his land speed streamliner's heritage-inspired livery with the same lettering that appeared on the vintage dragster. With VP Racing's C16 fuel in the tank and a MoTeC M150 ECU controlling the tune up, "Valley Fever" offers up more than 1,600+ horsepower to its lucky pilot.
In August of 2021 at Bonneville Speed Week, the streamliner made history by smashing the F/BGS (F-engine, Blown Gas Streamliner) record when it set a two-run average of 316.299 mph and marked it as the "World's Fastest Toyota 2JZ" powered vehicle. Weighing 4,000-pounds and with a length of 30-feet, Bosworth's 2JZ-powered land speed streamliner was built exclusively for Bonneville speed trial records. Just 19" wide at the nose and 33" wide at the body over the 400-mph rated Good Year rear tires, the canopy fully encloses the rivers compartment and incorporates a rear vertical stabilizer which is essential for high-speed runs. Bosworth was thoughtful in his construction of the car so that he could run virtually any engine combination in the future and enjoy a diversity of engine categories and classes.
Sparked by his love of 300+ mph Top Fuel dragsters, Bosworth's unique "Valley Fever" streamliner pays homage to his roots but does so in an unconventional manner with a Toyota 2JZ engine and Garrett turbo all working perfectly together to clock records and make history.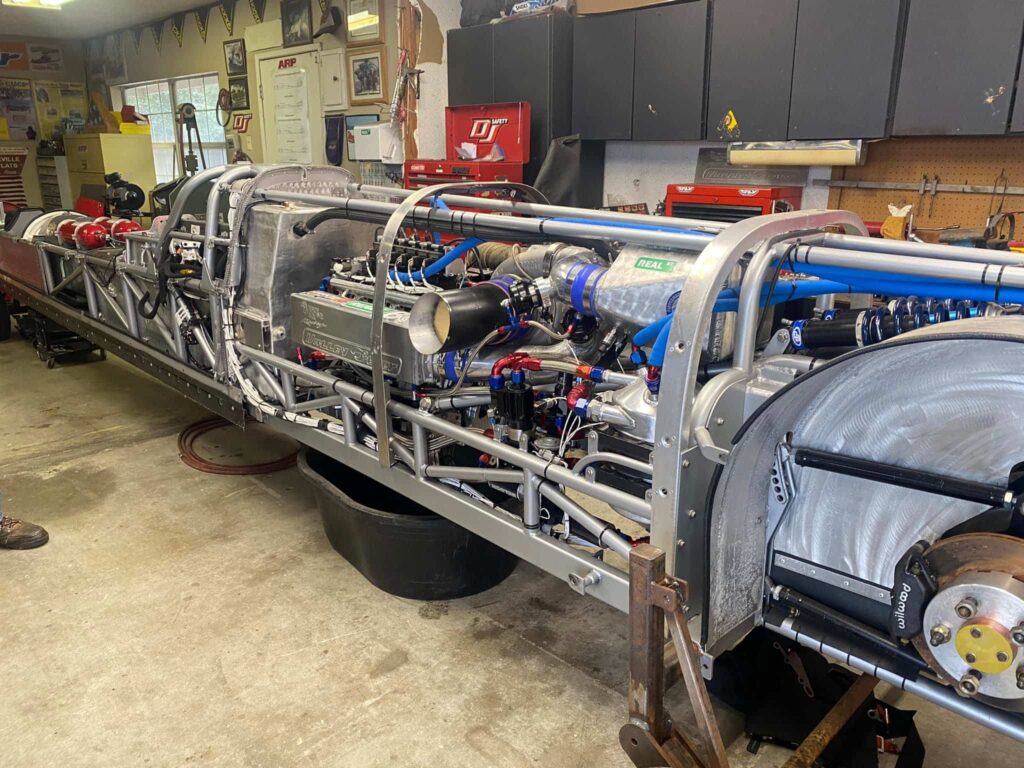 VEHICLE: Land Speed Streamliner
ENGINE: Toyota 3.0-liter 2JZ-GTE 6-cylinder
TURBO: Garrett GTX5533R Gen II turbocharger
TRANSMISSION: Kilgore Racing Transmissions GM Turbo 400
POWER: 1,600+
USED FOR: land speed